We thought we'd share with you four of our favourite tools that save us time and help us get the most out of Email and our Calendars. Together these tools have saved us, our business partners, and clients hundreds of hours and we almost can't live without them!
Note that we don't have any financial relationship or partnership with these companies, we just use them and think they're great.
1. Automatically Update Your Address Book from Email Signatures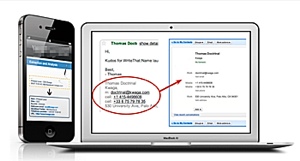 We get lots of emails from lots of people (just like you), and updating our address books when new contacts send us an email can be a real pain. Often we're reduced to copying and pasting information from email signatures into our address books, and if someone changes their details, we can often miss it.
If you use Gmail, Google Apps, or Outlook for email, EverContact is a fantastic tool that will update your contacts database for you, automatically, from the information included in email signatures!
It's extremely simple, once installed:
EverContact scans your incoming emails, parses the signature at the bottom, and either adds or updates your Address Book details appropriately.
You get sent an email to either approve or deny the change.
That's it! Your address book is now updated!
EverContact is available starting at just a few US dollars per month, and for an additional fee they'll even do a retrospective scan on your Email inbox to grab all those contact updates and changes you may have missed over the years!
2. Book Meetings Directly Into Your Personal Calendar
We've all had that series of annoying emails where you suggest two times for a catchup and the other party comes back with three different times, then you go back…and on it goes!
YouCanBook.me can eliminate all this hassle by directly linking with your Google Calendar and providing a public web portal to allow meetings to be booked just by sharing the link!
Once setup, this is how it works:
Just respond to meeting requests with your link.
The other party can pick the time that's best for both of you in one click.
Bookings are confirmed via email and automatically added to your calendar!
This has saved us so much time, it's hard to overstate - you can signup for a free plan and if you need more advanced features their paid plans don't cost much. If you've ever booked a personalised demo with us, you probably did so via YouCanBook.Me, and we use it for customer service and personal appointments too.
3. Synchronise Your Course Calendar with Outlook or Your Phone
If you're an Administrate customer, make sure you check out our recently released calendar synchronisation feature. Courses, appointments, resources, and holidays can all be fed from Administrate to your phone or desktop calendar. When changes are made, you see the updates in your calendar automatically!
Consider some of the ways our customers are using this:
Instructors are setting up feeds of just their courses to remind them and plan their schedules.
Training companies and departments are using these feeds to keep a quick eye on resources like rooms, large equipment, and other critical resource availability. Often they'll combine this with the kiosk (full screen) mode built into our calendar to project or display in a lobby or team environment.
Training managers, admins, and team leaders are using a feed of holidays to make sure they're appropriately staffed without having to log into Administrate.
Most users of Administrate appreciate being able to customise a feed specific to them and quickly get relevant information on where courses are being conducted, start times, and number of booked delegates.
4. Automate Your Course Emails and Reduce Your Admin Work
Our recently released communication triggers feature removes the time sensitive and important communication burden that exists when running training courses. Think of all the personalised emails that must be sent to each student before and after a course:
Registration Confirmation
Invoices
Payment Confirmation
Joining Instructions
Instructor Reminder along with Student Manifest
Course Reminders
Evaluation Reminders
Certificate Delivery
Certificate Expiration Notices (one year later)
We have customers who send many more communications as part of their customised workflow too! Managing this would be almost impossible if they didn't have any automation.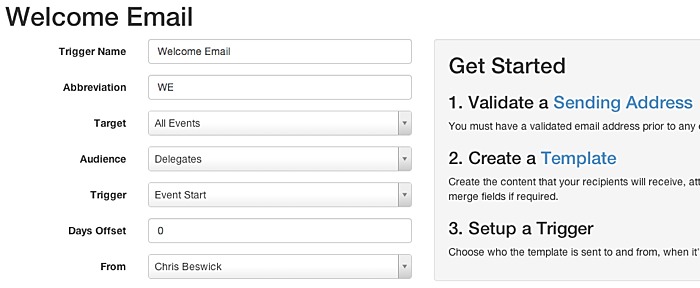 Each of these communications needs to be accurate, delivered on time, and personalised! It's also good to know if the email was actually received, opened, and clicked, or if there was a problem delivering the email. Administrate provides all of these features to our customers, included within our core product for no additional charge.
How Much Time Could You Save by Automating Your Emails?
As a quick exercise, if a training company runs ten courses per week, with ten students each, and you send five communications to each student that takes you a few minutes per email, the math works out like this:
Example: 10 Courses x 10 Students X 5 Emails X 3 Minutes = 1,500 Minutes (25 Hours) Per Week
Or, you can use Administrate to all of this for you, never forget an email or make a mistake, and devote that time elsewhere!
Have any other great time saving or productivity tools that help organise your email or calendar? Let us know!