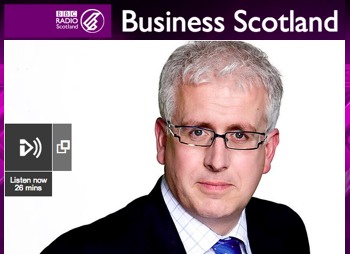 Last week we had the opportunity to be interviewed by Douglas Fraser of BBC Radio Scotland as part of a segment devoted to exploring the Edinburgh TechCube.
Opened last year with the goal of accelerating startup technology companies along the path to viable businesses, the Edinburgh TechCube is a fantastic place to work.
We've written before about the great things this building and startup ecosystem has to offer, and we're honoured to be one of the original tenants.
Check out our CEO John Peebles talk about our growth and how our training administration software is helping students and training providers all around the world.
Listen online here! (26 Minutes)
Audio Transcript:
My name is John Peebles and I work for a company called Administrate. We provide an online platform and solution that helps training providers deliver their training and manage their operations online in the cloud. The product actually was developed originally in the highlands, and as we took it out to market, we located down in Glasgow. That was good but we were having a bit of trouble recruiting the technologists and the people we really needed to drive the business forward. About a year ago we decided to move to Edinburgh and we came across the TechCube and it turned out to be a great fit for us - we were looking for office space, they were opening, we were a tech company, we liked a lot of the other companies involved and that really helped the decision to move across to Edinburgh.
We sell to commercial for-profit training providers and these can be companies that sell anything from yoga training all the way to high end aircraft maintenance training. We've got higher education institutions that are delivering distance education or adult education programs using our software and we've also got internal training departments. Out of the gates, very early on we've had a very international customer base. Our international growth is outpacing our UK domestic growth. One of our largest customers is based in the Middle East. It's an amazing company really, it was started after the Lebanon civil war, and it started in one room and the founder just said "I'm going to deliver education in Beirut" and it's grown out of Beirut and they deliver training in 35 markets across the Middle East and North America. That's opened doors throughout that region and its been a fantastic market for us, they're really investing a lot in education from a government perspective but also people are really motivated to better themselves personally. That's created a bit of a boom that we're thankfully able to assist with.
We've got about 150 customers across five continents, soon to be six, we've tripled our [recurring] revenue basis in the last 12 months, and we expect that pace to continue. We've helped our companies deliver training to over 1.4 million students and we've got 11 staff members today, which is up from about six or seven this time last year and we expect that to increase and then once we hit break-even as an organisation, which will be sometime in 2014, we'll expect that to expand much more rapidly.