GetApp have just released their GetRank Q3 2015 for Learning Management System (LMS), and we're delighted to announce that Administrate have placed in the top 10, coming in at number 7!
GetRank is GetApp's ranking which they release every quarter of the top 25 LMS apps based in the cloud, with each app being scored using the below five criteria. Each criteria worth 20 points, for a total possible score out of 100.
Reviews - Based on the number of reviews on GetApp.
Integrations - Based on the number of integrations listed on GetApp.
Mobile - Based on the availability of an iOS and Android app.
Media - Based on the number of @mentions on Twitter over the quarter.
Security - Based on the answers to a security survey developed by GetApp.

Administrate picked up 13/20 for review, 9/20 for integrations, 3/20 for media mentions, and 13/20 for security. You can see the full ranking, and how we stacked up against the rest of the top 25, below.
This is another great achievement for our LMS, which has already been ranked in the top 50 Learning Management Systems in the world, and in the top 10 "Next Gen" LMS platforms, both in 2014.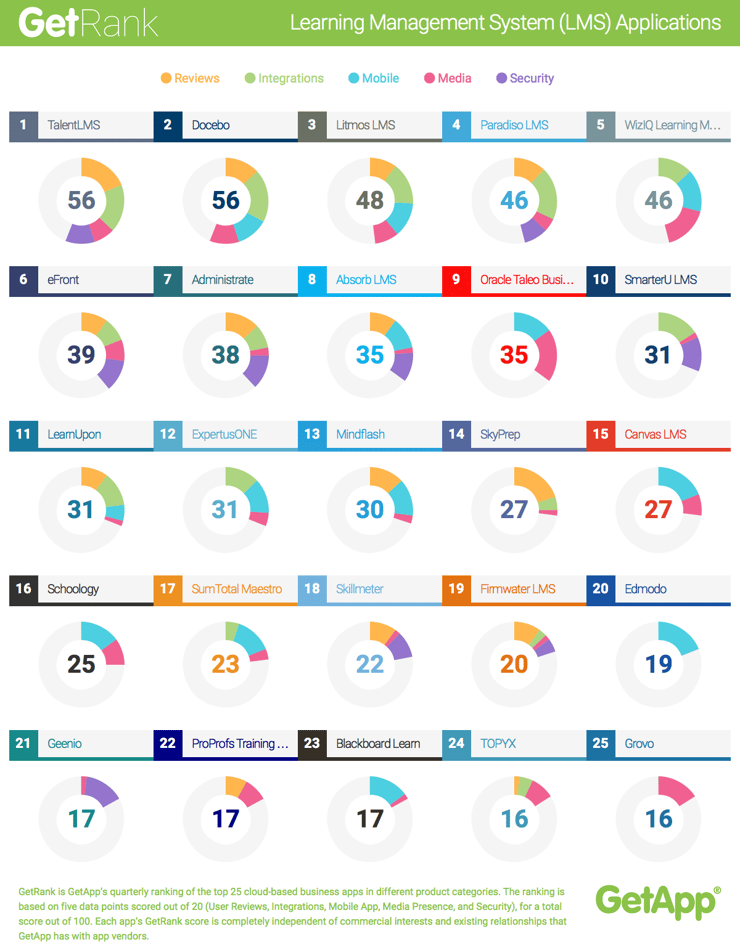 GetApp are the largest cloud-based business apps marketplace, with the aim of GetRank being to help provide valuable data to companies who are looking to make a final assessment when choosing HR software.
Along with the ranking, GetApp has released a research report highlighting software trends in the HR industry. You can download a copy of the report, HR in the Cloud: Key Trends for 2015, for free.