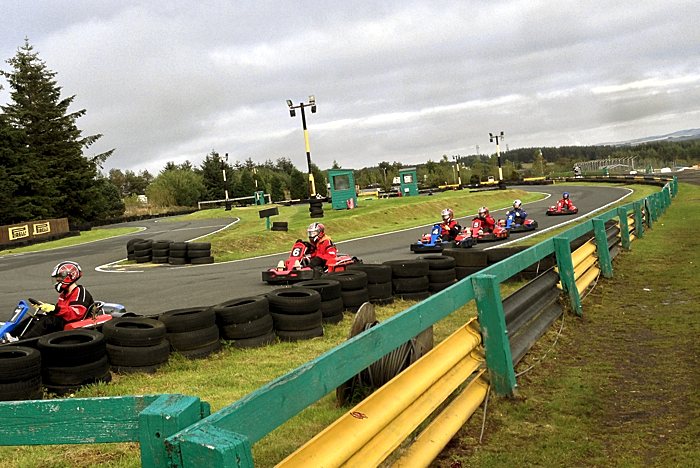 To celebrate the recent release of our new Learning Management System, most of the Administratives headed out to Knockhill Racing Circuit for a long anticipated battle on the tarmac. Knockhill is just a forty-five minute drive from our offices in the Edinburgh city centre, and we arrived just in time to sign our waivers, suit up, and watch the introductory video.
The Format and Venue
Our race format was a 25 lap sprint race, after a 5 lap qualification round. The Knockhill Karting Track is a purpose built, 500 meter long course with four corners that is floodlit for night races and features computerised timing. The carts we were using are SODI GT2 270cc LPG fueled machines capable of reaching 50mph on the straights at Knockhill.
After the drivers meeting, we settled into our carts and were let out for our qualification rounds. Brought back into the pit after the qualification round the race marshals gridded us into our positions, we waited for the lights, and away we went.
The Race
Almost immediately Customer Services Manager Adam Medley who was in pole position took the holeshot but he was quickly followed by Business Development Manager Richard Cassidy. The rest of the Administratives gave hot pursuit but found themselves plagued by mistakes, most often due to over-breaking causing a spinout. An informal poll taken after the race crowned Intern Irek and CEO John as the spinout kings.
As the race developed, Adam made the critical mistake that Richard was looking for and spun out. Cassidy took the lead, chasing after the finish line like a well qualified sales opportunity. The final results saw Richard finish on top of the podium with Adam in third place, just barely beaten by a ringer planted by the Knockhill staff - a son of one of the workers!
The Aftermath
Insults were traded, war stories told, and fireproof race suits discarded, and then it was off to a team dinner at Nando's, complete with bottomless sodas and frozen yoghurt.