Please Note: We hate disclaimers, but we're also not accountants! Nothing within this post should be construed or interpreted as accounting advice. We did consult with chartered accountants when building this feature, but you need to make yourself aware of the regulations!
If your training operation is based in the European Union, you've probably been following recent EU Value Added Tax (VAT) regulation changes that went into effect January 1 of this year. Put simply, VAT rules were changed to make the supplier of digital services (from a business to a consumer) responsible for accounting for the applicable VAT rate to the tax authority of the consumer's member state. If you're still confused, check out the UK guidance on this matter or consult your accountant!
To help our customers comply with this regulation change (and to prevent additional manual work), we've released an update that lets you automatically apply the correct VAT rate to online purchases made via our website integrations.
Getting Started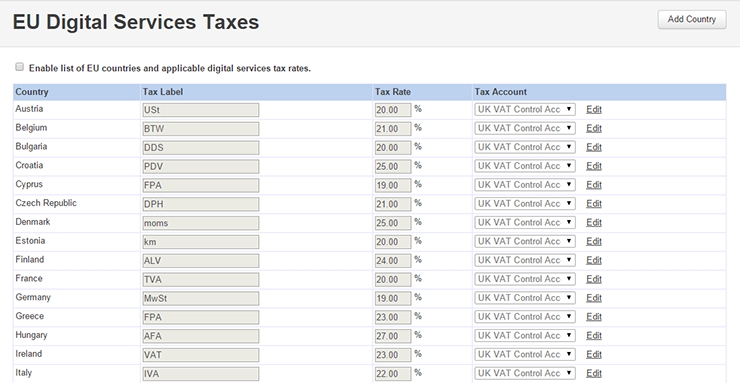 To get started, you'll need to activate the "EU Digital Services Taxes" feature within the control panel. We've preloaded published tax rates as of March 2015, but please make sure you review this for accuracy, as it's your responsibility to make sure you're collecting the right VAT from the right EU member state.
Once you've turned on the EU Digital Services Taxes feature, based on a customer's billing address, Administrate will automatically apply the corresponding VAT rate to a customer's invoice when they checkout using either the WebLink or WordPress Plugin.
Let us know if you have any questions (but please direct accounting questions to your accountant) and enjoy!