We love showing off the ways in which our customers use Administrate to improve their training delivery.
We decided to speak to TSW Training, who has been an Administrate customer since 2011 to find out more about how they've reimagined their website fully implementing Administrate's API.
TSW Training is an award-winning training provider offering professional learning and development programmes to both public and private sector organisations. They specialise in delivering training solutions in leadership, management, health & safety and quality management, designed to make a sustainable difference in the workplace. TSW Training continues to maintain a strong calendar of courses which can now be purchased via their website.
Life Before Administrate
Before using Administrate's API to build their new website, TSW Training found that their old site lacked many features, which were negatively affecting their business.
"Our old website was based on an archaic and restrictive content management system (CMS) with limited ability to edit and control the content. It lacked modern and responsive technologies and was visually showing its age."

Paul Almond - Management Information and Technology Lead, TSW Training
One of the main issues affecting the TSW Training website was the lack of mobile-friendly design. The team recognised that their site's performance was being negatively affected by the increasing use of mobile internet usage, directly impacting conversions on the site. They were also unable to accept online course bookings, a problem a number of their competitors had already resolved, meaning they were potentially losing even more business to customers seeking out an easier and more efficient method of booking their courses.
TSW's old website was created before Administrate had been implemented which meant course dates which were entered into Administrate would not be pulled across and displayed automatically on the website. Instead, they had to be entered again into the website. This resulted in maintaining two sets of dates across both systems leading to errors and inconsistencies.
A New Website with Administrate!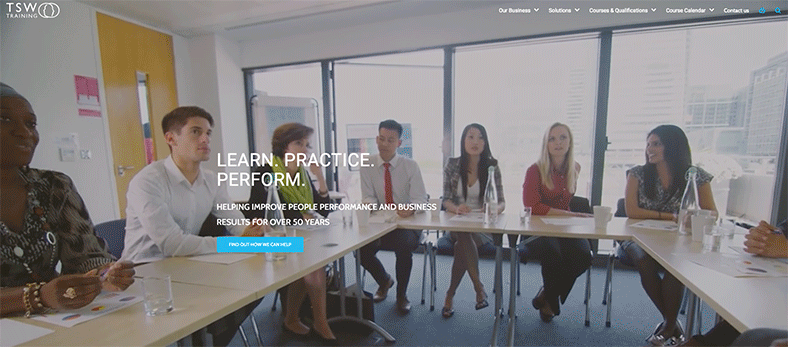 TSW Training's new website has been built with Administrate's REST API offering at its core, working seamlessly with day-to-day usage of Administrate and the Marketing team.
A significant new feature of the website is that online course booking is now supported, meaning customers can now book and pay for their courses online, and all in one transaction. Payments are processed with WorldPay, and the Administrate API records all the details about the customer and event within Administrate using a custom Opportunities flow. This allows TSW to keep track of all the new customers and how many places have been sold on each course while keeping the website's CMS lean and efficient.
Courses created within Administrate are now automatically imported to the TSW Training website, negating the need to duplicate data entry. Events are loaded in real-time using the API when the course is opened on the website with the latest dates, times, and availability without any human involvement.
The new website has also been designed with the customer experience at its core – it is now responsive on any device or browser, meaning customers can engage with TSW Training across any medium to suit their needs.
Added Value with the Administrate API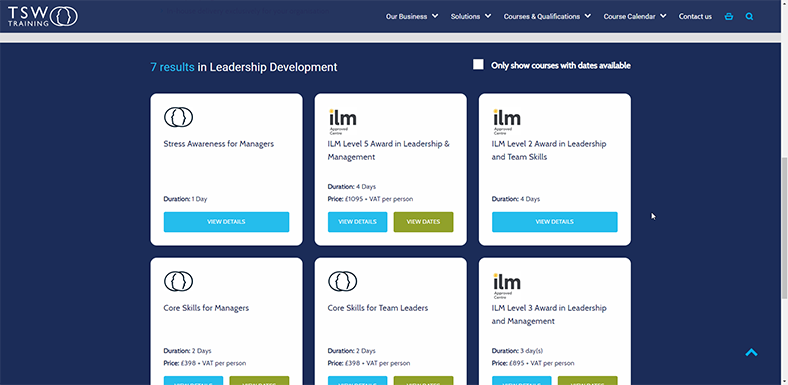 Our API can be used to integrate your website with Administrate creating an efficient automated, two-way connection to support online courses bookings. However, TSW wanted to go a step further than just online bookings. Enhancing the use of the API has enabled TSW to implement custom workflows to increase efficiency and support their team's needs. This allowed them to build the website they needed, fully connected with Administrate.
Examples of this include:
Customer enquiries that come through the website used to go through an email mailbox into the message centre using the IMAP Integration. This would create work for their Marketing team in creating and assigning opportunities. The new website now creates an opportunity directly in Administrate. Enquiries are now dealt with quickly and by the right person with minimal human intervention.
The Administrate API is used to call and display all or any events relating to published courses. TSW Training then uses course pricing to establish special rates (such as discounted or special timebound pricing) on events which are reflected on the website, live, and without any additional manual work being created. They can also demonstrate a 'sold-out' or 'limited places' on a course when this is set against events.
The website can also record a specific course enquiry rather than a booking. An opportunity is created with the course interest included allowing a further method for customers to communicate with us through the website.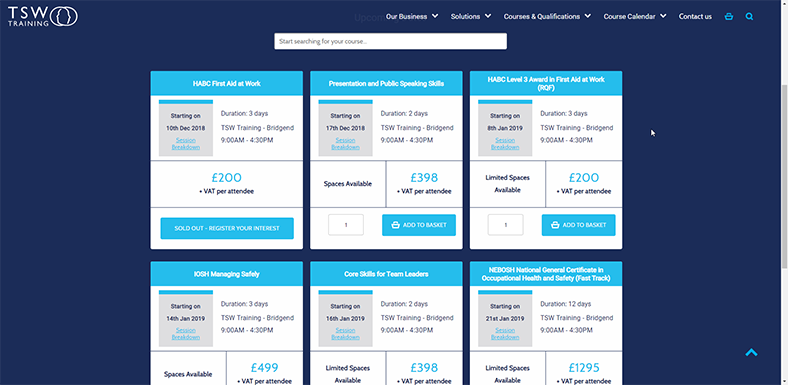 "The Administrate API is also used to create opportunities for customer enquiries (both general and course-specific enquiries). The API records the enquiry and customer contact details. We've also begun considering the GDPR by including opt-in and date of opt-in through Administrate to manage consent in our marketing workflows."

Paul Almond - Management, Information and Technology Lead, TSW Training
How Things Are Progressing!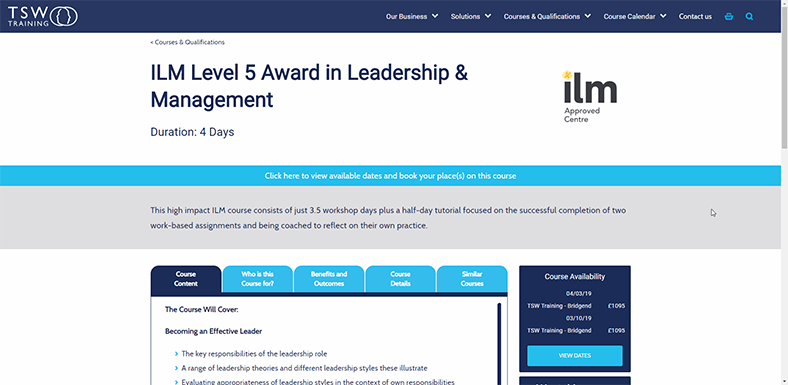 "First and foremost, our online presence is now modern and in keeping with our ambitions as a growing training provider. We needed a website that serviced us operationally but still delivered an awesome experience for our users. The website now fulfils both needs and feedback from visitors has been extremely positive."

Matthew Channell - Operations Director, TSW Training
The new TSW Training website doesn't just look better and accept online course bookings – it's allowing TSW to consider things they weren't able to facilitate before such as online review services, the ability to drive traffic from their external services into customised landing pages, and live chat.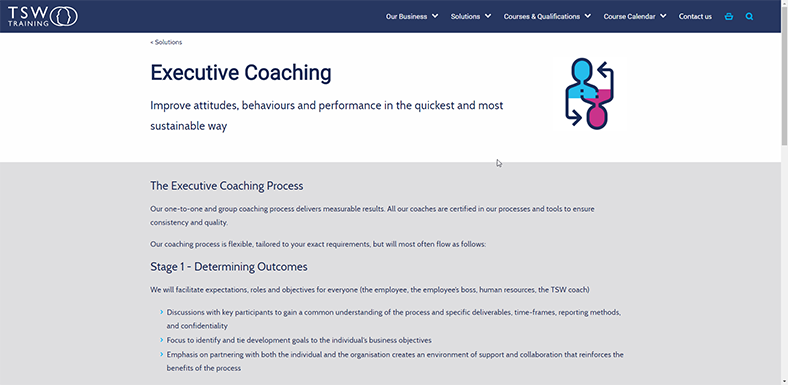 The new website has allowed for improved efficiency between the Sales, Marketing and Administration teams when it comes to creating events, dealing with enquiries, and processing online orders as this is now all controlled by Administrate and passed programmatically through the API to the website. Making the move from tasks that needed to be handled manually to tasks that can now be automated by Administrate has made a considerable difference to the way TSW Training manage their training.
"The website now meets the pace of our business where changes can happen daily. We have also extended the value we receive from our subscription to Administrate using the automation that we previously had no access to."

Matthew Channell - Operations Director, TSW Training
What's Next?
The team at TSW Training have ambitious plans to develop further iterations of the website.
"Our company has been built with our customers at its heart and we have ambitious plans to create an account management system personalised to each of our customers. This will allow them to automatically access copies of their invoices, previous attendance records, certificates, and much more - all through the website in a secure and highly-available manner."

Matthew Channell - Operations Director, TSW Training
At Administrate we always want to support our customers in whatever they plan to do to make their training administration more manageable, and we hope we can aid TSW Training in achieving their vision for the perfect website!
If you're interested in hearing more about how the Administrate API can work for you, get in touch with your Account Management team today!