Administrate are delighted to announce that our customer ForgeRock University has won the CEdMA Europe 2018 Innovation Award. The award was a joint win for ForgeRock University and Administrate because of the work both teams have done together on creating a digital badging integration with Administrate's training management system!
Kevin Streater, Vice President at ForgeRock University, and Jen Anderson, Operations Manager at Administrate both attended CEdMA Europe's Fall Conference in London on October 9th to receive the award, and both teams were over the moon with the win!
#CEdMA Fall Conference - winner of the 2018 Innovation Award: @ForgeRock University with @GetAdministrate - Congratulations to the winner pic.twitter.com/n0sWGz3rYb

— CEdMA Europe (@CEdMAEurope) October 9, 2018
About ForgeRock University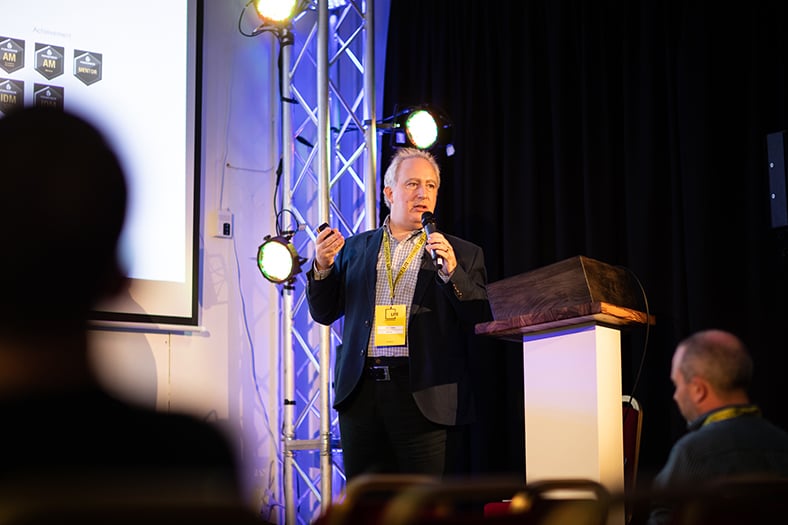 ForgeRock is a global Digital Identity Management software company that transforms the way organisations build trust and interact securely with customers, employees, devices, and things. As an organisation, ForgeRock does not have its own Professional Services delivery capability – they see themselves as a product company that builds excellent software, but they do not implement or customise that software themselves. Instead, they entrust that to an ecosystem of third-party organisations that they form partnerships with.
One of ForgeRock's strategic measures is the readiness of their partner community to deliver their business. As part of ForgeRock's partner program, they need to ensure that the ecosystem is trained, enabled and certified – in other words, that they are competent. They need to be able to measure that competence in some way so that they can be sure that everything they sell can be implemented so their customers can realise the benefits of investing in their platform.
In the past, the training offering at ForgeRock University wasn't exactly where they wanted it to be. While they had a very comprehensive set of training on offer, sometimes their partners were having trouble understanding how to best consume the learning. Knowing where to start and what order to complete the training wasn't as clear as they would like it to be.
There was also an issue where ForgeRock University didn't have a very meaningful way to measure individuals along their learning and development journey. Apart from the exam at the end of the certification program, there was wasn't really a way to show who was competent, what they were good at, and who would actually be able to go to a customer onsite and deliver a successful project for their customers.
The final problem they had encountered was motivating for their students to continue to invest time and money into learning about ForgeRock's products.
"Overall, we wanted to create some perception of value in having the knowledge and skills that link to our products. We wanted to give people the motivating factor to start at one point, build a level of knowledge, a level of skill, and a level of practical competence by rewarding them at regular intervals along that journey and introduce a system which as far as possible would automate the process that sits at the back of this process and make it very easy for a partner individual to progress along their learning journey and pick up the credits as they go along."

Kevin Streater - Vice President, ForgeRock University
Making the Move to Digital Badging
Kevin Streater approached our Professional Services and Account Management team with the idea of doing digital badging to allow ForgeRock University to easily show student progression, as well as emphasising the concept of lifelong learning and continual recognition for the students. Digital badging would allow their partner delegates to see the progress they were making along the learning pathways that ForgeRock University was laying out of them, and also allow the ForgeRock University team to ensure they were meeting the goal of their training program.
The first stage of the process was to re-engineer the way they presented their training to their partners. They came up with the concept of an academy, meaning they moved from a catalogue-based approach to a curriculum-based approach. This means when partners enter the ForgeRock University site, they will be presented with a learning path that maps out exactly where their training journey will go. This also meant that ForgeRock University was able to reward and recognise progression using digital badges, by using the Acclaim platform that Credly is providing for them.
Not only do digital badges provide a motivating factor for the students, but it also allowed ForgeRock University to easily implement a curriculum structure so that partners can understand how to progress through the available training.
Splitting the training up like this also allows ForgeRock University a more granular measure of a student's place in the curriculum, and what level of knowledge each person has, rather than just measuring whether they passed an exam or not.
Digital Badging and Administrate
"The difficulty we then had was we had all this learning going on in both the classroom and inside Administrate, yet the issue of badges was happening entirely externally with no link between the two. That's when we raised the issue with the Professional Services and Account Management teams at Administrate as we wanted to create an integrated solution to make sure everything worked together."

Kevin Streater - Vice President, ForgeRock University
A badging integration was something Administrate had been thinking about creating for some time, but without the customer need present, we had no reason to go ahead and build it. However, once ForgeRock raised this as a vital business issue, both teams worked together to bring the integration to life.
This project was a huge success for both Administrate and ForgeRock because the whole process is entirely seamless and invisible to the user, which in this case is the partner students consuming ForgeRock's training. Instead of having teams of administrators behind this process to ensure it runs smoothly, ForgeRock University and Administrate have created a seamless experience which requires no manual intervention. We have built a way of delivering lifelong learning and continuous recognition without having to develop a particularly complex integration
"The fact that we're using digital badging is fairly innovative in itself, as not everyone is using that or building around it, and to build a structure around it that turned our training offering into a curriculum is quite innovative as well."

Kevin Streater - Vice President, ForgeRock University
You can read more about ForgeRock's digital badging over on ForgeRock's blog.
Watch Kevin Streater's LITE 2018 Presentation!
If you want to hear Kevin talk more about ForgeRock University's digital badging system, why not check out his talk from LITE 2018? In 'The Importance of Lifelong Learning and How to Enable That Through Technology' Kevin Streater describes how technology can be applied to the challenge of lifelong learning and demonstrate a practical implementation that ForgeRock has released this year, using off-the-shelf platforms.

Enter your details to view this video.