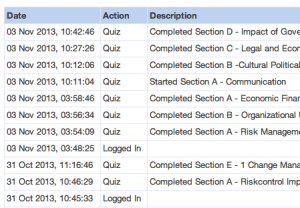 Today we've enhanced the student history available within Administrate to show the full Learning Management System timeline. The timeline shows information about when students login, attempt and complete a section, and acts as a general "ticker tape" of all the interactions that occur within the LMS environment.
The student timeline has been available for some time within the Administrate LMS, but this information wasn't available to view outside of the LMS environment.
Now all LMS timeline information is available within the student's contact record, and you can use this information to see their progress, troubleshoot login issues, and view a detailed log of their interactions with your eLearning content. Enjoy!