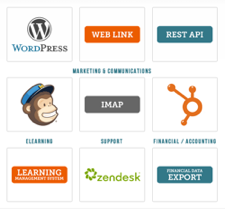 Today we're excited to roll out our new integrations directory, showcasing some of the ways you can integrate our training administration system with other service providers.
Each integration page includes information on pricing, requirements, supported languages, and links to support documentation. Check them out here!
We're going to continue to invest in third party integrations where they make sense, so make sure you subscribe to our mailing list or this blog to stay up to date.
Adding Integrations to Your Account
To add an integration to your account, simply send us a support ticket ( support [AT] getadministrate.com ), and we'll be in touch to activate and explain the integration in more detail.
I Don't See An Integration I Want!
Thinking about getting Administrate, but don't see your favourite application listed? Get in touch with us ( info [AT] getadministrate.com ) , as we'd love to hear what kinds of applications you feel would be beneficial.