Millennials, the Net Generation, Digital Natives, Digital Learners - however you label them, the modern learner is evolving. Is your organisation and training programme evolving to accommodate them?
Organisational change is a massive challenge, especially change at the same pace as that of technological advancement. Scott Brinker, Editor of Marketing Technology blog chiefmartec.com, proposed this could be termed 'Martec's Law', explicitly:
"technology is changing faster than organisations can absorb change"
Various strategies exist to help organisations become more agile so that they can better accommodate change in how they handle employee training. We've covered one recently in our 'Path to Becoming a Learning Organisation'. But what about the learners themselves? While focused on academic learning, a study by Marc Prensky (2001) suggests that learners have changed so significantly that it could be termed a 'singularity' (a dramatic and irreversible change), such has been the impact of technology. Prensky suggests that:
"Today's students are no longer the people our educational system was designed to teach."
In this post we unravel some of the common traits of modern, digital, learners and how you might adapt your training to accommodate them.
1. Busy
Partly a consequence of the 2007 recession, today's employees are being put under increasing pressure within the workplace. A study on the recession's effect on the quality of working life for UK managers concluded that they were under heightened pressures due to increased workloads and longer working hours. This takes its toll on the available time to learn, so the digital learner has adapted accordingly, absorbing knowledge at a fast pace by skim reading blog articles, hunting for quickly digestible content and scanning social platforms.
Digital learners want courses to be split up into manageable 'bite size' pieces so that they can dip in and out of training when they find a spare thirty minutes. They'll 'turn off' at the sight of paragraphs and paragraphs of never-ending text with no imagery or video to break up the reading.
2. Impatient
Digital learners are intolerant of complexity when signing up for courses, they want learning with minimal fuss and a system that just works. They expect courses to load fast too, be that on their laptops or on their smartphones during their morning commute. If it stalls during loading their attention will too.
They want their learning delivered just in time and are frustrated if they reach the end of a module with no direction on the next steps. The fast digital learners want a pipeline of supplementary eLearning content while the slow digital learners need an opportunity to ask for help quickly and easily, to get them back on track.
3. Impartial
Often, digital learners don't care how content is delivered - smartphone during their commute, tablets on the sofa at home, laptops during their lunch breaks. They want the flexibility to learn when it's convenient to them, and may have little to no loyalty to a specific platform. That platform might change daily, even hourly. A Logicearth infographic suggests that 63% of online adults in the US and UK use two or more devices every day and more than 20% use three or more.
Take care to select a Learning Management System (LMS) that allows for responsive content delivery - this will dynamically resize your training content to the platform your learner is using. Consider how you write your content too, avoid 'thumb fatigue' for those accessing on mobile by not having pages and pages to scroll through! Optimise your images to be smaller file sizes so that they load quicker for those with slower mobile connections etc.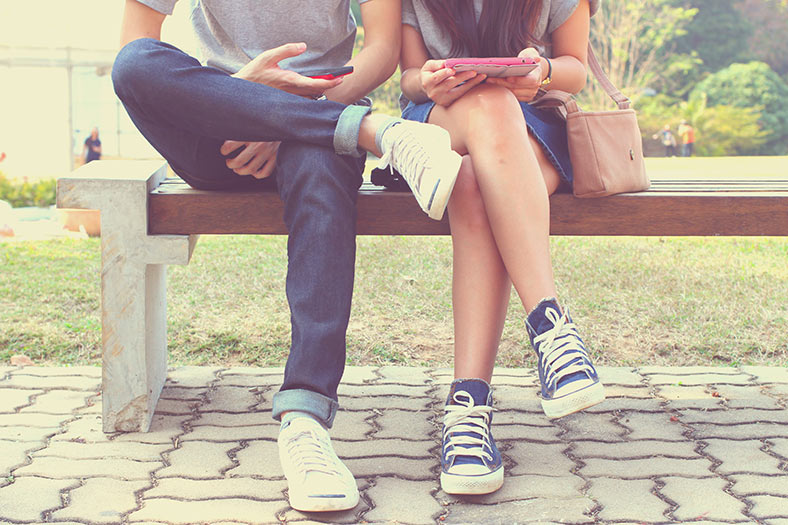 4. Social
Both online and offline - digital learners are social creatures. They've grown up with Zuckerberg and are passionate users of Facebook, Twitter and LinkedIn. They're probably all over Snapchat, Instagram and Pinterest, while casually beta testing a new social network too.
They know the power of social media word-of-mouth. They understand the value of a strong social following and are empowered to deliver damning feedback in the public arena, or praise those they deem worthy. Equally, they are informed through social - referrals from friends play an important part in their selection process for new suppliers and partners.
It's important to actively maintain your own social profiles - these can be an important awareness tool to reach new digital learners. Also consider social in your training programme delivery, could you put follow-up material for your learners on social? How about sharing non-sensitive course information through Facebook to keep your learners up to date?
5. Technical
The final key trait of the digital learner, is that they are technical - well versed in the Internet and use of technology in learning. However, recent research (Bennett and Maton, 2010) notes that the idea of 'digital natives' being naturally tech-savvy has emerged from common use rather than from empirical evidence. They suggest:
"we must go beyond simple dichotomies evident in the digital native debate to develop a more sophisticated understanding of our students' experiences of technology"
It's fair to say that the modernisation of learning is a natural evolution and requirement given the continual advancements in technology. However, care should be given to ensure that your courses are open to all, accessible to those with a strong technical founding alongside those who might not be as experienced in using computers for learning.
What next?
Training and education has probably changed more in the last decade than it has in the last century, such has been the pace of technological advancement. The ever increasing list of acronyms, terminology and technology used within the industry is mind-boggling and can be intimidating to those who might not be considered 'millennials'.
Marc Prensky coined the label 'Digital Immigrants' for those who were not born into the digital world, yet are fascinated by it. Harnessing that fascination to advance training delivery should be the focus for those less familiar with technology's impact on training.
Finally, it's important to consider the impact that company culture has in underpinning how new learning technologies will be adopted within an organisation. As Terence Blake, Director of Learning and Innovation at TMA World suggests:
"You can put a lot of social, mobile, analytical, and Cloud technologies into a digital workplace, but unless the culture drives high levels of openness, transparency, trust, and empowerment, the benefits of digital working will never be realized."