We recently sent out a survey of several thousand training companies, mostly based in the United States. In it we asked several questions and we thought we'd share the responses with you.
What software solution do you currently use to run your training business?
This is a question we love. To date, most of our customers have tried had no previous system (pen, paper, etc.) or attempted to try and integrate off the shelf CRM, Accounting, and Event management.
Our survey results were consistent with this experience, as over 80% of respondents were using Microsoft Office products or a combination of several different software packages. Some had tried to build their own system, and almost none had a full ERP solution that handles their workflow and data end to end.
We believe that Administrate addresses the challenges that each of these approaches brings.
Many systems mean imperfect and annoying integrations.
A custom system is expensive, risky, and usually not part of a training company's core skill set.
A full ERP system is usually extremely expensive, inflexible, and carries a lot of the same risks as building your own custom application.
How large is your training company?
Roughly 2/3rds of respondents were training providers with less than 11 employees. The majority of the remaining respondents were under 51 employees. In other words, most training organisations (even when parts of a very large company) are small to medium size businesses.

This mirrors our customer base as well. We have many small companies relying on Administrate, and a smaller but significant number of large enterprises using our software as well. You might be surprised to learn that the workflows and needs of smaller training shops actually mirrors those of larger organisations. Sure, larger companies need a little more process, better role segmentation, and some advanced features but at the end of the day all of our customers are providing the same service: quality education and training events.
Which of the following business issues impacts your company's profitability?
This was our favourite question from the survey and is perhaps the most illuminating. Our respondents could rank the challenges below, and for us the interesting thing is that there is no single "smoking gun" issue that plagues training companies. The reality is that all of these problems present issues, and all of these problems surround the delivery of a very administratively heavy service: training.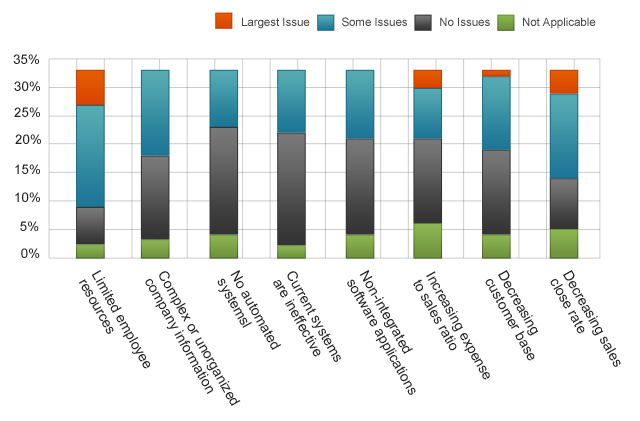 Our goal as a company is to help you solve each of these problems with our software. We won't do it alone, but we can make your life easier. We've highlighted how we help with each of these challenges below:
Save time using our software, which will free up limited employee resources.
Use our team tools like our knowledge base and company forum to help you organise company information.
Begin to automate time consuming processes like booking students onto a course, managing invoices, and event schedules.
Enjoy our fully integrated training (and business) management software to save time and avoid repeating yourself in different systems.
Our new marketing system will help you decrease your expense to sales ratio and track your true rate of return.
Our tools to help you solicit bookings via your website will grow your customer base.
Finally, by giving you insight into your leads and marketing, we'll help you better target real sales opportunities and increase that sales close rate!
What Kind of Training do You Provide?
Our customer base is incredibly varied, and this is in line with our market as you can see below. Training companies service all different sectors and provide all kinds of educational products via a wide variety of delivery mechanisms like online, in house, self study, or classroom based training. The graph below drives that fact home!