Internationalisation is big business and in an age where training can be delivered digitally via eLearning, the opportunity to do business beyond your borders and shores has never been greater.
A recent Harvard Business Review article proposed '7 Traits of Companies on the Fast Track to International Growth' and concluded that:
"when proper support for globalization is in place, the end result is a 'global first' culture."
These six tips, while not exhaustive, could help in adopting a 'global first' culture within your business and pave the way for international expansion.
1. Currency
A key piece of information in your customer's purchasing decision is, of course, the price of your training provision. If that price isn't in their native currency (i.e. you're marketing your training as £500 to Spanish customers who are used to Euros) it immediately becomes more challenging for your audience to evaluate the value proposition of your training. Choosing a Training Management System (TMS) that allows you to specify multiple price points, in different currencies, is vital if you want to establish your training business internationally. It's also preferable that your payment provider handles the transaction in their local currency too (so if a customer opts to pay in £, don't convert to your own native currency at the point of payment). This helps instil trust that you're not displaying one price, then charging another.
2. Translation
Another fundamental factor in helping international customers evaluate your training proposition is, of course, ensuring they are able to understand the description of what you're offering. Translating your website content is the first step here. This can have a varying scale of complexity dependent on which Content Management System (CMS) your site uses - your website developers should be able to give you a steer here. A helpful plugin if your site is built on WordPress is WPML (WordPress Multilingual) - a paid for solution, it's relatively straightforward and quick to implement. It also factors in Search Engine Optimisation (SEO) very well, helping ensure that your training content has the best chance of ranking highly in search results.
Of course, you'll need to translate your course material too. Again, selection of an appropriate training management solution is important here. Ideally it should be quick and easy to create international variants of your native language courses that can include translated course material, different currency pricing etc.
3. Localisation
While translation of your training material is a minimum requirement, why not go one step further and localise your content too? For example, rather than just translating English to Arabic, you may choose to adapt your content to provide more relatable examples for a Middle Eastern audience. You'll probably need to update your website to read right-to-left too and consider changes to your choice of imagery and language to respect a different culture. On the subject of imagery, representing information visually can sometimes offer a more universal way of ensuring your training is understood regardless of language, as we mentioned in our 5 Ways to Make Training Content More Digestible.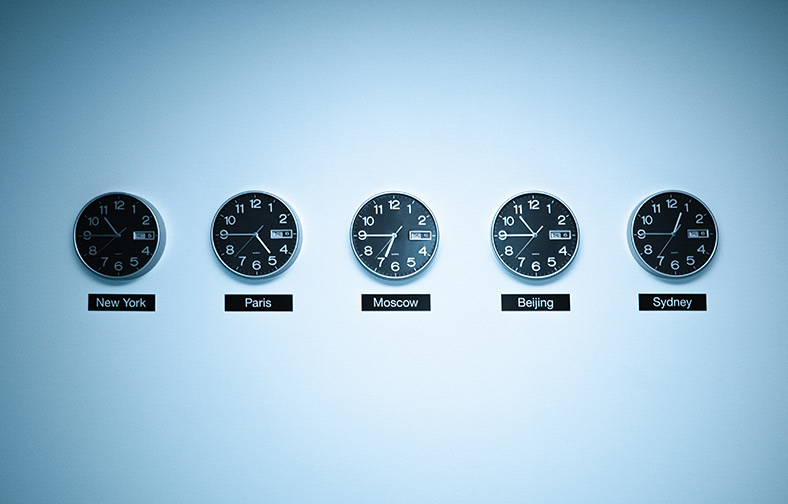 4. Timing
But I thought the training was at 2pm? There's nothing worse than having enthused learners turn up late for a training session because of a miscommunication over course start times. It happens more often than you'd think - even the differences between Eastern Time and Pacific Time can cause confusion, as our customer Future Environment Designs experienced first hand. This is magnified when you're conducting business internationally and your customers may well be several hours ahead, or behind, you.
How do you avoid scheduling pitfalls? It's a huge challenge. At Administrate we ensure that course times, dates and locations are displayed very clearly, so that learners aren't left confused as to when they should be attending. Even if you're delivering most of your training by self paced eLearning, any Virtual Instructor Led Training (VILT) activity will require clear scheduling to ensure everyone shows up at the right time.
5. Culture
Accommodating varying international cultures within your training can also prove challenging. Cultural nuances vary by country, but as an example, those from the UK and USA are typically more introverted and tend to be very punctual, dominated by deadlines and schedules. This can contrast with other nationalities like those in the Middle East, who are known to be a little more extroverted, inquisitive and flexible with their time planning.
The key here is taking time to understand different value systems and gradually build rapport with suppliers and partners in the regions you're looking to expand into. Speak to other companies who already have a presence in your target market. While they may not be from the training industry, any information they can share on doing business in general will likely prove very helpful.
6. Customer Service
How do you provide a good level of customer service when it's entirely possible that when you're awake, they're asleep - when you hit the alarm clock, they're just setting theirs. It can make communicating with your customers extremely challenging.
This is where functionality like automated communications are particularly useful - automatically sending learners a course signup confirmation email, providing instructions on next steps, venue information, how they make payment etc. These all help add to the level of perceived customer service for learners and help lay the foundations for exceptional training delivery.
Tomorrow, The World...
Of course this is just the tip of the international iceberg! There's various other logistical factors to take into consideration; legal requirements, taxation, country-by-country sales strategies, supplier agreements, branding recognition and relatability etc. Start your journey to adopting a 'global first' culture, expand in to lucrative new markets and let us know if we can help support your world domination!
Have you taken your training global? We'd love to hear your story in the comments below, or drop us an email.