We've teamed up one of our partners, Elucidat, to bring you more unique insight on the training industry! Read their guest post below, sharing the 5 Challenges Facing Training Providers in 2017.
What is your training organization focusing on in 2017? With new trends and elearning products disrupting traditional processes, you need to be aware of some important challenges. In this article, you'll discover five key challenges that might affect you in 2017, and learn how you can overcome them with some new strategies and tools.
1. How to stand out in a crowded market: Content quality
New competitors are popping up everywhere. What's your competitive advantage, the element that will ensure you continue to win new business? Your training content is your point of difference. By creating high quality, responsive content (that looks better than your competition's), you will be able to ward off competitors and continue to sell content to customers.
Why is this important?
Your customers understand the importance of quality. They know that poor-looking content has lower engagement, and they know poor content will affect knowledge retention and behavior change (or lack thereof).
For example, let's have a look at this excellent compliance training example: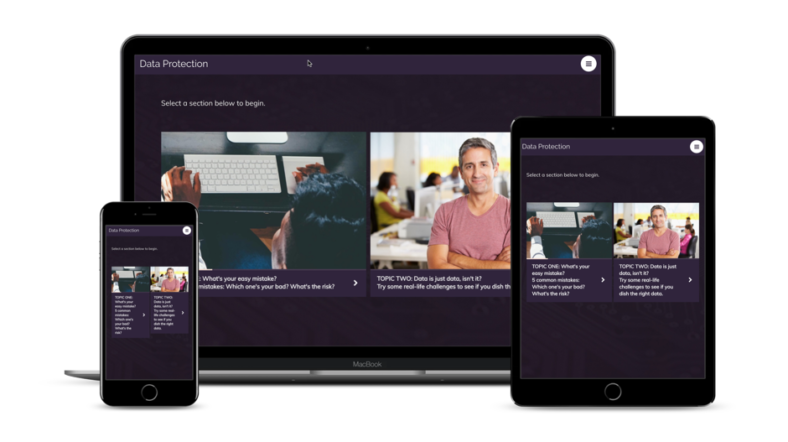 If you were the budget holder, would you buy this content over your existing content?
Related: Check out these examples of great-looking elearning content.
2. How to refresh old content, cost effectively
Refreshing old, "stale" content is oftentimes costly and time-consuming. Instead of using the old approach of having to recreate the whole course every three years or so, you can now use modern cloud-based authoring tools to quickly make changes and "refresh" content instantly.
Why is this important?
Customer retention. Why will your customers renew their contracts if you haven't updated the content you're selling to them? They'll look to competitors, and you may lose their business.
For example, let's take a look at this training course created in Elucidat's authoring platform.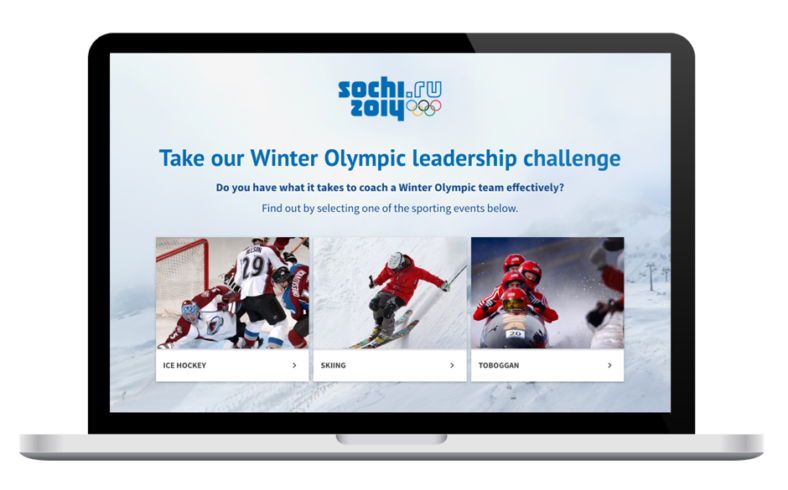 This is an example course using images of the 2014 Winter Olympics – very relevant when it was created in 2014, not so much now! It looks and feels dated.
Now, let's look at the same course, but refreshed quickly with images from the 2016 Summer Olympics: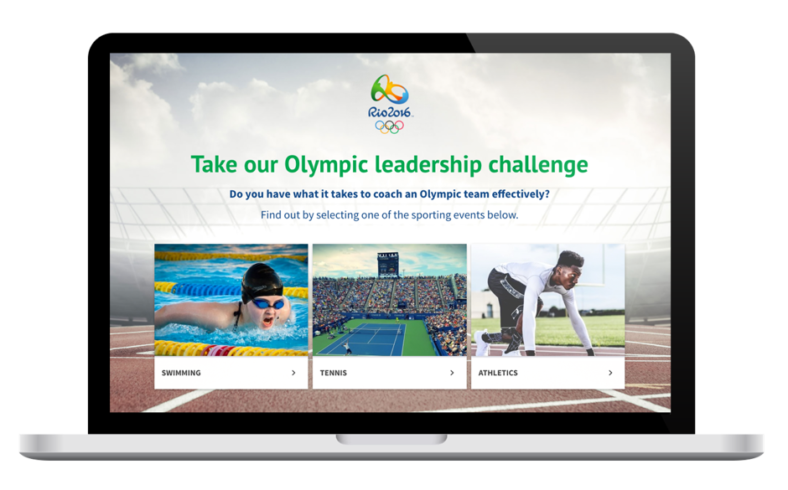 We refreshed this course content very quickly inside Elucidat by replacing the images and styles. The refresh didn't require us to completely recreate the course from scratch, saving lots of time and money.
Refreshing old content will help you retain customers, and it won't cost you thousands of dollars. As we move through 2017 and toward 2018, your competitors will be doing this. Don't let them steal your customers!
Related: Style It Up, Style It Down—Style Your Elearning Any Way You Want
3. How to improve content with insight and data
It's no longer good enough to use your gut feeling to make improvements to your training content. We are living in the age of data, and your elearning authoring platform should provide you with the insight you need to improve your content. That's why through Elucidate and our partner, Administrate, you can make accurate decisions. Our mutual customer, ForgeRock, said:
"Administrate lets me know within minutes the health of my global training business"
Why is this important?
Your customers expect you to be continuously improving the content you sell to them. They will not settle for content that hasn't been improved in three years. Modern learners have changed their behaviors, and are dramatically different now compared to three years ago. Your content must adapt.
Think about it. Three years ago, you could get away with non-responsive learning – in 2017, you can't. Three years ago, you could get away with Flash content – in 2017, you can't.
Let's take a look at how data can help you improve content. Here are three screenshots of Elucidat's Analytics feature. You can quickly see insight on overall trends, and even dig deep down into individual questions to see how learners are performing.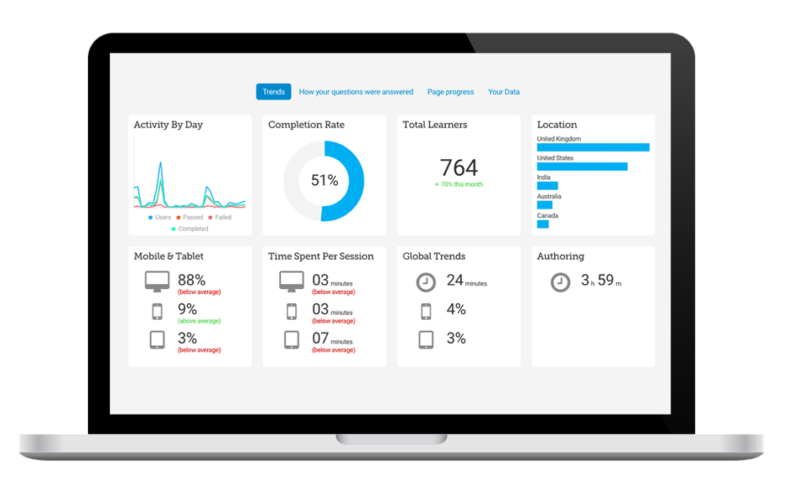 This insight will help you improve your content. For example, you might notice a lot of learners are getting Question 3 incorrect – perhaps you need to add more information to help learners better understand that topic?
Or maybe you notice a significant increase in mobile traffic over the last 12 months. Perhaps you can look at optimizing your content more effectively for mobile learners, ensuring images and content load fast and look great on all devices.
4. How to create content faster
Competitors are lurking; speed to market is important if you want to attract and retain customers. If you don't have the team and tools in place to create content within specific deadlines, you will risk losing customers to competitors.
Why is this important?
Let's imagine an example. Pretend you sell compliance training, and a new regulation has been introduced; how will you quickly create that content if your traditional processes and tools require 6-12-month time-frames?
The ability to get your product to market fast will form a competitive advantage. This will give you the chance to impress customers and potentially win new business from competitors who have been too slow to produce the new training.
Or, let's look at another example. You are selling your content overseas, via your Portuguese licensee. They need you to translate your popular course into Portuguese quickly for a high value customer, who needs to distribute the content to employees.
You can't tell your licensee to wait 12 months for the translated course because you have to recreate everything from scratch; you'll lose the business! Modern authoring tools – like Elucidat – let you create and manage multiple variations of content, quickly facilitating the translation process in a couple of clicks.
Here's a quick screenshot to show you how easy it can be to translate courses and manage multiple versions of content inside Elucidat:

Related: How Training And Content Providers Can Take Their Product To Market In Multiple Languages, In Minutes
5. How to move to a blended learning solution
Traditional training providers, stuck selling face-to-face training products, risk falling behind competitors if they don't adopt blended learning with an online training component.
Why is this important?
Customers recognize the need for continuous learning. They know that to effectively change behavior and educate people, ongoing training content is required. This ongoing training is often in the form of online content – it's a lot easier to quickly update and maintain, and can make use of personalization to offer up the right type of content at the right time.
Training companies like Recruiter Hub recognize this and offer an online component as part of their Academy training product they sell to customers.
An online component not only adds value to your existing clients, but also opens up a new recurring revenue stream. You can charge an ongoing fee to clients for access to the up-to-date content.
Final thoughts
Our industry is changing rapidly. To ensure you stay ahead of competitors, you need to continuously look at ways to improve your product.
The ideas in this blog post shed light on some of the key trends and offer up solutions to help you overcome them. If you'd like more ideas and inspiration like this, subscribe to Elucidat's weekly newsletter, which comes packed with new ideas and inspiration sent every Thursday.