In our latest guest post, we've teamed up one of our partners, Elucidat, to bring you a different insight as to what's going on in the training industry at the moment! Read their guest post below!
Imagine if you could take the very best of microlearning and deliver truly engaging and impactful learner journeys at scale? What impact would that have on your business?
This is a concept I'm calling Big Learning, a topic which I discussed in my seminar at this year's LITE conference. It's all about designing your digital learning with sustainable growth in mind; really connecting with the 'always on' modern learner; and differentiating your online learning offering to stand out and stay ahead.
Do Your Learners Come Back for More?
The traditional one-shot course isn't great for learners, nor those in the business of providing learning. Our most successful customers not only see an increase in the number of learners accessing their content, but in repeat visitors too. Learners are coming back for multiple sessions, dipping into small digestible modules when they are ready for the next stage or require further learning support. The ability to pull learners back in with further digital learning resources is a great way to demonstrates the impact of your learning on their development over time.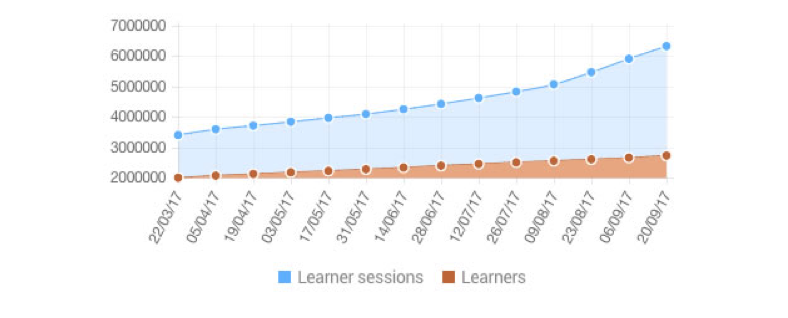 What if you Deliver a lot of Face-To-Face Training?
It's time to start working on a strategy to include digital learning as a key component of a blended approach. It's a powerful way to get people primed and ready to learning before a classroom session; reinforce activities you are running face to face; and embed learning afterwards.
An engagement model like the one below is really helpful to get you thinking about the types of learning experiences you may want to provide at different stages of the learning journey.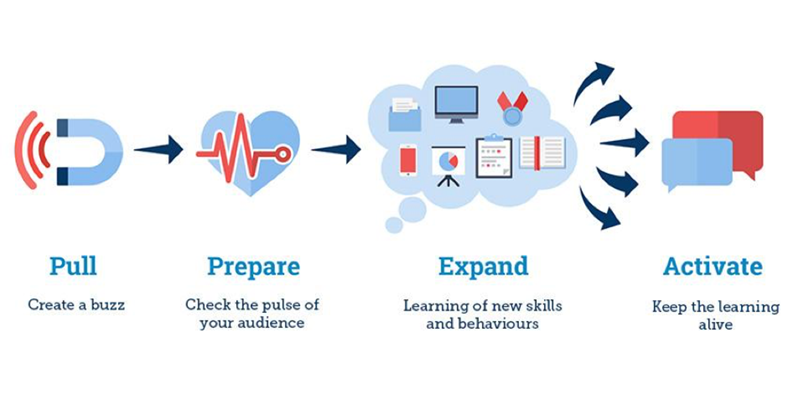 Make Your Existing Content Work Harder
Training providers and L&D teams could learn a thing or two from the best digital marketers, who have become pros at repurposing and recycling their content to get as much value from it as possible.
Forget about just uploading a PDF and calling it eLearning. To be successful this needs to be a digital transformation that maximises the value of existing training and learning content. Think about the channels you're using to serve learning up to your learners to increase engagement with your content.
Some ideas:
Get learners reflecting prior to a face-to-face session with an online quiz or diagnostic.
Create a video teaser or email campaign to spark enthusiasm for upcoming training
Use live polling during a classroom training session to break the ice and get people talking
Get new Content to Market Faster
If you want to be sat at the Big Learning table, efficiency of online content production is key. I recommend that you follow the 5C Framework for successful digital learning. Feedback from our clients has been that this has helped to increase efficiency whilst ensuring the highest quality. You can read about one success story here.
The 5 steps to success that make up this framework are:
Capture - start with a clear plan.
Cultivate - lead with a prototype.
Create - build with confidence.
Cultivate - improve and refine.
Commercialize - deliver better ROI.
Learn more about the 5C Framework.
Optimize Your Process
Whether it's the 5C Framework or something else, review it and ensure this is as streamlined as possible. If you discover that you're replicating effort then address this urgently, every second counts for a profitable online training provider!
Choosing an authoring tool that supports scalability will have a big impact on the efficiency of your production process. Elucidat facilitates multiple variations from a master course, gives you unlimited authors who can collaborate on projects in the cloud; and a sophisticated in-tool asset manager. This will have a transformative impact on your ability to deliver Big Learning!
Discover how Elucidat helps training providers grow their businesses faster and smarter.
Drive Your Growth with Powerful Data
Testing and refining your learning early on is essential when it comes to Big Learning. Otherwise you could find that your learning has failed to hit the mark after you've rolled a large suite of modules in multiple languages. Ouch!
Make sure you're using data and learning analytics to to drive your design - this means you don't need to wait for feedback. You can test and iterate your learning early on, and use insights from pilot groups and users in new markets to make sure you tweak and improve before you scale up.
The data analytics in Elucidat gives you insights into in learner behaviour as well as how specific questions were answered. This helps you to a make informed decisions about what's working and what can be further improved.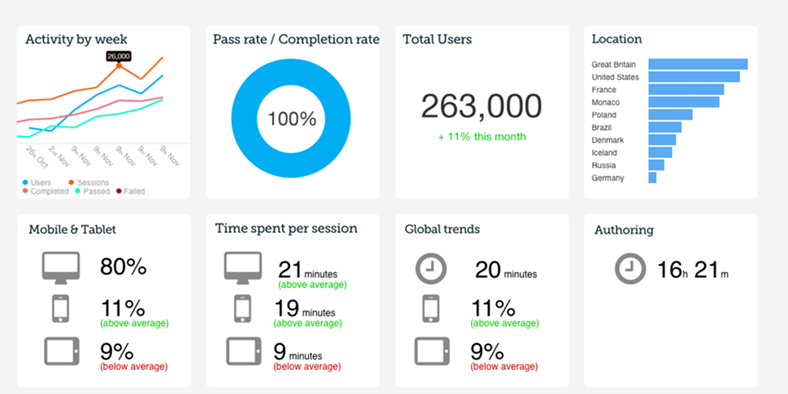 Download our free guide to using data and analytics to design and refine eLearning.
Find That Sweet Spot
Big Learning is the sweet spot where quality, speed, and scalability meet to deliver ongoing value to learners who keep coming back for more.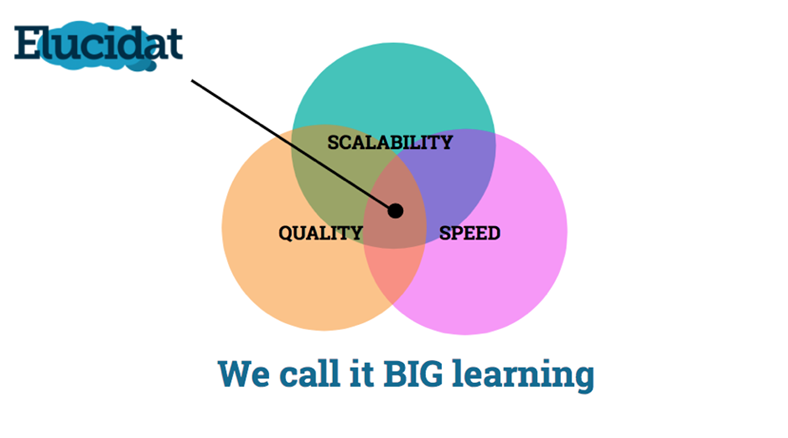 Start delivering scalable, successful digital learning! Talk to us about how Elucidat can help you find that sweet spot!