The conference ticket alone costs £100. The flights are coming in at £150 and the hotel's going to be another £120 on top. Don't forget expenses and, of course, the cost of your time in attending.
Justifying going to conferences, both in time and money, is a common corporate challenge. With the wealth of information now available online, through blogs, video and podcasts etc., some may argue that you can learn most of what you need to know digitally. However, as advocates of a blended learning approach will attest, eLearning alone isn't a substitute for traditional face-to-face time. In just reading content on a screen you're not really opening yourself up for debate or discussion.
In this post, we want to illustrate the true value of going to conferences and how you and your company can get the most from attending. Full disclosure; we've been thinking a lot about this lately as we've got our annual EdTech conference LITE 2016 coming up on September 22-23, so our motives are, in-part, to encourage you to come along to LITE (and other) conferences in the future.
For now, we discuss 6 reasons why you should attend conferences;
1. To expand your network
The obvious one - conferences remain one of the best ways for you to meet like-minded professionals and 'talk shop'. If you're passionate about what you do, then the discussions you have at conferences can often be the catalyst to your next business breakthrough. Or perhaps you're suffering with a particularly challenging problem that nobody within your company has been able to solve? Canvas it at a conference and see if someone's already thought up the answer. Conferences breed knowledge-share.
Remember that while conferences are about you meeting new people, they're also about new people getting the chance to meet you too. Make sure you meet the 'rock star' within your industry, the one whose blog you regularly pour over, those you're avidly re-tweeting. Take a moment to realise that they're actually just normal human beings who were once in your shoes. Get inspired - you can be the new rock star!
How can you get the most out of meeting new people? The key is preparation. Ask to see the attendee list in advance and drop those you're particularly interested in speaking with an email to introduce yourself and exchange ideas. That way, when you arrive at the conference, you're not stood in front of 100 nameless faces. Prepare those introductions too. While it shouldn't sound scripted, you should be able to competently introduce yourself, your role and your company in a quick 30 second 'elevator pitch'. This is especially tough if you're new to an industry, or working-life, so it might be worth consulting with colleagues on what language to use and how to pitch yourself.
2. To spread the word
You've created a slick web presence - your website is responsive, social profiles are nicely branded and sharing your content with the world. However, you're still struggling to get traction and engagement. New leads tend to come from word-of-mouth referral and you've reached the bottom of your LinkedIn contact list. Where's the new business going to come from? How are people going to find out about you? Sound familiar?
Conferences offer a fantastic opportunity to introduce your company to the world. Especially useful for new businesses and those without bottomless marketing budgets, it gives you an opportunity to pitch your value to others within your industry, including potential partners or customers of the future. Of course, not every conference is going to result in you winning big new contracts, but if you plant the seed in someone's mind, then hopefully it'll come to fruition down the line.
3. To learn
Conferences are learning hubs, offering a huge knowledge sharing opportunity - not just between speaker and attendee, but between attendees themselves. With so many brains in a single place, you can't help but pick up new ideas.
We're all guilty of evaluating our industry competitor sets, pouring over their websites and what they're doing to see how we compare. Conferences open our minds, helping us see beyond the confines of the industries we work in day-to-day. Some of the most innovative ideas to take your company forward may well come from a presentation discussing a totally different industry.
How can you learn as much as possible during your time at a conference? The subject matter of talks are usually published in advance, so why not prepare questions for the speakers in advance too? If you ask a lot of regular public speakers, they don't fear receiving lots of tricky questions at the end of their presentation - it's not receiving a single question that keeps them awake at night.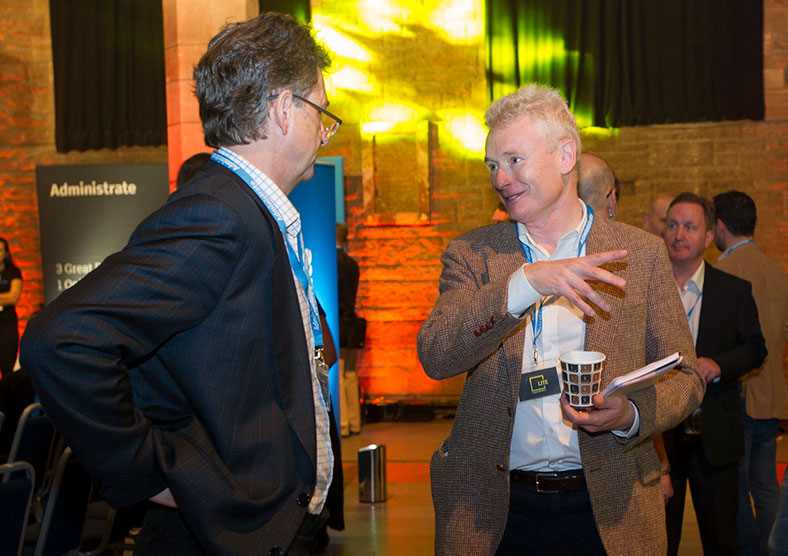 4. To socialise
The stresses and demands of day-to-day working life mean that office environments aren't often synonymous with building great relationships between employees. Conferences offer an opportunity to step outside the daily routine and socialise in more relaxed surroundings. Even the process of travelling to the conference itself can help with employee bonding and morale. These shared experiences are a fantastic way to break down the barriers between senior and junior employees, or on-board new employees and graduates who may be struggling to find opportunities to expand their network beyond their own company.
How do you increase the social value of attending a conference? If budgets allow and the conference is hotel based, try to stay at the venue itself, or at least in one of the conference recommended hotels. Organisers will usually have negotiated preferential rates for you, but the real value is the additional social interaction from after conference drinks, shared taxis, elevator banter, chats at breakfast etc. You also have the added benefit of being able to conveniently retreat to your room for some downtime (and to catch up on emails if you must!).
5. For job enrichment
Embracing continued learning, including attending conferences, as part of your company culture can lead to job enrichment and help lower staff attrition rates.
It's important that attending conferences should be seen as a perk, not a chore, within your company. Equally they shouldn't be seen as something only the senior team attend, else they become elitist. A good way to achieve balance here is to send a mixed team (a senior and junior employee) to conferences and, provided it's applicable, rotate this so that everyone gets their turn.
6. For content fodder
A widely overlooked benefit of attending conferences is the inspiration they provide for new content production. While it may not be within your remit to write content (e.g. for a blog) for your company, ensure you take notes and pass them on to whoever is responsible. Conference subjects tend to be on-trend with what's important within your industry, meaning any follow-up content your company produces should be well received.
You could even try to get the business card of a speaker for your content marketer so that they can follow up for a valuable quote from an industry leading professional. Or why not suggest a collaboration, a co-authored blog post or whitepaper, between a speaker and your company.
Post conference and a bonus tip!
Are you guilty of going to conferences, absorbing lots of great information, then returning to the office and immediately diving back into the daily routine - giving no further thought to what you just learned? We've all done it, but it's obviously not conducive to the knowledge-share we all champion within the business world. We ask employees to present their conference learning highlights upon their return to the office at our weekly company meetings. That way everyone gets to benefit!
And for our bonus tip, tag team it! Travelling alone to a large conference with multiple presentations, workshops and exhibitions can often be frustrating. How do you choose between that really interesting speaker and that super-useful workshop? Simple, don't! Travel with a colleague and you can 'tag team' your way around the conference, seeing everything, taking notes and updating each other (and the wider team) afterwards. We're big champions of the tag team idea, hence we created a 3-for-2 offer for LITE 2016.
A final point, we'd caveat that the familiarity of chatting with 'your own' during the conference itself isn't necessarily the best idea. Although we've already mentioned that being sociable with your colleagues is to be encouraged, try to do this during downtime or travel time. When you're at the conference itself, surrounded by lots of exciting new brains, you should take the opportunity to spread your social wings and chat to new faces. Of course, if you see your colleague floundering or nose-down in a smartphone then jump in and introduce them to the conversation!
Download our Best of the Blog 2016: Training Providers eBook
Did you know this blog post appears in our Best of the Blog 2016: Training Providers eBook? Download it for free now to read lots of our favourite posts from 2016!