In the acronym filled learning world, you might be forgiven for not having heard of LOTO (Learn One, Teach One). Or even EOTO (Each One Teach One), LODOTO (Learn One, Do One, Teach One) and SODOTO (See One, Do One, Teach One). They all essentially mean the same thing - someone learns something new and then disperses this new knowledge to a wider group.
It's not a new concept, with the expression Each One Teach One apparently originating in the US during slavery. When those typically denied education learned to read, it became their duty to teach someone else, spawning the EOTO approach. Thankfully it's application in modern times is associated with the sharing of knowledge for the collective furthering of everyone's learning.
Organisations that don't encourage the sharing of knowledge as part of their culture may well find themselves left behind. Accommodating a LOTO approach to learning can help improve knowledge transfer - something that's incredibly difficult to achieve through emails, videos and text alone.
We're big advocates of shared learning at Administrate. Here's some of the ways we use the principles of LOTO to drive forward our own learning and development:
Lunchbreak LOTO
We hold weekly LOTO sessions during a Thursday lunchtime where a teammate who's an expert in one area of our training management system teaches others, or answers any questions the team have, to help disseminate their knowledge.
These short, 'snackable', sessions tend to last no longer than an hour and while the expert might always be the 'go to guy or girl' for that subject, the entire team has a better overall understanding of the system. Jarred, one of our Customer Support Representatives at Administrate who regularly organises LOTO sessions, explains:
"LOTO sessions are so much better than watching a video or reading a document. They draw out the sort of open-ended questions that you only get from face-to-face discussion."
Book club
Each month every member of the team at Administrate has to read a book relevant to their role and then report back on what they liked (or disliked) about it and why. Often it's a great way for the rest of us to find new reading material, but at the very least the team gets the gist of some great new ideas and initiatives.
Conference curation
As you can imagine, we attend various conferences throughout the year. However, it's our policy that nobody learns in isolation - attendees are actively encouraged to share conference highlights with the wider team upon their return. It might not always be relevant to everyone, but can often spawn ideas and discussion beyond the subject matter itself.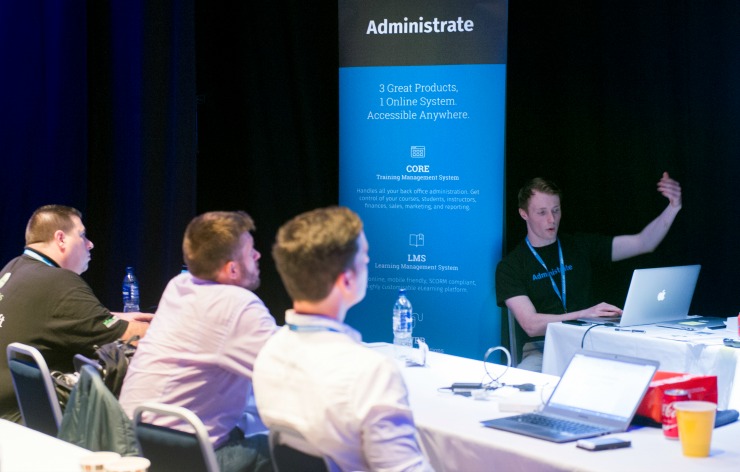 Workshop wisdom
During our annual LITE conference, the UK's biggest EdTech event, we run a series of product immersion workshops where our team pass on their near encyclopaedic knowledge of the Administrate system to our valued customers, helping them make the most out of the all the functionality available. These proved extremely popular last year and feature strongly on the programme for 2016's LITE conference on September 22-23.
Advancing together
In the same way that an Instructor delivers traditional Instructor Led Training (ILT), encouraging your team members to train one another may help them feel more involved and empowered within their roles. It can also help with holiday cover too - you're not so reliant on one person being in the office if the wider team knows how to do more of the common tasks.
However, the thinking behind LOTO isn't solely about encouraging learning and development within an organisation. It's principles are being used to mentor and improve people's lives with Each One Teach One (EOTO) Trust being set up by musician, actor and director Ben Drew here in the UK as a 'University of Alternative Learning', as well as initiatives like Each One Teach One at Washington University in St. Louis.
Their example, that by teaching one another we can all collectively move forward, is an excellent mantra to help garner enthusiasm towards training within your organisation.
Do you encourage LOTO within your organisation? We'd love to hear your thoughts in the comments below.
Book your tickets for our LITE 2016 conference now! Join us in Edinburgh for two days of incredible EdTech keynotes, workshops and networking. Book here!