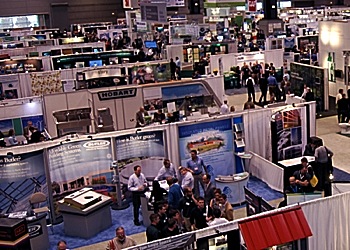 Attending a trade show is an expensive and time consuming event, and we want to help you make the most out of it. Even if you're not visiting us in London or San Diego, use these techniques to help you get the most out of the next trade show or conference you attend.
Before the Show
Make Three Lists
Planning your visit will really go a long way, and doesn't take nearly as much time as you'd think. To effectively plan how you're going to use your time, make sure you have the show's directory of exhibitors at hand, a schedule of speakers, and a rough idea of how much time you'll have available each day.
1. Goals
What's the primary reason you're attending? Are you hoping to learn something? Solve a problem? Network with other like minded individuals? Get inspired? It's helpful to sketch out one or two overriding goals you'll have for each show or conference you attend. Whenever possible, quantify these goals. For example, if you've identified networking as one of your main goals, set a target for how many relationships you'll come away with. This will help motivate you, spur you into action, and review your progress each day. Beware of setting too many goals - it's best to focus on one thing.
2. Exhibitors
Scan through the exhibitor directory (if there will be exhibitors). If you've got any major vendor decisions coming up, it's best to make sure you interact with your potential vendors as much as possible. We recommend visiting those vendors you're interested in along with their competitors. Even if you have your heart set on one particular vendor you might find yourself surprised once you interact with their staff or see their product first hand. Ask them who their competition is if you're having trouble determining this, and ask them for a fair assessment of how they stack up. By checkin in on a variety of potential vendors, you can save yourself from making a bad decision or reinforce a good decision. Meeting with a company in person will tell you a lot about them and should only help you with your decision making.
3. Speakers
Listening to great speakers can be an inspiring, life changing experience when they're great, and a frustrating waste of time when they aren't. We recommend scanning the speaker listings on topics that interest you and narrowing things down to a short list. For each person you're thinking of seeing, try searching for them on youtube or the internet to see a video of them talking. If they're good, then you should be excited about what's to come. If they're bad, you can save yourself from a waste of time. It's often good to get our of your comfort zone a little as well and attend talks given by really good speakers who may be addressing an area you're not very familiar with. A great communicator will be able to teach you while keeping your interest and you may find a new interest or broaden your understanding of an unfamiliar topic simply by choosing to listen to the best speakers.
Plan Your Route
Now that you have your three lists, you should be able to check out the floor plan of the show and plan a general route of movement through the exhibit hall. Make sure to note where the bathrooms are, what entrances you might use, and how you'll get to any rooms to listen to speakers. Planning your route in advance might seem a bit tedious, but it can be extremely helpful when walking a huge show floor, and you can always adjust your plan to respond to the unforeseen.
Book a Massage
We recommend booking a massage if your event lasts more than a single day. Most people aren't used to standing and walking all day, and that's essentially what you'll be doing at a trade show. They can be exhausting and a nice massage will both relax you and help you get through subsequent days feeling much better. If you struggle with back pain or any other kind of ongoing issue related to posture, this can really make a difference. Most hotels will be able to help you book a massage - call them and see what they have on offer!
Bring your Own Bag
Trade shows will provide you with a complimentary bag stuffed full of marketing materials and other swag, but we recommend bringing your own bag that you know you can carry comfortably the entire day. Backpacks can prevent arm and shoulder fatigue while still providing plenty of space and your neck and arms will thank you!
Book Your Travel and Accommodation Early
The earlier you book, the closer to the convention centre you'll be, and the more money you'll save. While you may be tempted to opt for cheaper hotels that aren't affiliated with the conference, make sure you accurately account for all the costs involved - unaffiliated hotels may not have a conference shuttle, might charge you for extras like wifi or breakfast, and can be in locations that are harder to get to. You might also miss out on valuable after hours networking in the lobby or bar if you're staying off the beaten path. While good deals can sometimes be had, just make sure saving twenty bucks a night isn't cancelled out by the need for a rental car!
At the Show
Wear Comfortable Shoes
This one should be a no brainer, but you'd be surprised! Many attendees can expect to walk several miles over the course of a normal day at a conference, so we highly suggest you only consider bringing your most comfortable shoes. If you can manage it, pack two or more pairs and change out your shoes every day to give your feet some variety. Plan to take breaks to sit down and rest your feet throughout the day.
Collect the Information You Need
Make sure you get the information you need from those vendors on your plan. Many exhibitors will offer to email you their materials to save you lugging it all home.
Ditch Information You Don't
There's no rule that says you need to hang on to everything you're given. Most exhibitions will have plenty of opportunities to throw away unwanted marketing materials or swag.
Bring a Notepad
You'll want something to take notes with during the conference. Whether it's jotting down notes during a great talk, making sure you cover your todos, or simply taking notes after you visit the key vendors on your list, you'll be glad you had something to write on. We recommend snapping up a nice (yet cheap) soft cover notepad that can fit in your back pocket so it's always with you.
Take Breaks
You're going to need breaks throughout the day. Find some spots to sit down and visit them every now and then. Drink plenty of fluids and make sure you don't overdo it.
Leave 30 Minutes Early
Try to leave a bit early so you don't get caught up in the closing time crush. Shuttles, cab stands, and walkways will all be mobbed right at closing time so we recommend planning to take off just a bit early or stopping to enjoy a cup of coffee while you wait for the crowds to diminish. Make sure you book a table at whatever restaurant you want to eat at as well - big shows will really cause local dining wait times to skyrocket without a reservation.
Enjoy a Massage or Bath
Did you book that massage? If so, enjoy it! If not the next best option is taking a bath. It'll help you sleep better and wake up refreshed.
Following Up
After the show make sure you follow up with the vendors you're interested in. Some companies will struggle to handle all of the leads they obtain and it can take awhile if you're waiting on them to initiate contact. It's a good idea to connect with new contacts on LinkedIn or send them a short email with a relevant detail about yourself in case they can't remember your name. Lastly, if you really enjoyed a speaker, make sure you let them know - you'd be surprised at how much this means to speakers no matter how successful they are.
Trade shows and conferences can be tiring and expensive, but they can also be inspiring and a valuable avenue to acquire new contacts, products, and services. We hope you enjoyed this guide, and hope to see you at an event sometime this year!