Sometimes when we're speaking to prospective clients, they're confused about how a training administration platform could help them. They already have a team of training administrators deployed to run their course offerings, liase with students and instructors, and generally take care of all the day-to-day admin tasks that providing training requires! Why do they need additional tools? They're not interested in laying off any staff!
Administrate Doesn't Eliminate Jobs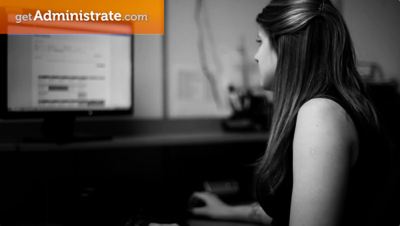 We're not aware of a single instance of admin staff losing their jobs because of Administrate. We are aware of plenty of admin teams that can reclaim at least a day a week to focus on other tasks, thus supercharging their productivity!
Administrate is like a bicycle for your admin staff - now that they're riding a bike, they'll not need to work as hard as they did when walking, and they'll be able to cover three times the distance in the same time!
Administrate Saves Teams Time
Right out of the gates, Administrate tends to save admin teams (small or large) significant time in the following areas:
Course scheduling and resource planning.
Customer contact and records keeping.
Course administration tasks such as sending out joining instructions, processing bookings, creating invoices, generating certificates, sending and collecting evaluation forms, and taking online bookings.
No more data duplication - enter information once, and it will be used to power your website and run your internal operations.
This is just a sample of what admin teams experience within the first few months of implementing a training administration system like Administrate!
Administrate Helps Admin Teams Perform Better than Before
Think of all the things your admin staff could do with the extra time they will have. They'll also have new tools at their disposal to help them!
After Administrate, admin teams have more time to:
This just a sample of some of the efficiencies you'll experience once your admin team is freed from the monotonous and routine tasks they tackle every day.
We've had training companies double their revenue after implementing Administrate, just because their admin staff became that much more effective! Other training operations have built entire new sources of income from their website using the additional time and course booking tools Administrate afforded them!
These results are not unusual.
Training Administrators Love Us!
We're here to help training administrators deliver the best training experience possible. We're proud of the fact that admin teams love using our products, and we constantly try to improve our service and products to make them even happier.
A sample of recent feedback on our tech support:
"Support is always Fabulous!"
"Very efficient and helpful service."
"Support is always fabulous!"
"Always excellent customer service"
"Support from Administrate is always good"
"You have awesome support!"
Skeptical? Why Not Chat With Us?
We'd love to chat with you and put you in touch with real training providers who can attest to the difference Administrate is making in their lives!