Today we're happy to announce the open beta of our new Salesforce integration. Designed for training organisations who need to regularly synchronise CRM data between Administrate and Salesforce, this integration is easy to setup, and will reliably synchronise account and contact data between the two systems.
Now those customers who use the Salesforce CRM can easily get the best of both worlds - a dedicated training management solution powered by Administrate, and the power of Salesforce to drive other operations forward!
Getting Started
To get started, simply add in your Salesforce API credentials within the integrations settings page. You can obtain the necessary credentials from within Salesforce by following this guide.


Choose What to Synchronise (And How)
Setup the field mappings between your account and contact entities, and choose which conflict resolution method you'd like to use (Salesforce wins, Administrate wins, or be asked every time). For example, if Administrate is set to "win" when there's a conflict, the Administrate version of the contact or account record will be authoritative. You can control exactly how each field within Administrate is mapped to the fields within your Salesforce installation.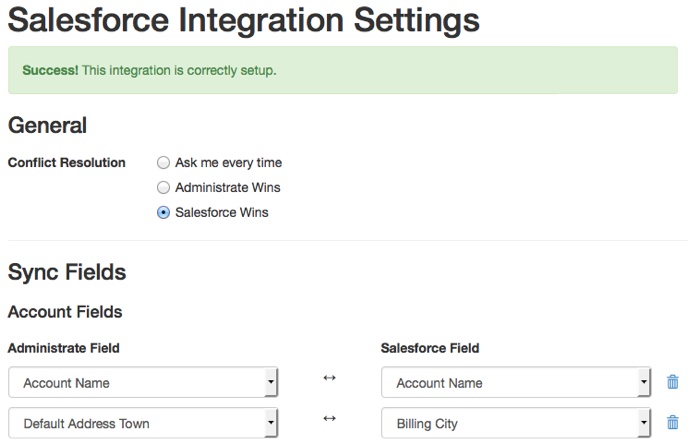 Sit Back, Relax, and Watch Your Data Roll In!
Now wait for your data to be synchronised. The initial synchronisation depends on data volumes and can take several days if you have a large organisation with many thousands of records. Activity is recorded whenever the sync task runs so you can always see what's happening.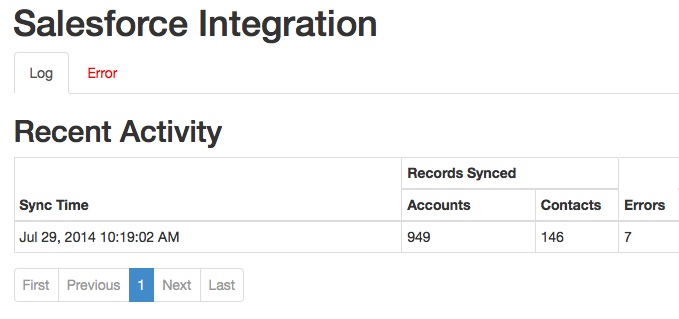 Easily See and Resolve Any Issues
We suggest checking back every few hours to monitor the error logs and make sure that you pick up any missing data points, at least on the initial sync. Errors affecting specific records that you rectify will be picked up on the next scheduled synchronisation.
Get Started Today!
The Administrate Salesforce integration is available for all customers who are currently on a Plus or Enterprise plan, and costs 50GBP (90USD, 65 EUR) per month. Make sure you let us know if you have any questions!