Each summer we welcome a couple of interns to join the team here at Administrate, usually as part of the development team. They typically arrive in June and work until September when they have to head back to university to continue their studies. They get paid a salary, and are treated as full team members with real responsibility for real projects - no tea making and photocopying here!
During my studies an university, I had always figured I would do research. So when my advisor suggested I should try to get an internship this year I didn't know what to expect.
A few small personal projects, one phone call, one technical exercise, and one interview later I had my place confirmed with Administrate! My friends had told me their previous internships had them either having nothing to do all day or they were given grunt work to do. So it came as a huge surprise to be working on the main codebase and pushing actual production code within my first week!
Getting started at Administrate was very relaxed. My first couple days consisted of me sitting in the regular team meetings to get an idea of what the day-to-day was going to be about. With help, I had a development instance set up, giving me free reign to explore the product and have a look at what I would be working on for the next couple of months.
Over the next few weeks I started to learn what the company was about. They have some lofty goals, but have a realistic plan in place to achieve them. This and the core values they go by really permeate throughout the day-to-day in the company. I was encouraged to take time out of my work day to go through their own LMS to get to know the system from a customer's perspective, and watch educational videos on how to improve my code (#AlwaysImproving). We also had weekly update meetings called the Pulse where everything about the company's goings-on are explained (#Transparent). This along with the four day work week really created a hardworking atmosphere but not one that ever became overwhelming.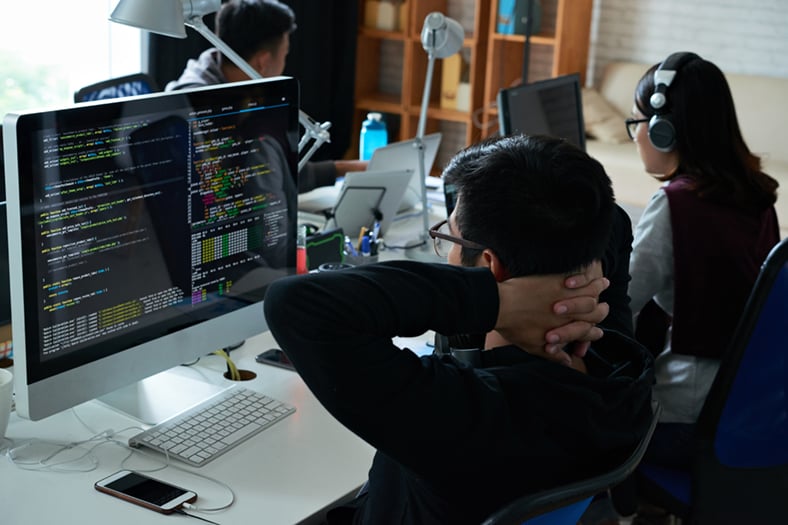 As part of the Zinc team, I worked on integrating time zones with the rest of the system. This meant I was working on pretty much the entire product. My tickets would range anywhere from alerting new users that time zones have been added, to calculating instructor conflicts in different time zones. At first I was daunted by the responsibility, but my team was just amazing. They would answer all of my questions without hesitation and explain what was going on and why. Other than the direct product work, the team would also work on support tickets. These involved fixing bugs and solving customer problems, which was a great way to see how the company operates a get an idea of how customers actually use the system we were working on.
If I had any advice for other interns planning on coming to Administrate, the main thing I would say would be to ask lots questions! It will be challenging, so ask as many questions as you can think of as you will be in a comfortable environment where learning is encouraged. Ultimately, just enjoy yourself!
Throughout the internship I have learned so much and I really felt like a member of the team. From going from near zero knowledge in PHP and AngularJS, I can now effectively create software in both. Not to mention learning other useful technologies like SQLAlchemy and Python behave. These thirteen weeks have taught me more about software development than my two years years at university combined, and my third year will heavily focus on the software development process. The experience I have gained here at Administrate will undoubtedly give me an edge. I feel so lucky to have been part of this company, I have experienced what it is really like to work as a software developer in an environment focused on self-improvement and can definitively say I will walk away as better programmer because of it.
If you're interested in an internship position at Administrate, make sure you check in with us in the early part of each year when we're interviewing candidates for the upcoming summer.