Each summer we welcome a couple of interns to join the team here at Administrate, usually as part of the Development team. They typically arrive in June and work until September when they have to head back to university to continue their studies. They get paid a salary, and are treated as full team members with real responsibility for real projects – no tea making and photocopying here!
I joined Administrate at the beginning of June 2018 as a Software Engineer on a 12-week summer internship programme. This was a fantastic opportunity to gain relevant work experience for a software engineering student during the summer break before the last year of my undergraduate course at Edinburgh Napier University.
Application Process
I applied for this position in March. The online application was the first selection stage, after which there was a telephone interview with Jen, Operations Manager at Administrate. It took about 20 minutes and was conducted in a friendly but professional manner. The third stage of the recruitment process required applicants to create a sample web application. I got an email from Jen in early April to say that I was selected for that stage, at which point I was away on holiday and unable to work on the project until the day before the deadline for submission.
I emailed Jen to find out whether this deadline could be extended by a few days given these circumstances, and much to my surprise and relief (as I'm fairly sure it wouldn't happen with 99% of companies) she responded the next day that it's absolutely fine. This meant I was able to give it my best shot as soon as I was back from holiday.
Next time I heard from Jen was the day after I sent her my solution and again, it was good news. I was at CodeBase the next day - waiting for my interview, the final stage of the recruitment for summer interns. It took, just as Jen explained in the email, about an hour and was conducted by Iain and David, scrum masters of two of the Engineering teams.
The interview was challenging but definitely not intimidating. There were both more theoretical questions and some pen and paper practical exercises. The last part involved a discussion about company values and finding out whether I was a good fit personality-wise, after which I was shown the office, including the Engineering department, and thanked for my time.
A few days later I received a phone call from Jen, during which she told me that I was accepted for the position, asked whether I wanted to take it, and explained the next steps. The whole recruitment process from the online application up until this conversation took less than a month and was very well organised, clearly explained, and accommodating.
Early Days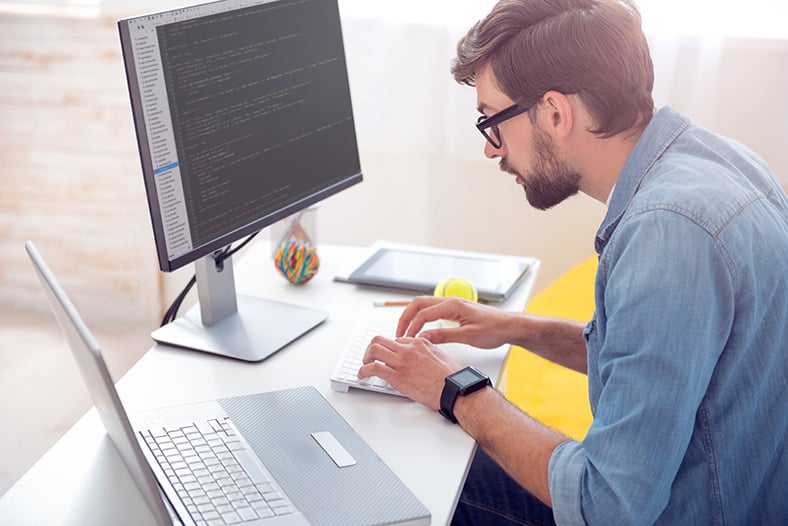 From the first days of the internship, I was treated like a normal employee rather than a stereotypical intern, with all the rights and responsibilities that come with it. There were three other interns in my department – James, Yu-Jo, and Fadel, with each of us working in a different team. I was part of a Mercury team, primarily focused on front-end work on TMS (training management system) for our customers.
There were numerous talks and introductory sessions organised by the company - both internal (from Senior Engineers and management) as well as external speakers from a range of different software businesses. These proved to be extremely useful for gaining a better understanding of our system, practices, and the software industry in general.
My first few weeks passed like a breeze. There was a lot to take on board both in terms of technologies being used at Administrate as well as working in an agile team in general for someone with only academic knowledge of the software development process.
Moving On
As previously mentioned, the team I was working in was mainly front-end focused when I joined. However, about halfway through my internship, we started doing more and more of the API work, which is the core of the Administrate product that allows both internal and external platforms to create, read, update, and delete data in their Administrate instance.
This switch allowed me to get a broader experience of working with both the front-end and the back-end of our software and meant I never stood still by repeatedly working on very similar tasks.
On a less technical side, this internship helped me develop many soft skills that are essential in my profession. I regularly participated in numerous meetings (daily stand-ups, planning, retros, etc.), was treated equally by everyone else, and was able to share my ideas and raise any concerns I may have had. I had an opportunity to demonstrate the work that my team and I had done in one of the weekly demo slots, did a presentation with other interns about our time here, prepared test plans and other types of documentation, and much more.
I also took part in a hackathon for Administrate employees, which was great fun and a chance to meet my colleagues in a more casual set up. However, even on a normal workday, there was a focused but relaxed atmosphere in the office. I never felt that there were any borders between me and someone else, including John, the CEO or anyone else from the senior management for that matter. I was always able to approach everyone, whether it was a casual chat beside the coffee machine or asking for advice on something I was working on.
Conclusion
My internship at Administrate was extremely valuable to my professional development as a Software Engineer and future career. I feel that it will also contribute a lot to my academic performance in the last year of my degree, and in fact, I decided to use one of the technologies I learned here over the summer (GraphQL) as the subject of my honours project. I feel way more confident in my ability to be a good, professional Software Engineer than I was before the internship, and I would like to thank everyone at the company who took time and effort to make me feel welcome and valuable during my time here.
You can read all our previous Interns at Work blog posts here.
If you're interested in an internship position at Administrate, make sure you check in with us in the early part of each year when we're interviewing candidates for the upcoming summer.