At Administrate, you will often hear us talking about dogfooding, which might sound a bit off-putting, but is actually about how we use our own product on a daily basis. It would hardly be a great advertisement for us if we used another system for something Administrate could do, and that's why we practise eating our own dog food (yummy).
And that's precisely why we used the Administrate LMS to create Administrate University! Administrate University is designed to train users on exactly how to use and get the most from Administrate, covering all of the amazing features we offer. Not only do we give access to all our customers to help with the on-boarding process and as a useful reference point if they get stuck in the future, but we also require all our staff to work their way through it to ensure everyone is familiar with our product, and knows exactly how to use it.
Let's have a look at all the sections that we cover currently in Administrate University, though new content is being added as we release updates to Administrate to make sure the University is always as up to date as possible.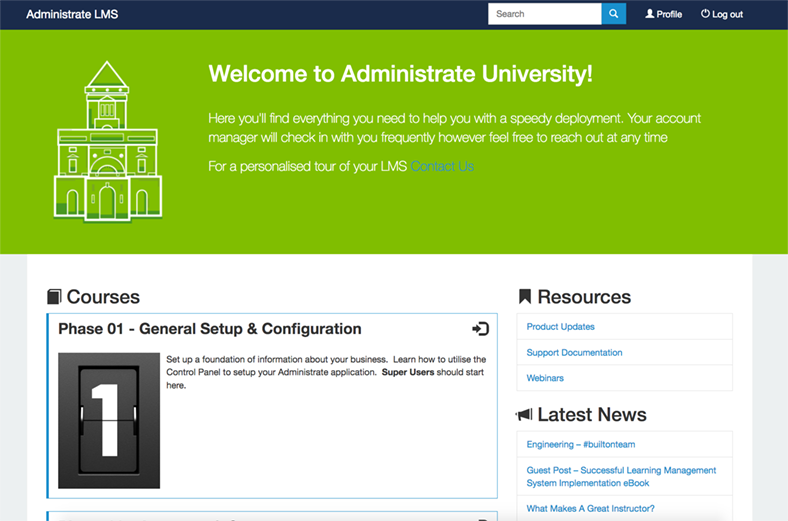 How to Use Administrate University
Anyone within your organisation can gain access to Administrate University. If you do not have a login, please contact your Account Manager or email the Support team to get started.
Once logged in, you can start from wherever you want. All of our customers in Implementation start with Module 1 – General Setup & Configuration, however for existing customers you can dive in to any module that tickles your fancy!
Each module has a number of different units which students can work their way through. Each unit gives you:
An overview of the content that will be covered
Each main point of the unit it covered in a short video, where we walk you through how to do specific thing within Administrate with an on-screen demo. The videos are split into bite-sized chunks that are easy to digest, and you don't have to work through a whole module in one go. You can even keep the LMS running in the background and if you have a few minutes in-between calls or emails, just click on the open video.
A summary of everything you've just learned.
Each module also has a quiz at the end, where you can test your knowledge of everything that was covered.
You can also easily view which parts of a module you've completed, and when they were last accessed, so you never have to worry about losing your place or losing track of what you've already done.
Having completed a module, we don't expect you to be the 'Brains of Britain' (other countries do apply) and not have any follow up questions. In fact, going through a module may trigger questions that you had not previously thought of. There are a couple of avenues to get your questions answered. You could schedule a follow up Q&A call with your Account Manager, or simply email your questions to the support team.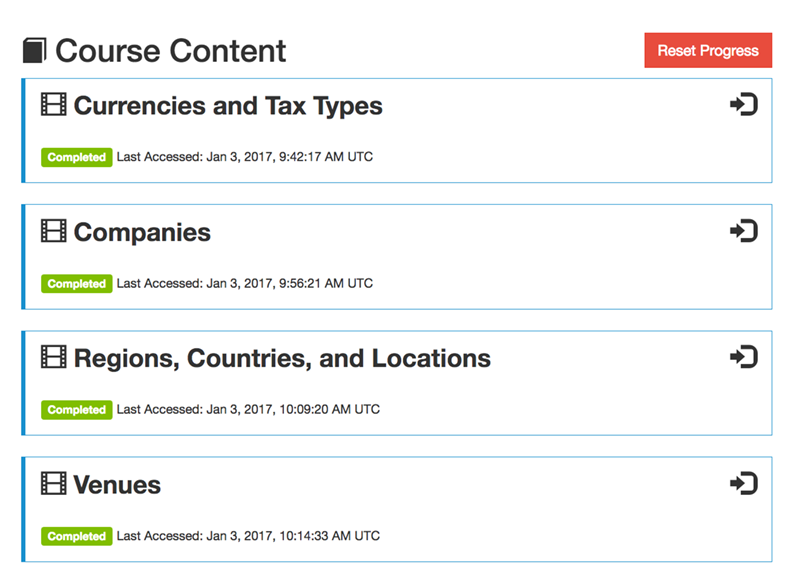 1. General Setup & Configuration
This is the place to start if you want to know how to get Administrate up and running so you can start putting it to work effectively.
In this module we cover setting up currencies and tax types, companies, regions, countries and locations, venues, branding, users, certificates, and evaluations.
Once you've completed this module you'll know exactly how to set up Administrate with precisely all the information you need to ensure your business runs smoothly.
2. Accounts & Contacts
The Accounts & Contacts module is all about setting up the details for all the people you do business with within Administrate. This covers companies, students, billing contacts, instructors, staff, etc.
We show you how to use our Customer Relationship Management (CRM) system to create accounts, contacts, and instructors, as well as giving details on our IMAP Integration, how to add the custom fields you need to your CRM instance, and how to record sources – which is where a new account first heard about your business.
3. Courses
This is a huge part of Administrate University, as courses are the training products that you offer to your customer, and we're here to help you increase those course sales!
Learn how to set up course categories, create course templates for easy duplication of events, create mapped items, set up score templates to map student scores, and set up course pricing.
4. Events
Now your courses are all set up, you can start scheduling your events. Learn how to create a public event and a private event, how to set up and assign event resources, event personnel, and event tasks, and how to make event modifications.
5. Communications
Communications are one of the areas Administrate can save you so much time, and this module is here to show you exactly how to do that.
This module covers setting up sending addresses, creating communications templates and the communications triggers that will cause your communications to be sent. It also covers other communications, which shows you how to configure and send these non-trigger based communications from your instance.
6. Students
This module covers those all important students and how you can manage them in Administrate.
We talk you through registering a student and editing any registrations. We also cover how to record attendance and student scores, issuing and recording evaluations, and how to generate students certificates.
7. Invoicing & Payments
Administrate is here to help you manage all your invoices as well, so you can generate them in a few clicks and without lots of legwork!
Learn how to create, edit, and email invoices, as well as entering event costs on to your events, and creating and sending receipts.
8. Sales Opportunities
Our sales system is incredibly detailed and designed to make your whole sales process a total breeze. Because there are so many amazing features you can use in our sales system, this module is a particularly meaty one.
In Sales Opportunities we cover:
An overview of the whole sales system
Opportunity layout and workflow
Document templates
Creating opportunities
Interests
Tasks
Quotations – these are quotations that you may wish to send to your prospective customers as you work through the sales process, which you can send directly from the sales system.
Form documents – these are documents such as registration forms.
Resources – these are documents that you associate with an opportunity.
Emails – we show you how to send emails directly from the sales system to your opportunities to save you even more time.
Timeline – this is a customisable timeline that is located on each opportunity, where you can track things like email correspondence and tasks.
9. Student Portal (LMS)
The final module of Administrate University covers everything to do with the Student Portal and our Learning Management System (LMS). As well as a brief overview and how complete the basic setup, we also talk you through the student experience, configuration and tweaks, and how to monitor your students' progress.
Getting the Most from Administrate
If you are managing a team using Administrate, you really want to make sure you are getting the most out of the product. We also want to make sure your staff are operating as efficiently as they can so I would encourage team leads and managers to push their teams to look at the modules. You can also contact your Account Manager who can set you up with a scheduled report to get mailed to you weekly, monthly or quarterly which will highlight which modules have been attempted by staff members and how far they have progressed.
Next Steps
Administrate University is already live and getting rave reviews, with the videos being played over 17,000 times in the last year! Please contact your Account Manager via email for access or get in touch with the Support team.
In terms of getting the progress report, again, please contact your Account Manager who will be happy to set this up for you.
If you're interested in becoming an Administrate customer and having access to our amazing Administrate University to help you along the way, book a personalised demo with one of our team today, and we can talk you through how Administrate can work for you business.