Many organisations have a plethora of apps and tools they use, and managing all those logins can cause headaches for both users and administrators. To help tackle this problem, we teamed up with industry leading identity and access management vendor ForgeRock, and we've just released single sign-on (SSO) for Administrate! In addition to providing SSO solutions, ForgeRock uses Administrate to power their quickly growing corporate university, so it was natural to work together on this project.
We caught up with Kevin Streater, Director of Global Training Services for ForgeRock, who mentioned that, "Federation and Single sign-on continue to be an often overlooked but critical aspect of technical infrastructure, particularly as more and more applications move to the cloud. In our experience, the best performing organisations use some form of SSO to eliminate the need for multiple passwords, enhance security and accelerate adoption of new services."
How It Works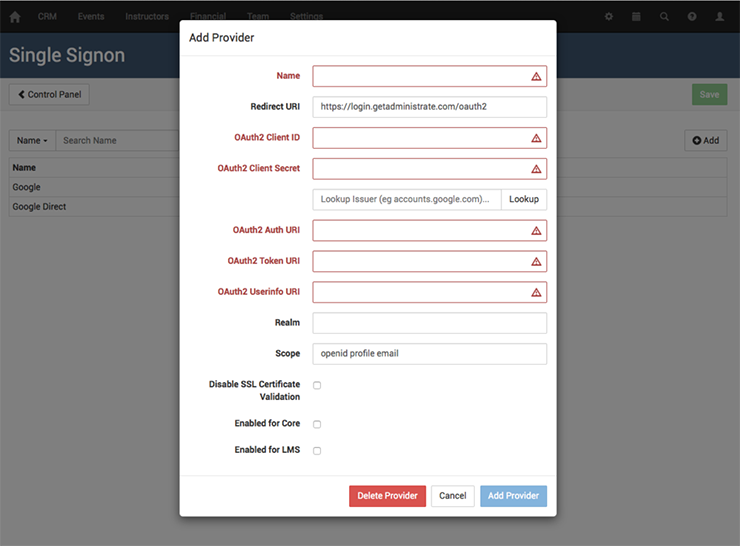 It's simple to activate SSO with Administrate. Any OpenID Connect provider (OpenID identity layer on top of the OAuth 2.0 protocol) should work with Administrate, including some major service providers such as Google. If you're unsure about what protocols your SSO solution supports, contact your vendor or administrator.
You can provision SSO for either your administrators (users logging into the Administrate CORE training management solution) or your learners logging into the Administrate LMS. Simply add in the credentials for your SSO solution, and choose which parts of Administrate will be available for SSO login. We've already set up a stock integration with Google, so if you're using Google apps or Google identity management, you'll just need to activate it and you can dispense with the setup details.
Once activated, a "Login with Google" button (which you can customise) will appear on the login form. Administrate will ask for some basic access to your credentials, and you're in! Remember that because we use email as a User ID, your administrator and student email addresses must match within your SSO solution and Administrate. For those customers needing a bit more control, we do support custom branded login pages via SSO for customers on our Enterprise plan.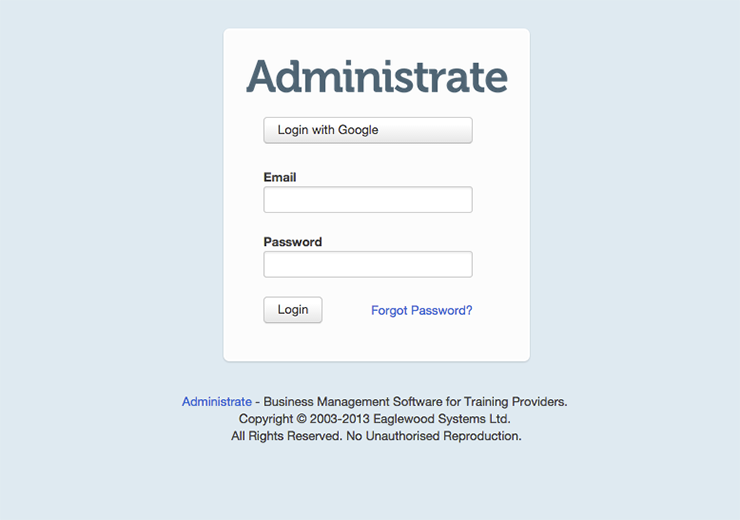 Available Right Now!
Single Sign-on is available right now for all customers on our Plus and Enterprise plans. We hope you enjoy this feature and as always, let us know how you get on!