Ensuring your learners are updated about the courses they've signed up for is vital in delivering a high standard of training. Keeping on top of this manually takes time and it's easily missed amongst numerous other day-to-day tasks. Training Managers use Administrate's Communication Triggers to send out automatic communications to their students, saving time and ensuring that everyone is on the same page.
The Administrate CORE system has long had email communication triggers, but we're delighted to announce the addition of SMS Triggers. They offer very similar functionality as email Communication Triggers allowing you to automate SMS (Short Message Service) communications, also known as text messages, to your learners.
It's worth noting that SMS have a very impressive 98% open rate, with 90% of messages being read within 3 seconds according to a recent study. Compare this to open rates of 20-30% via email communications and it's clear that using SMS could help improve the distribution of key information.
Using Administrate's SMS Triggers can help with a multitude of tasks, for example:
Reduce 'no-shows' by sending scheduling a SMS reminder for event attendees a few days before.
Send an automatic SMS confirmation to those registering for your training event - everyone likes that affirmation that they're booked in.
Get feedback on your training event by scheduling a SMS to request attendees call/email you with their thoughts (or send them a link to an online survey, SurveyMonkey is a good option).
Setting up SMS Triggers is easy!
If you've used email Communication Triggers then you'll already be very familiar with the setup, but for those new to the system, here's how you can get started with SMS Triggers today.
An important tip: don't forget to switch your triggers to SMS on each step (the default is email) at the top right of the screen.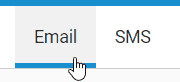 ---
Click Add to start creating your first SMS Trigger and you'll be presented with a 3 step process.
Set up a Sending Address (a SMS number and name) that your messages will be sent from.
Name is for your internal reference and can be anything you like (your students don't see this).
Number, unsurprisingly, is the phone number that messages are sent from. This is automatically assigned and you can't receive replies to this number.
---
Next up, you need to Create a Template for the content that you want to send out.

Name your template for your own internal reference (your students don't see this).
Select an Audience for your template (this could be Event Staff, Event Students, Booking Contacts or Scheduled)
Compose your message in the text box, keeping to a 1,000 character limit. Considering the medium (a mobile device) you'll probably want to keep your communications shorter. Don't forget you can use Template Merge Fields by clicking the 'M' to add in fields from your database and personalise your communication. In the example above we're sending all Event Students a SMS to request that they give the event instructor a call with feedback.
---
Finally you need to Add a Trigger for your communication, to tell the system the circumstances in which to send a communication template.

Trigger Name is an internal reference for your own benefit (your students don't see this)
Abbreviation is a way to reference your triggers in other areas of the system.
Select the Communications Template you created in step 2 above for Template.
Select the appropriate Target for the communication (this defines which Administrate feature, excluding Scheduled, the Trigger applies to). In our example, we're going to select Course (this means the triggers will fire for every event that runs for the selected course, useful if you're repeating the course).
Add in the Sending Address you set up in step 1 for the From field.
You can then specify whether you want the trigger to send automatically or manually, and you can disable the trigger temporarily if you'd like.
---
Save time. Save money. Deliver better training.
And that's it! Simple, automated communications to give you more time to focus on what you do best, training your students. Login to give SMS Triggers a try and don't hesitate to get in touch with your Administrate Account Manager if you've any questions.