Training plays a critical role in the development of any organisation as it's essential that employees are developing the skills required for personal and organisational growth. A clear insight into your training performance can serve as a leading indicator of your company's health as a whole.
We firmly believe that providing meaningful data to our customers is key to making you successful. About a year ago we made it a key priority for us to make sure that we could provide powerful, on-demand, completely customisable reporting for all of our customers. Today, we're really excited to announce that after more than a year of beta testing with a huge portion of our customer base, we're releasing the most powerful reporting engine in the EdTech industry! Already this tool has helped hundreds of organisations gain deep insight into how they're defining and delivering their education, and it has quickly become one of our bedrock features. Here's a summary of the system:
"The thing I love about the reporting engine is that it's so intuitive - it thinks like a training professional!" - Claire Good, ForgeRock
Our customers come from a truly eclectic range of businesses, all with individual needs. For example, a training company needs to not only manage their courses, but they also need to understand what drives demand, how many of their courses are under-booked or what resources are available and when. Training departments on the other hand, often need real-time insight into staff training in order to measure against business goals and expectations. They also need to make sure that all staff are suitably trained and compliant with industry regulations.
To serve these very different requirements, we spent significant time making sure that the engine could access each data point stored within Administrate, and provide a set of powerful tools to manipulate that data into the desired format.
How it Works
Building a report within Administrate is really easy. To get started follow these simple steps:
1. Choose: Choose the data entity you want to start the report from. There are lots of different entities, all of which have numerous fields, within Administrate, but it's easy to find the one you're looking for with our data browser.
2. Constrain: Add constraints to the data you're looking at. For example, if you're looking at the Contacts entity, you might want to add a constraint to only show those Contacts within a specific city. We have a huge number of constraint options to choose from to help you get the exact data you're looking for.
3. Present: Now that we have the data we're looking for, choose the fields (and how they're sorted and named) that you want to display.
4. Save (optional): You can save the report for later viewing and sharing with colleagues. Reports are accessible through our Document Management System and also from the master report list.
5. Distribute (optional): Set up a distribution list and schedule to automatically email people in your organisation reports that you've build within Administrate.
Some Examples of Reports Our Customers Love
• How many of your courses are running below capacity?
• When does your students' certification training expire?
• How many of your resources are being under-used?
• How many courses you've delivered in a month? Or a year?
• How many courses have been cancelled?
• What's the incurred cost for these courses?
Detailed Example
Let's say we want to build a report that will show us all our private events in the last three months and their attendance. First of all, you need to click the Reporting icon as shown in red in the image below.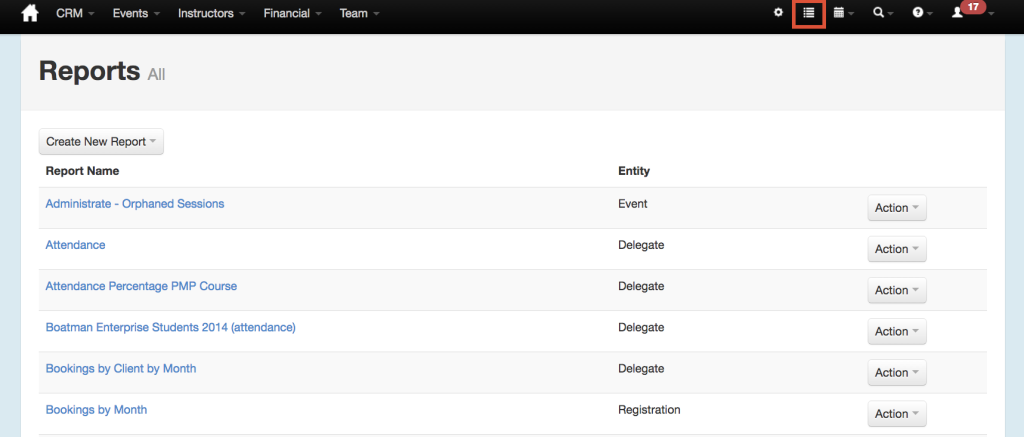 Next, we'll choose 'Create New Report' and select 'Event' as our starting point because that's what we want to report on. Now we'll define the constraints which will help us narrow down our search. In our case, that's the event type (private) and period (last three months).

We're almost done! Now that we've narrowed down our search, we have to present the specific information about these events we want to look at. In our example, we simply want to see their attendance. Attendance in itself is not a filter that will narrow down our search; rather, it's a value we want to see in the report. For this, we use output columns. The tool also gives you the option to further organise your data into various segments. In our example, we sectioned the report by month so that we can easily see each month's activity.
Now we save it and check out the results!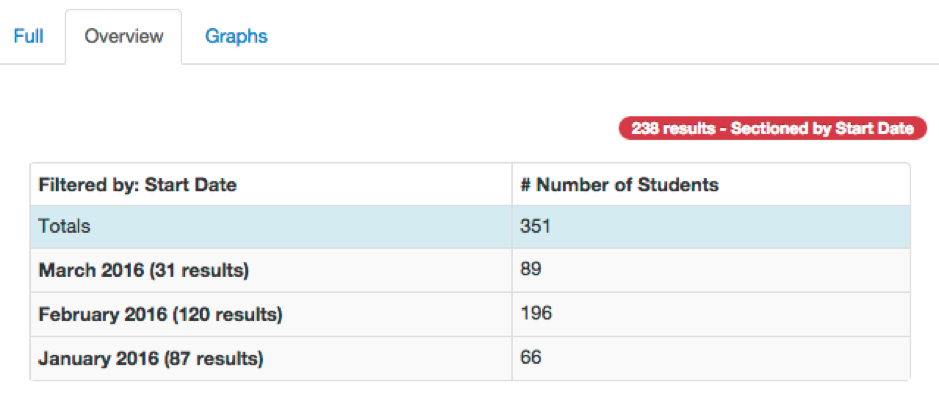 That's your report finished. We really do encourage you to get to know the reporting engine - it can deliver the insight you require as and when you need it. As always, for more detailed support, head over and read our support documentation!
If you are considering Administrate, why don't you sign up for a trial and try it out?