In the first of a series of posts, we're taking things back to basics to introduce the uninitiated to the wonderful world of eLearning. Today, we're addressing why you might want to consider adding eLearning as a method of course delivery and how you can start to bring the right tools together.
What you need to get started
The right tools are key components to an effective blended learning strategy. We're proud to have built an industry leading, award winning TMS and LMS, so that's two tasks off your list! Simply select a Content Authoring Tool and you're off!
Why eLearning?
Perhaps you've been delivering classroom based ILT (Instructor Led Training) for years and are a little apprehensive as to how or why to embrace eLearning? The important role the classroom plays in learning will never be in question, but the advantages offered by eLearning certainly warrant consideration of a more blended approach.
Take the plunge and you can a expect a blended learning strategy to deliver;
Time efficiencies - using eLearning effectively can reduce the face-to-face time required to deliver training (without compromising on course effectiveness). For example, one of our customers managed to reduce an 11 day face-to-face training programme to 5 days face-to-face complemented by additional eLearning time using the Administrate LMS.
Resource efficiencies - reducing face-to-face time should, in theory, allow you more time to focus on developing course materials and/or further teaching.
Improved profitability - if you're a training company, with reductions in both costs and time comes the ability to do more. And more training should = more profit.
Increased reach - take it global, with no need to step on a plane. Web based learning can open up international business opportunities as a training company, or allow training departments to educate staff around the world from a central training hub.
Flexible scheduling - useful for both teacher and learner; the battle to find a suitable time for everyone becomes less of a challenge. Often helpful in busy working environments when dedicated learning time can be a challenge.
Enhanced learning - use eLearning to help compliment the classroom. Prepare learners before they even step through the classroom doors with some introductory eLearning activity; they'll be warmed up and face-to-face time should be even more productive.
Sold? Fantastic, let's look at selecting a Learning Management System.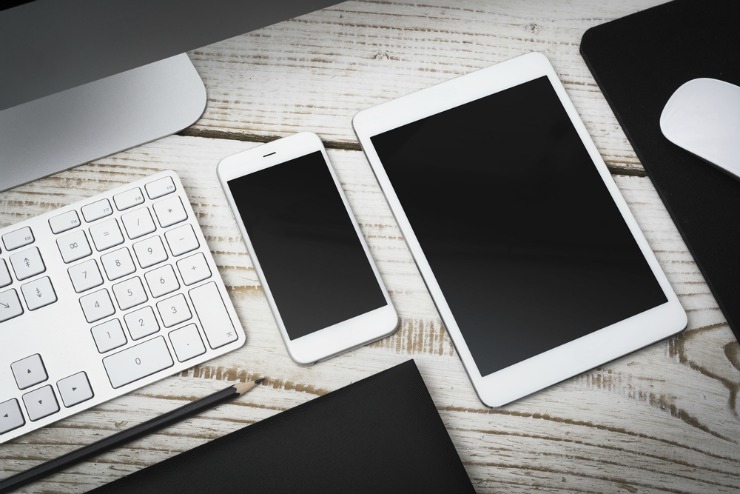 LMS selection
Selecting a Learning Management System can seem a little daunting given that there's over 600 out there. Now we might be a little biased, but we think the Administrate LMS is the way forward here. Especially if you want to adopt eLearning gradually with a blended approach across multiple devices using a cloud based platform that is very simple to integrate. We're great at that!
It's important to remember that the main focus of the LMS tends to be the delivery of content, but not production of course content itself. As you'll know, the quality of course materials are vital to the overall effectiveness of teaching - so equally important as the selection of a quality LMS is finding the right Content Authoring Tool.
Content Authoring Tool selection
When selecting a Content Authoring Tool, it's best to establish your requirements upfront.
Firstly, do you opt for a cloud based or installed platform? Cloud based solutions essentially mean you don't need to install any software. It's quick to get started and you'll always have the latest version, but you'll need an internet connection to use them. Our software is cloud based so we're very much advocates of this approach. It removes many of the headaches associated with the set up of new systems and processes, giving you the time to focus on what you do best. Installed platforms need to be physically installed on your computers, servers etc. and updated when new versions are released (possibly at additional cost), but can be used without any internet connection.
Next, how many of you will be authoring content? If there's a team of educators who'll be authoring content regularly, or a mix of authors and reviewers working on content production then a cloud based solution will very likely be your best bet as these lend themselves best to collaboration.
What about your learners? How will they be accessing your content - mobile? tablets? Will you be taking a BYOD (Bring Your Own Device) approach to eLearning? If you think it's quite likely that they'll want to learn on the move, on their own devices, then it's definitely worth considering a Content Authoring Tool that allows you to create content in (or convert content to) HTML 5 rather than Flash. Flash isn't supported on many mobile/tablet devices and appears to be a dying content format, whilst HTML 5 is the relatively new kid on the block, establishing itself as the de facto format of choice in eLearning content production.
One caveat to be aware of is that HTML 5 launched as a markup language in October 2014 and as such, there's limited support by older web browsers (e.g. Internet Explorer 8 and lower), something to be aware of if a lot of your learners could be using older systems/platforms.
Also important to factor in is compliance with two very important acronyms; SCORM and xAPI. For those not in the know, SCORM stands for Sharable Content Object Reference Model, which essentially means 'content that can be shared across systems'. This, coupled with xAPI (also known as the Tin Can API) ensures a uniformity in the way that content is handled by eLearning software products (like your LMS). Why are there two? Tin Can effectively supersedes the older format, SCORM, although there's a bit more to it than that.
Narrowing your selection
Where can you find your new content creation wizard? Here's a few to get you started. All can be integrated easily with the Administrate LMS too (handy that!)
Hopefully you found this helpful and it paves the way for adopting eLearning as part of a blended learning approach. Future posts in this series will provide tips on authoring your first pieces of eLearning content and strategies for further incorporating eLearning into your learning and training mix.
Part 2 - '6 Content Authoring Tips' can be found here.
Part 3 - '6 Ways to Adapt Traditional Learning Delivery' can be found here.
Have you recently started implemented eLearning? Please do share your experiences in the comments below.
---
Get started with eLearning - Free eBook!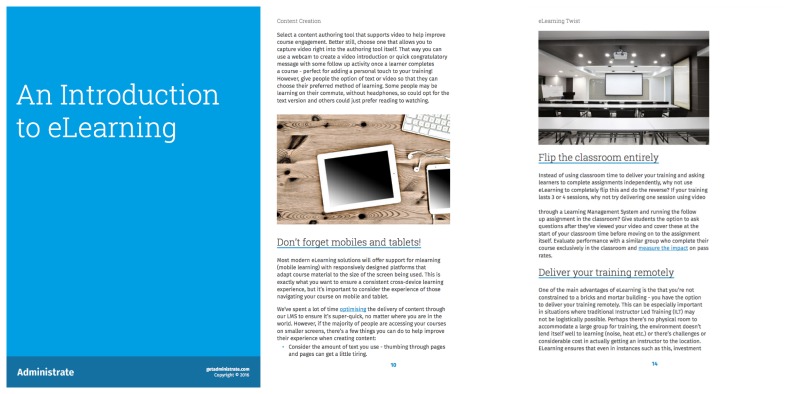 Enjoyed this post? Download the full 'Beginners Guide to eLearning' eBook for advice on:
Why eLearning is important
The technology required
Creating eLearning content
Adding eLearning to 'traditional' learning
'Flipping' the classroom
Using 'project-based' learning