In part one of our 'Introduction to eLearning' series we addressed the essentials: selection of a training management system, learning management system and content authoring tool, along with some of the advantages of using eLearning in a blended approach to learning.
Now that you're ready to get started creating content, our next post focuses on how to get the most out of your new setup, specifically your content authoring tool. Read our 6 tips on how to create better eLearning content below and be sure to share your own ideas in the comments.
1. Linear versus asynchronous
Before you get started, decide on whether you want your training course to be delivered in order, bit-by-bit, or offer learners the flexibility of completing the course asynchronously in whatever order they decide. This may well have a significant impact on the content itself and could result in you opting for a 'building blocks' approach whereby you create smaller pieces of content. These can then be re-purposed to be used within future courses - a handy time saver!
2. Estimate time investment
Providing a table of contents at the start of your training course helps better establish the investment of time required for a learner to complete your training. It helps reassure them that they can fit the course into their busy schedules and stops them guesstimating about how long it'll take. You don't want a learner to take one look at your course and exclaim 'that looks like it's going to take me days' before clicking away in despair!
Why not go one further and add estimated timings to the different sections of your content? For example, 'part 1 will take you 15 minutes', 'part 2 30 minutes' and so on. The popular self publishing platform Medium employs this to great effect, letting visitors know how long it will take to read an article before they get started.
3. Forget Powerpoint!
We've all sat through a 'death by Powerpoint' presentation. One-way presentations are not always the most engaging and don't really facilitate interaction. If a picture speaks a thousand words, then how many does a video deliver? According to a recent Hubspot article:
"59% of senior executives agree that if both text and video are available on the same topic on the same page, they prefer to watch the video"
Select a content authoring tool that supports video to help improve course engagement. Better still, choose one that allows you to capture video right into the authoring tool itself. That way you can use a webcam to create a video introduction or quick congratulatory message with some follow up activity once a learner completes a course - perfect for adding a personal touch to your training!
However, give people the option of text or video so that they can choose their preferred method of learning. Some people may be learning on their commute, without headphones, so could opt for the text version and others could just prefer reading to watching.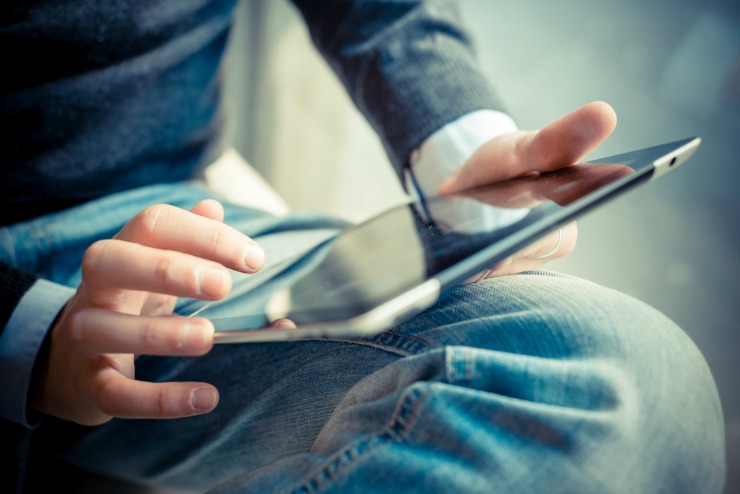 4. Don't forget mobiles and tablets!
Most modern eLearning solutions will offer support for mLearning (mobile learning) with responsively designed platforms that adapt course material to the size of the screen being used. This is exactly what you want to ensure a consistent cross-device learning experience, but it's important to consider the experience of those navigating your course on mobile and tablet.
We've spent a lot of time optimising the delivery of content through our LMS to ensure it's super quick, no matter where you are in the world. However, if the majority of people are accessing your courses on smaller screens, there's a few things you can do to help improve their experience when creating content:
Consider the amount of text you use - thumbing through pages and pages can get a little tiring.
Make calls-to-action that little big bigger - tapping a tiny button on a touch screen can be a real headache!
Try to keep file sizes smaller - big files (e.g. large images) can lead to longer loading times on slower mobile connections, use tools like Photoshop's 'save for web' to keep these down.
5. Ensure brand consistency
You've spent a lot of time, blood, sweat and tears creating a brand - it's your identity and differentiates your training product and team from your competitors. Chances are it's emblazoned on your website, business cards, stationary and more. So, don't forget your brand when it comes to creating eLearning content! Don't compromise your design and be sure to brand your content and your LMS to create a consistent learning experience both on and offline.
6. Proof it, proof it, then proof it again...
It may sound a little obvious but the importance of having an internal proofing process when authoring content cannot be underestimated. In our experience there's nothing worse than when a learner fixates on a spelling mistake in their course, rather than the subject matter itself. A top tip is to have someone else read your content after you've created it, rather than try to proof it yourself, as we're all notoriously bad at spotting our own typos!
Ready to create? Experiment!
The detail is in the data. Why not split test your training? Send 50 learners to version 1 of your training course and 50 to version 2, which has a slight variation. Perhaps you've added some videos to introduce each section, or allowed students to complete the course asynchronously rather than in order. Use reporting to determine which course resulted in a higher pass rate or quicker course completion and take these learnings forward into future content creation.
In our next, and final, post in our Introduction to eLearning series we'll be looking at how you can add an eLearning twist to some of the more traditional approaches to training delivery.
Part 1 - 'Selection of eLearning Tools' can be found here.
Part 3 - '6 Ways to Adapt Traditional Learning Delivery' can be found here.
Struggling to get started with creating your first content? Want to share a top tip of your own? Let us know in the comments below...
---
Get started with eLearning - Free eBook!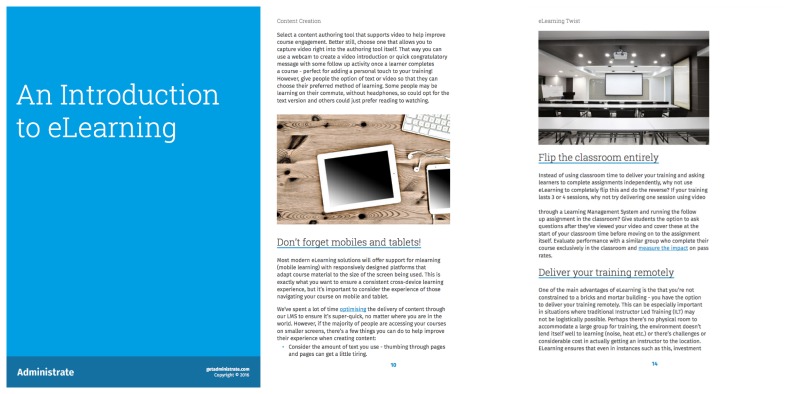 Enjoyed this post? Download the full 'Beginners Guide to eLearning' eBook for advice on:
Why eLearning is important
The technology required
Creating eLearning content
Adding eLearning to 'traditional' learning
'Flipping' the classroom
Using 'project-based' learning