We talk to training organisations all the time, all over the world, and most are driven by the age-old training industry dilemma of how to get more students booked on more course. One of the best ways to do this is via a coherent and well-executed eCommerce strategy. Here's the standard training organization eCommerce playbook we recommend to our customers.
Why Is This Important?
There are plenty of statistics you can find about how eCommerce is reshaping how customers buy products and services. We've pulled a few we think are particularly relevant to the training industry:
Market Potential
40% of US males aged 18-34 say they would "ideally buy everything online" compared with 33% of females within the same age bracket. These numbers don't dip much for other age brackets either.
B2B eCommerce sales are expected to outgrow B2C by 2020.
Despite the seeming prevalence of eCommerce, it accounts for only 8% of total US retail sales (14% in the UK). That's a lot of room for growth!
Audience Reach and Buying Habits
The 4 eCommerce Questions Training Organisations Must Answer
Essentially, we break down the eCommerce problem into these four questions:
Attraction: Are you attracting the right customers via the right channels?
Engagement: Once you have a visitor, is it easy for them to find what they're looking for, are you building your brand and trust, and are you providing them with a pleasant experience?
Conversion: Once a visitor is ready to buy, are you making sure they have a friction-free buying experience?
Analysis: Are you monitoring how your website is performing for your visitors and then using that information to tweak your strategy?
How Training Organisations Can Attract Customers Online
Here's what we advise customers to think about with regards to attracting prospects to their website:
Be Search Engine Friendly. This means your website must be fast (perform well), hosted on your own domain (not a subdomain from some other tool or provider), and well structured. You must also regularly update your content and course offerings. Ideally, you'll have your entire course catalogue online with detailed descriptions and supplemental information along with the actual upcoming course schedule you're offering.
Use Email Marketing. You need to build a high-quality list of customers and prospects and regularly send them high-quality email communications. You can do this via an email service provider like MailChimp, or even better, use a marketing automation platform to tailor communications to your audience.
How to Engage Customers Interested in Purchasing Training
Have a High-Quality Web Presence. This doesn't necessarily mean you have to spend a ton of money, but your website does need to be nice looking and attractive.
Use Social Proof. You should also include as much social proof as possible in the form of testimonials, detailed descriptions of courses, and information about your company, team, and location.
Clearly Differentiate. Why are you different? Why should customers choose you vs. other options? Remember that your competition may not be another competitor, but it could also be an entirely different medium (i.e. why is your classroom training course better than an eLearning course or online video?)
Secure Online Course Booking and Payments. You should also make it obvious that online course booking and payments are supported, and that this process is secure. Customers may not buy on their first visit, and they're probably comparison shopping, so it should be really clear that course booking is convenient.
Converting Shoppers into Buyers
Think About Your User Journey. Put yourself in the shoes of your prospective customer, and think about how they will navigate around the site. Use Google Analytics (it's free) to see how users are moving around your website. Ask customers who have bought from you how they found the online experience and collect as much feedback as you can.
Make the Process as Obvious and Easy as Possible. Buying should be easy, secure, and support payments in as many ways as possible. During the checkout process, make sure that you're collecting the information you need and there are no manual steps that are required.
Nurture Customers Who Get Bored or Distracted. Customers will visit your site, even start the checkout process, and get distracted. That's normal. Address this by making sure you nurture customers who don't complete the buying process using marketing automation software.
Analyse and Revise Your eCommerce Strategy
Once you have everything up and running, we advise clients to watch how things are going via Google Analytics. A few things you should monitor:
Traffic sources, and how these sources are performing over time. This helps you know what to focus on to maximize future traffic.
The journeys that visitors are taking through your site. By observing these you'll see which parts of your site are causing people to leave or lose interest.
Popular content that people are finding useful. This helps you improve that content and develop useful addon pieces that your audience will find valuable.
A Case Study in Online Course Booking Success
Here's an example of an Administrate customer who has enjoyed many years of success selling their training courses online using a website equipped with secure online course booking and payments!
IA Seminars is a financial training provider based in Scotland, who has been an Administrate customer for a number of years.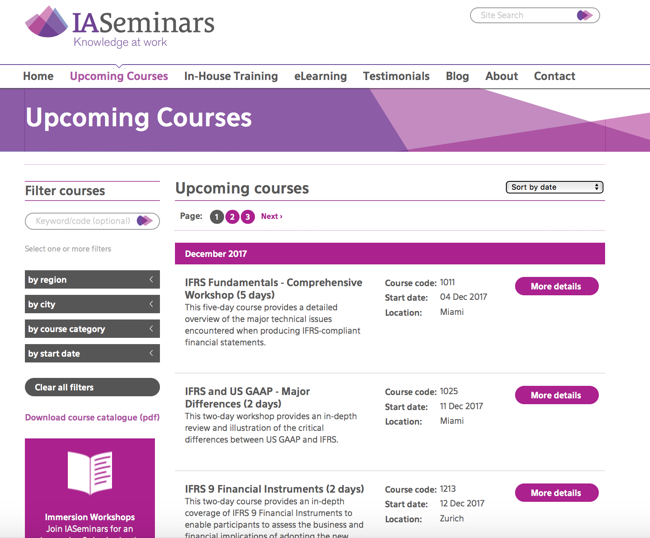 Right away, you can see their well branded, attractive website guides visitors to the courses they offer. They list their courses on their website, provide additional details about each course, the date and time, and set a clear expectation of how many hours will it take the customer to finish the course.
They also take online bookings and secure payments and to do this, IASeminars connected their website to Administrate, which is what drives all the course and scheduling information on the website, and where bookings arrive once a customer completes their purchase. This means they have all their course, student, financial, and scheduling information in one place, and when updates are made within Administrate, they're automatically updated on the website!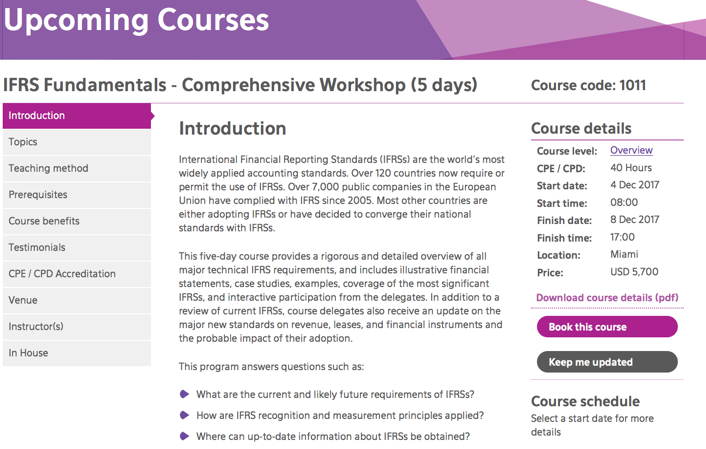 Companies that Sell Training Online Outperform
One of the great privileges we have is interacting with training companies of all sizes, all over the world. We get to see patterns emerge particularly around what sets more successful training companies apart from their peers. One of the key differentiators between the best and the rest is that those companies who sell their training courses online (and take payments!) significantly outperform those who don't. This holds true across industries, company sizes, markets, geographies, and the types of training provided.
Don't cede this important advantage!
How to Get Started
Most of our training company customers aren't technical. We get it. Your job is to deliver outstanding education, and that's hard enough. That's why we've got three solutions designed fit into your financial and technical level, all of which will help you achieve the goals we outlined above and deliver an outstanding eCommerce product.
Don't worry, if you need assistance, our incredible Professional Services and Account Management teams are standing by to help and we've never met a website challenge we couldn't help our customers solve!
WebLink – a 'cut and paste' solution that works with any website, which you can have up and running in just a few minutes.
WordPress Plugin – a 'click to install' solution that plugs into any WordPress website and gets you up to running in under an hour.
API Powered Website – a 'kitchen sink included' powerful integration option that you can build with your technical team (if you have one) or use our Professional Services team to deliver to your specifications.
Conclusion
Using an online course booking system will help your customers find you anywhere at any time.
You'll increase your course bookings, deliver a better customer experience, and differentiate yourself from the competition!
Our mission at Administrate is to offer training companies an easy solution to run their entire business, and this includes listing their courses online via their website and providing secure online payments. We also provide a team of seasoned professionals, many of whom have worked at training companies in the past, to walk with you step by step along the way and help you overcome any technical challenges.
This is just the beginning though! We'd love to show you how once the sale is made from your website we can help you manage the entire process of delivering outstanding training for your students, then reporting on the results.
Any questions, don't hesitate to book a call with our product experts.
Want More Small Business Blog Posts?
If you liked this post, why not download our 'Tips for Running Your Small Training Business' eBook? Not only does it contain this post, but it also had nine other amazing posts, all tailored to smaller training businesses!
Download it for free now!