And we're back for our recap of the second day of LITE 2017! After the excitement of day 1, everyone was raring to go for day 2 and see what amazing talks and workshops would be on offer!
Day 2 Schedule
For day 2 we kept with our two tracks of speaker presentations and workshops, as well as lots of one-to-one sessions with our customers! Day 2 featured a lot more speaker presentations from guest speakers, including CloudShare, MetaDigital, ForgeRock, University of York, and Skyscanner!
Troy Michels (Administrate) – The State Of The Product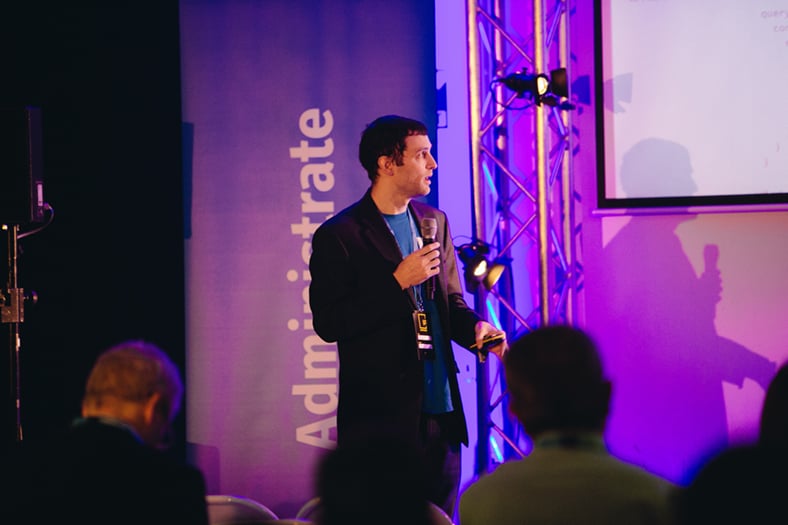 Troy from out Product team gave our audience an insight into the current state of Administrate as a product, and what sort of things we have coming up in the future.
Iain Brown (Administrate) + Paul Bell (Administrate) – All About the Administrate API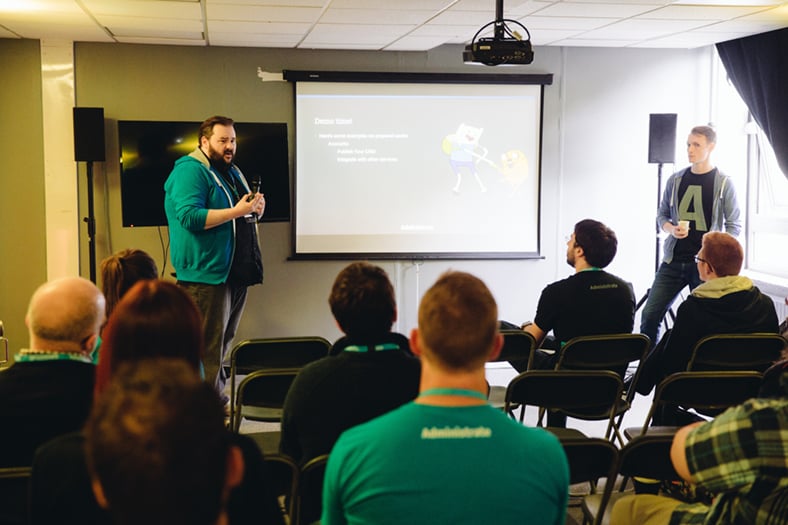 Iain and Paul, two members of our Development team, took the audience through what the Administrate API is, why we've chosen to use it, and why our customers should be using it as well!
WOW great #API overview session, now onto my last 1to1 session of the #lite2017 @GetAdministrate #conference with Natasha #Knowledgeispower

— Adam Martel (@adammm1980_adam) September 22, 2017
Lee Berkman (CloudShare) – The Digital Nomad and Other Cases for Virtual Labs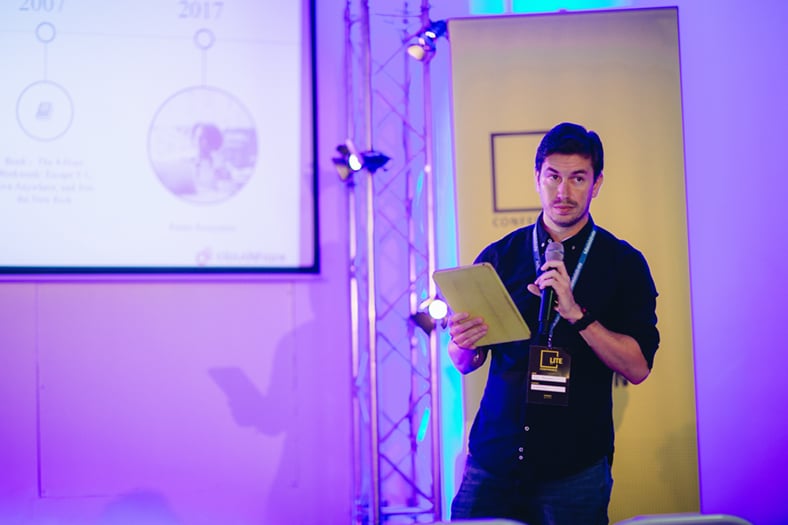 Lee Berkman from CloudShare was back for a second day, and this time it was to give us specific examples of how to use CloudShare's virtual labs in the real world. You can see all the details from CloudShare's integration with Administrate over on our integrations page.
John Peebles (Administrate) – Trends We're Seeing within the Training Industry
One of our most popular talk of day 2 saw our CEO John Peebles talking about Trends We're Seeing within the Training Industry, allowing our attendees a sneak peek at some trends they might want to adopt for themselves to stay up to date within the industry.
Lo Wright (ForgeRock) + Rachel Cullivan (University Of York) – Fireside Chat – How Administrate Has Helped Their Business

John also hosted our fireside chat with Lo Wright from ForgeRock and Rachel Cullivan from University of York. This informal chat allowed John to ask two long-time customers of Administrate how we've helped their very different businesses.
Jesse Vernon (Administrate) – How to Improve ILT with eLearning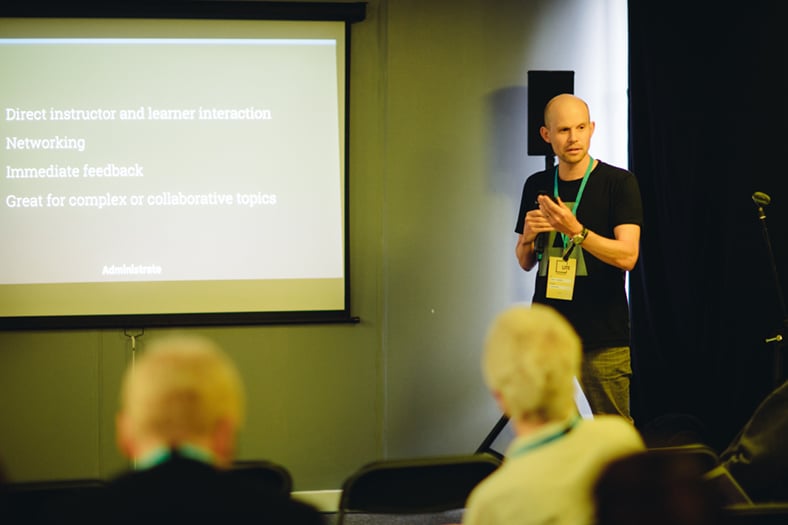 Jesse from out Sales team showed us that instructor-led training and eLearning don't need to be separate, and how you can actually improve your ILT offering by using eLearning as well.
Bob Sabra (Administrate) + Layal Alawar (Administrate) – Best Practices With Online Courses, Bookings and Payments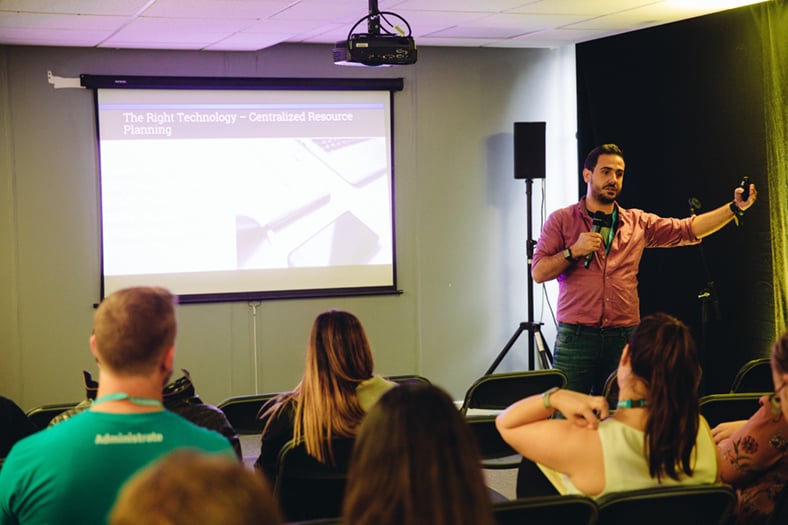 One key feature of Administrate is the fact we give our customers the ability to sell their courses online, and have all the information link up with Administrate so it's really easy to keep track of and make changes. Bob and Layal talked our audience through all the best practises when it comes to selling your courses online, taking bookings, and receiving payments from your customers.
Lee Berkman (CloudShare) + Troy Michels (Administrate) – A Day in the Life of a Highly Integrated Training Scenario
In Lee's final talk of LITE 2017, he teamed up with Troy from Administrate's Product team to talk about how to use CloudShare and Administrate together to get the best results.
@ForgeRock case study - Using @GetAdministrate and @CloudShare to deliver student focused learning #lite2017 @LITEConf pic.twitter.com/3VqlVlUvmx

— addelam (@addelam) September 22, 2017
Ryan Cochrane (Administrate) – How to Create Content that Converts to Leads
Ryan from our Marketing team delivered this talk which focussed on how we create content based on the customer 'personas' we want to target with each piece, which will hopefully ensure we bring in as many relevant leads as possible.
Making the most of #Lite2017 before we head back to York - we'll be leaving with lots of exciting new ideas for the future! pic.twitter.com/4PznSdgfnV

— Executive Education (@UoY_BizTraining) September 22, 2017
John Macfarlane (Metadigital) – API Integrations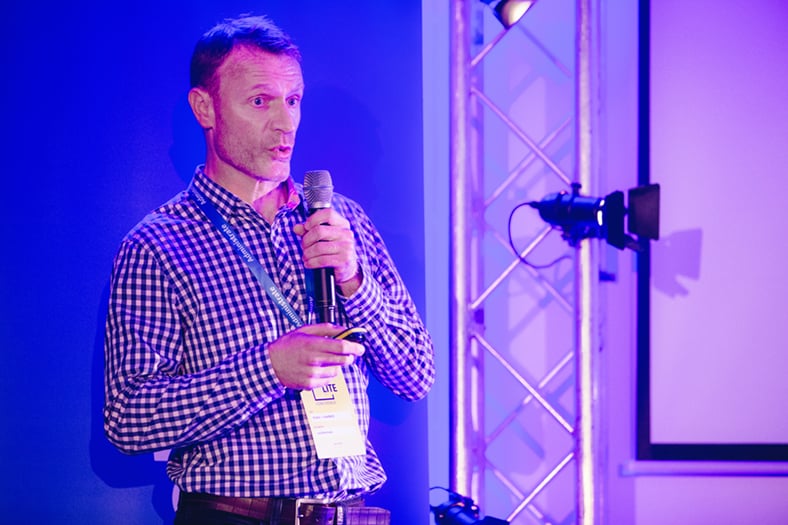 We were delighted to welcome another LITE sponsor for a speaker talk on day 2. John Macfarlane from Metadigital talked about the API integrations that they have built over time for Administrate customers such as Kentec Training!
Gilles Bell (Administrate) – Designing and Implementing a Communications Strategy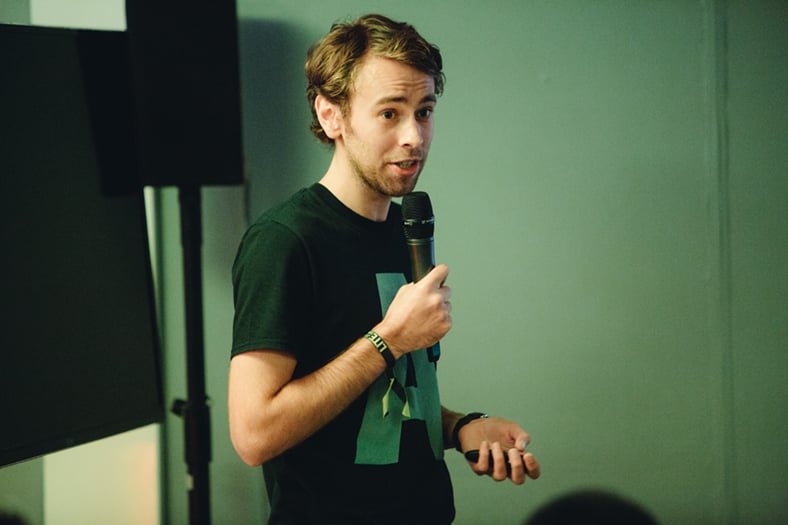 Gilles from our Account Management team discussed some tips on Designing and Implementing a Communication Strategy, including making sure you don't overload your recipients, and analysing what happens after you send your communications with things like clicks, likes, and opens.
Thom Shurrock (OpenTable) – Online Experimentation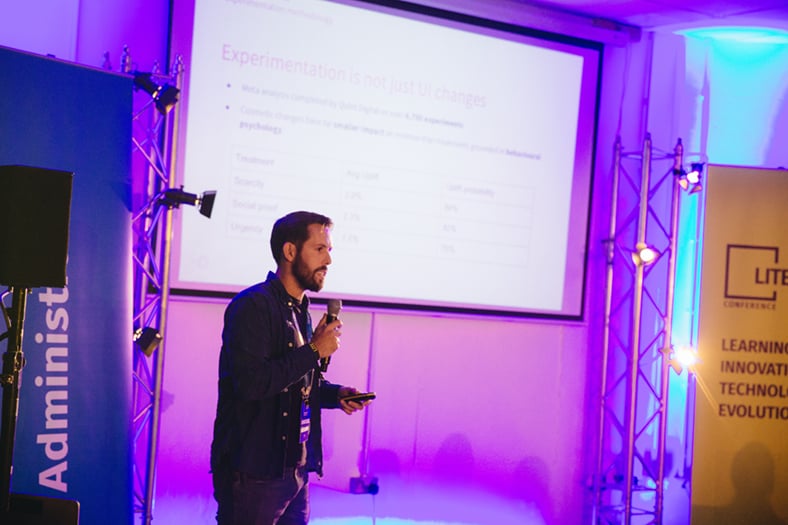 Thom Shurrock from OpenTable's talk on Online Experimentation showed us how to make sure we are continuously improving our web design. Basically, lots of testing with lots of different options will allow you to see what are the best options for your online offering!
Looking forward to speaking about online experimentation today at @LITEConf pic.twitter.com/h9Vw9T63V9

— Thom Shurrock (@shurrock) September 22, 2017
Bob Sabra (Administrate) – How to Organise a Multiregional Training Company
Bob Sabra from our Beirut office has a lot of expiereince working in multiregional training environments, as before he came to Administrate he worked for our customer Morgan International! His talk How to Organise a Multiregional Training Company gave an exclusive insight into what it takes to make this type of training company successful.
Sarah Freestone (Skyscanner) – Information Sharing at Skyscanner – What Works, What Doesn't, and Lessons Learnt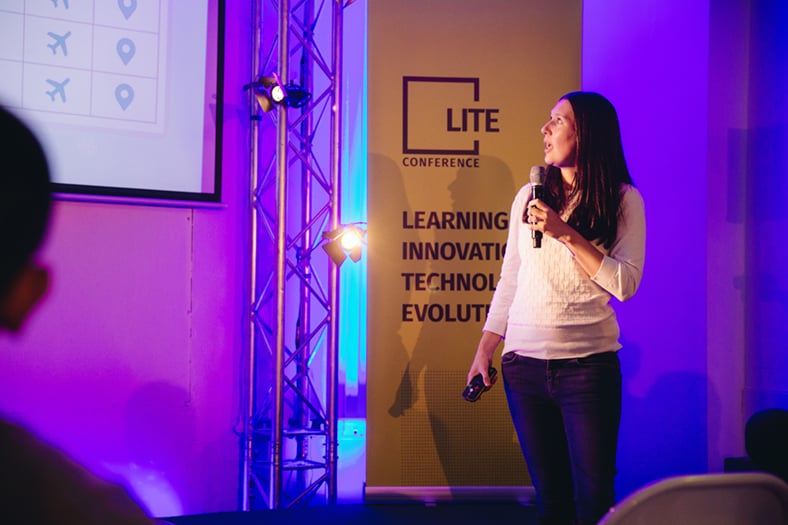 Sarah Freestone, Principal Internal Communications Manager at Skyscanner, gave us some insight into what managing HR and internal comms in a large company is like.
Sarah from @Skyscanner bringing the truth! Mobile isn't optional. #LITE2017 pic.twitter.com/aIxD7Xd3Co

— Ryan Cochrane (@RyanCochrane92) September 22, 2017
Natasha Serafimovska (Administrate) – Key Financial Reports for Training Companies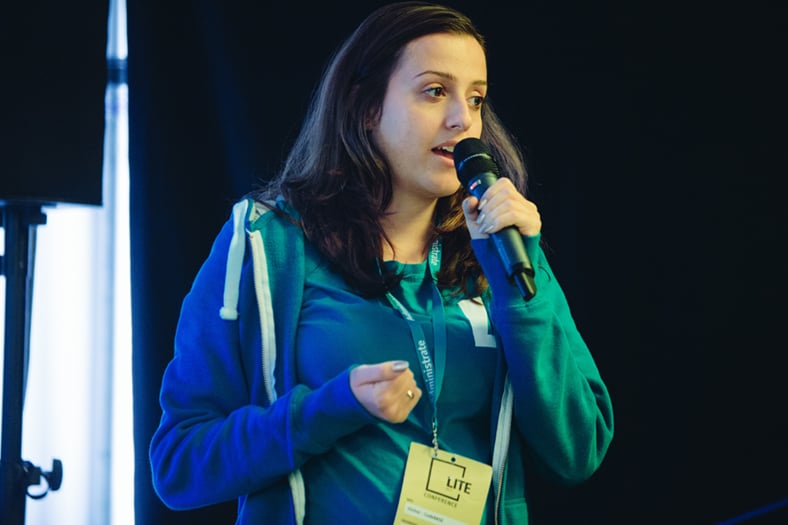 As we said yesterday, our reporting system is one of our most popular features, and Natasha's talk showed our customers how they could use Administrate to create the most helpful financial reports for their business.
John Peebles (Administrate) – The Road Ahead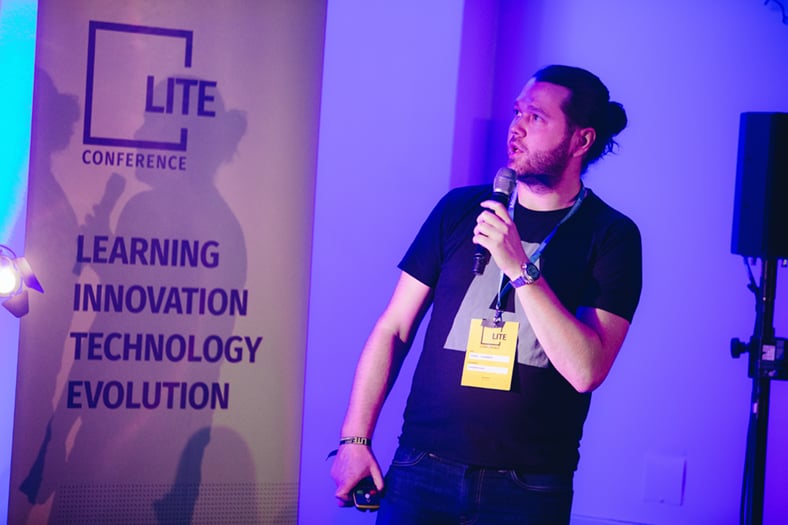 Administrate CEO closed LITE 2017 with his talk The Road Ahead, which covered how far Administrate has come since last year, and also all the goals and targets we have for the upcoming year, including getting started on the planning for LITE 2018 straight away!
LITE Closing Party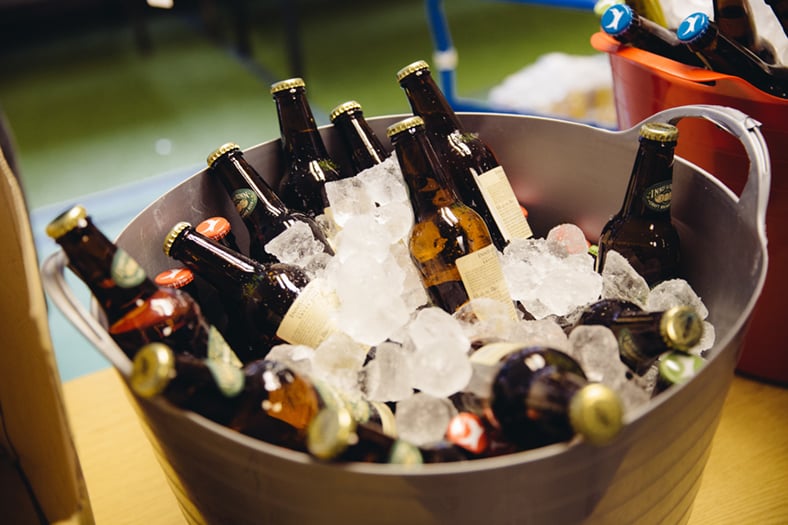 To close out LITE 2017 we held a little party in the Administrate offices, featuring some amazing tunes, tasty pizza, and some hard-earned drinks for our Administrate team and the attendees.
Is in Administrate HQ, at #lite2017 after party #FEDTC pic.twitter.com/sOIr1yDoEs

— Angelo Garcia, III (@angelogarcia3) September 22, 2017
A Big Thanks to Our Sponsors!
We'd like to finish by saying a huge thank you to all the sponsors of LITE 2017 - CloudShare, Search Consultancy, Elucidat, and Metadigital!
As time comes to kiss goodbye to #lite2017 I'd like to thank @GetAdministrate & @johnjpeebles for inviting us, another great conference! pic.twitter.com/Q4jLQudx0G

— Brenda Thomson (@brendasearchrec) September 22, 2017
Cheers #lite2017 , job well done @GetAdministrate . See you #lite2018 ! @SearchITUK @SearchRecruits #training #startup #awesomeevent #beers pic.twitter.com/RtweMqcVxo

— Brenda Thomson (@brendasearchrec) September 22, 2017
Thank you @GetAdministrate for a wonderful event! Can't wait for next year! pic.twitter.com/gSs5rRkKfU

— CloudShare (@CloudShare) September 24, 2017
Thanks to everyone who made it along, we can't wait to see you all at LITE 2018! Stay tuned for details!