You're in the business of training and want your company to scale. You've attended to all the basics and laid down a solid infrastructure for your business and would like to prove your position in the market. Now it's time to bring in some actual leads but you're not sure where to start.
If all this sounds familiar, then this blog is for you! In what follows, I'll offer some tips and best practices every training business must touch on to make the best out of their marketing efforts.
Understand Your Ideal Customer Profile
Understanding who your customers are and creating strong buyer personas is the most crucial step you should take when thinking about how to market your courses. The strongest buyer personas are based on both market research and the insights you gather from your actual customer base (through surveys, interviews, etc.). Successfully identifying your ideal customer profile will be essential to your business as all your marketing strategies, messaging, and positioning will be tailored towards who your courses are really made for.
Take Online Course Bookings
Now more than ever it's vital to keep up with the digital changes and fast-paced technology that's forcing us to evolve the way we do business. Taking course bookings by phone and/or email is now being replaced by online self-booking mechanisms with one-click 'Register' buttons. Prospective students can learn everything they need to know about the courses they want to take and there's a vast variety of courses to choose from. Training companies have seen major increases in profit by integrating their website with a training management system with a simple and easy-to-use plugin that allows their courses to have the maximum exposure while providing them with the tools to manage them seamlessly through the system's backend.
Accurately Track Your Marketing Campaigns
So you've had a lot of time to research an effective marketing campaign, you've allocated the sufficient budget and resources and launched it, you're waiting for those leads to drop - now what? Tracking and monitoring the success of your marketing efforts provides key insights towards understanding how well your courses are doing, if your tactics are working, and if your strategy is actually effective. For example, here at Administrate we offer our customers vital metrics and features so they can keep track of their marketing efforts:
Goal setting for their sales opportunities and sales conversions.
Campaign budget and cost management using our marketing campaign manager.
Automated ROI Tracking - we offer our customers the ability to track their market spend and see their return on investment.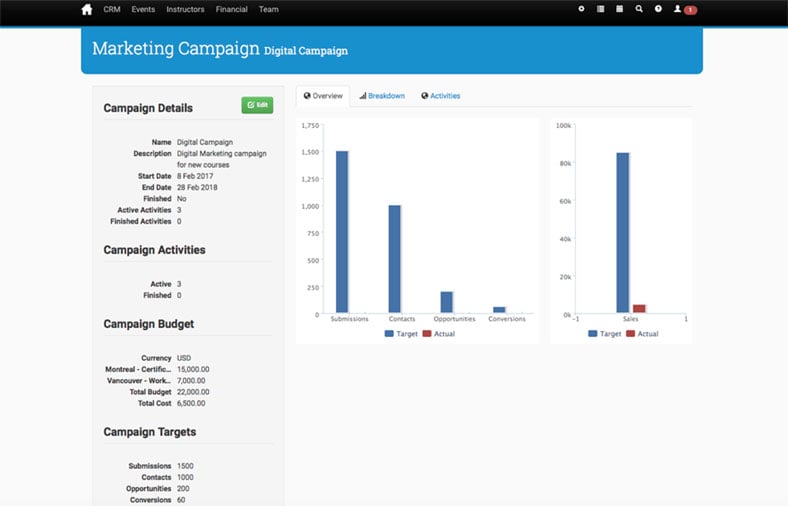 This is data you don't want to overlook because it should dictate all your future marketing strategies, budget allocations, and other important factors that fall into creating and managing successful marketing campaigns.
Automate Your Communications
Marketing your courses isn't all about finding and engaging new prospects. You have a database full of current students, alumni, and other prospects you've sold to in the past, don't you? You probably have prospects who almost purchased from you but somehow slipped out of your sales funnel. How can you expand your marketing efforts to include former customers and great prospects from the past? In fact, those that have already taken a course with you will most likely be more prone to taking another course with you given that they've had a nice experience, but reaching them can be a challenge if you do not have the right tools at hand.
Using automatic communication triggers such as automated emails and/or triggered SMS messages, means you can pick and choose a specific audience and inform them of your upcoming courses and training events. At Administrate, we've helped hundreds of our customers with our powerful automatic communication functionality giving them assurance that their messaging is reaching the right people at the right time.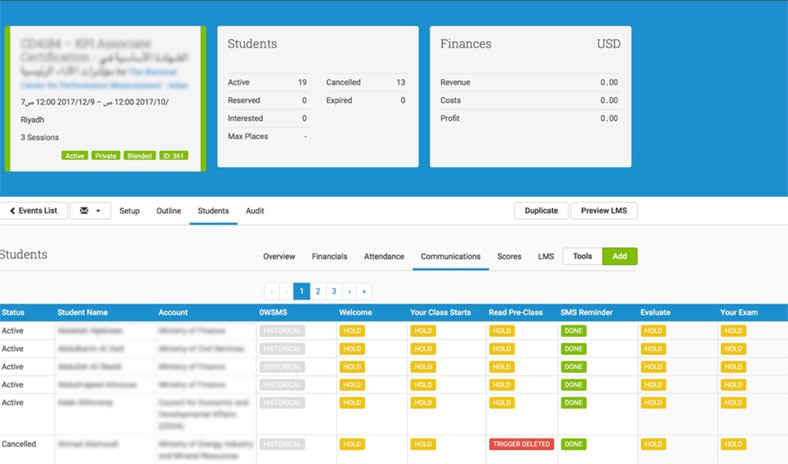 Set the Right Environment
Whether your courses are delivered online or in the classroom (or both), offering the best experience for your learners should be your number one marketing concern. Word of mouth can make or break a business. Making sure everything is on point once a course is about to start is key to the longevity of your training business. The more pleasant experience your learners have with you, the better your reputation is, the more excited they are to take another course with you, the more they will become advocators for your organisation.
Of course, there are a lot of other important factors to think about while thinking of marketing, though they all compliment the above key touchpoints that should really be taken into consideration if you're thinking of scaling and competing with the big dogs!