As you might have guessed, working in the EdTech sector, the Administrate team loves to learn. As we discussed in our blog post on 'The How and Why of Attending Conferences', a big part of our learning comes from attending industry events, expanding our network and spreading the word about Administrate.
Adopting a LOTO (Learn One, Teach One) philosophy, it's our policy that whenever we attend an event, we share our key insights with the wider team on our return to the office. Having attended the Mind the Product conference in London on September 30th, I thought I'd share some insights from a few of the key speakers below.
What is Mind the Conference 2016?
This event represents one of the largest collection of product management professionals in the world, and has a terrific line up of speakers crossing many industries. I attended in hopes of learning from some of my peers as well as some of the most influential voices in the space.
Marty Cagan
Marty is founder of the Silicon Valley Product Group, and author of one of my favourite product books, Inspired.
Marty told the story of six unheralded Product Managers and used their experiences to describe the responsibilities and impact of successful Product Managers, specifically highlighting the stories of the women behind Microsoft Word, Netflix, Google Adwords, BBC mobile, iTunes, and Adobe Creative Cloud. A full summary of his talk can be found on his blog. One of the main themes within Marty's talk was that Product Managers are similar to CEOs in that they are responsible for all areas of the business. However, they differ in that they have no direct power as "the boss". Marty then argued that good Product Managers are smart, creative, persistent individuals with strong leadership skills.
Simon Cross
Simon is a Product Manager at Facebook.
Simon told stories of the history of Facebook and how some of the solutions were championed by Product Managers leading through influence, rather than direct power. He spoke about "paving cow paths", an analogy for observing users and creating paths for what they are already doing.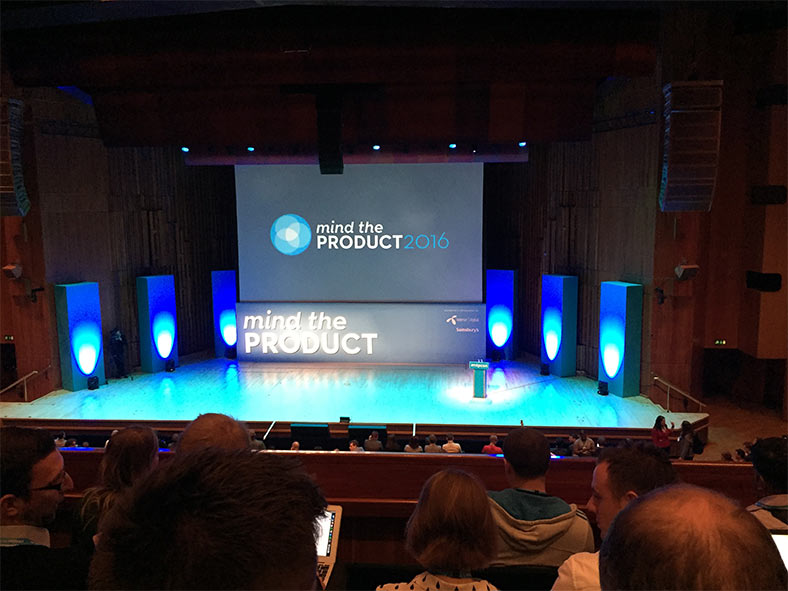 Jeff Gothelf
Jeff is a lean UX advocate and author of Lean UX and Sense & Respond.
Jeff spoke about scaling a lean agile framework. This is a topic I'm particularly interested in, as much of the literature revolves around small teams, and most of my experience is in smaller environments. Scaling requires creativity which is often a challenge for smaller teams with less brains to canvas - our ideas need to be especially good! There is currently a popular framework called SAFe, which to me seems like an overly heavy method which loses much of the intent of agile principles. Jeff confirmed my thoughts by outlining its limitations on stage. He covered tactics of scaling the agile principles at the project level, the programme level, and the portfolio level. However, his main message was to focus on the principles, rather than the methods, to maintain the benefits of agile methods as you scale.
Jeff Veen
Jeff Veen is Design Partner at True Ventures.
Jeff spoke about creating a culture for success, relying on equanimity and psychological safety, principles we practice at Administrate and have read about in 'Smarter, Faster, Better'. The other takeaways included a message that you have to live with the fact that everything is connected, and everything breaks, all the time. He used this to describe why the culture of equanimity can be so effective, knowing things will not always go well. Additionally, he touched on a message that everything is user experience. This includes all interactions your customers have with your company, which all plays into their experience. At Administrate this doesn't just mean our software, it encompasses our marketing activity, sales process, software implementation, support structure and of course, LITE, our annual EdTech conference.
In Summary
Aside from some fascinating individual talks, the conference was a great opportunity to step away from the day-to-day and think more strategically about how to apply these principles. This will all feed into a better understanding of our customers lives and pain points, the ecosystem, our competition and, of course, the direction we need to take with our software. And in the spirit of one of Administrate's eight core values, transparency, you can see this lived-out within our new Product Roadmap!