Our new Events System has been along time coming, and after a huge amount of effort from the Administrate team, as well as months of hard work, we're excited to announce that our new Events System is now live and ready for our customers to try!
We've completely redesigned the way our Events System works, so now managing your courses is as easy as possible.
A New Design

We want to make it as easy as possible for you to find all the data you need, when you need it. Our new design features sections to keep all your data in neat, easy to read, easy to find sections, with all your business critical data displayed right at the top of the page. This means you can easily keep an eye on the important numbers no matter what you're doing.
We've also introduced a modern, responsive layout for mobile formats, so you can use Administrate wherever you are, without having to worry about how your data will display.
Finally, all your event details are now displayed on the one page to make it extremely easy for you to manage everything you need to, without having to switch pages all the time.
Exciting New Features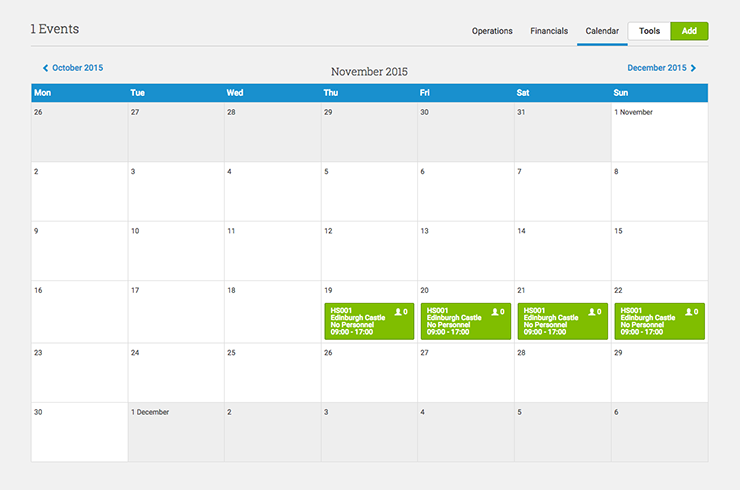 As well as a great new design, we've also added some great new features to make your events really easy to manage.
Now you can use our draft events feature, which means you can start planning an event without making it live on your website straight away. Simply set it up as you would a normal event, and then save it for later, meaning you can easily make it live and actually push it to your website when it's needed!
We've also made it easier to keep in touch with your personnel, as you can track all your communications with them, so you can find any correspondence easily at a later date.
On the financial side of things we've added enhanced event cost and forecasting, with the ability to add one-off costs to events without having to raise a PO or an invoice).

When adding sessions to your event, you can now add them directly from the event screen, instead of having to use multiple screens. This means you can get your events set up faster and there is less jumping around involved.
Finally, we've added custom fields that you can configure and add to your events to track the things you think are important to your specific business.
The Administrate Events System is part of our CORE offering, and this upgrade is immediately available to all customers. We'd like to say thanks to those of you who helped us test these improvements along the way, and please let us know how you get on!