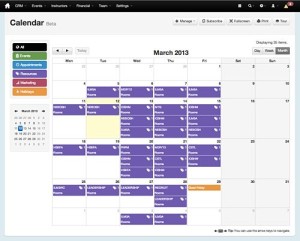 Event management is one of the cornerstones of our product offering. It doesn't matter if you're a training department, a small training provider, or a large multinational training concern operating across the world, you need to know when, where, and what is going on each day, week, and month. Today we're very happy to release a brand new calendar for Administrate that will help you get the information you need on your courses, events, instructors, resources, and a whole lot more. Last year we mentioned on our Q1 Development Roadmap that upgrades to our Event Management system is a top priority for us, and a brand new calendar is first part of these changes.
Quickly Filter Information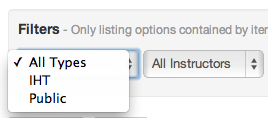 Do you need to see a specific instructor's calendar and commitments? Maybe you need to double check the bookings relating to a specific type of resource. Or you may want to see all First Aid courses booked within Scotland. This type of filtering is just a few clicks away!
Designed for Speed
We know you're busy and speed is of the essence. We've focused on making sure that you can flip back and forth between months with ease, without needing to reload the full page every time. Need to access a specific date or see what day a Wednesday falls on next month? Use our mini calendar to help you quickly navigate. Keyboard shortcuts mean you can blast through each view without needing lots of clicks!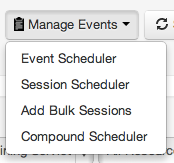 Built for Training Providers: Supports Your Workflows
We know how training providers and training departments work, and we've made it easy to use our calendar to quickly schedule an event, book an appointment, book a resource, create a marketing campaign or activity, or submit an instructor holiday. We've spent time making sure that each view by default contains relevant information and that a more detailed "drill down" is just a click away!
Fullscreen "Kiosk Friendly" Mode

Do you have a need to project your weekly calendar on a large screen TV or projector for your admin staff and instructors to see? Or maybe you just want to exercise that massive brand new 27" monitor on your desk! Now you can with our special full screen mode which expands to use as much space as you have.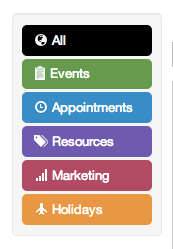 View More than Just Events
Running a top notch training operation is more than just events - you need to keep tabs on resources, instructors, your own staff, what's happening with the marketing department, and your own personal appointments. Now you can access all of this from one spot.
Coming Soon: Subscribe via Outlook or Your Mobile Device!
Don't worry, we didn't forget subscriptions! We'll be beta-testing this feature over the coming weeks for stability and soon you'll be able to subscribe via Microsoft Outlook, the Mac Calendar, and a host of Android and iOS mobile devices. Stay tuned for updates.
Internationalised Date Formats and Working Days
We have customers across the world which means not everyone works Monday through Friday! Now you can define your non-working days on a per-company basis, and our calendar shades your weekend appropriately. You can also specify how you'd like your date formats to display so our American friends can choose mm/dd/yyyy while the rest of the world prefers the "day first" approach!
Take a Tour Today!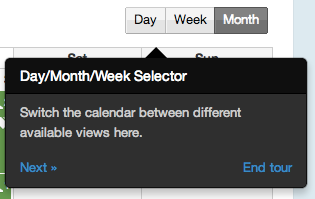 If all of this seems a bit overwhelming, don't worry - we've incorporated a handy step-by-step tour that will walk you through the various features. No need to read tons of boring documentation if you just want to be taken through the feature highlights! Once you're done with the tour you can leave it for good, or come back in a few days and take it again as a refresher.