We're delighted to announce the launch of Administrate's new documentation portal!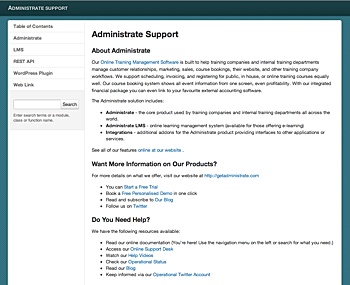 We've been busy documenting all the functions of the Administrate App, Learning Management System, Website Integration Options and other supplementary services that we provide in a single unified resource.
Current customers can click on the [?] icon in the Administrate Application and select 'Documentation' for access. Or, to access via a direct link: getadministrate.com/support
Administrate's documentation portal is available on your pc, laptop, tablet or mobile device. All the content is available via search too! Just type your question into the search box on the left and view the results.
Available to Everyone
Because we believe in transparency, we've made all of our documentation public and freely available, even if you're not a customer! We want any prospective customers to have all the information they might need to make an informed purchasing decision.
Stay Tuned For Updates
Stay tuned to our status page for updates to our documentation from here on out. Administrate's help desk is of course still available for any queries that can not be answered in the documentation portal.
Enjoy and make sure you check it out!