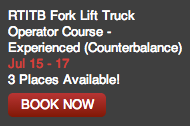 Training Providers - are you offering online course registration? Even internal training departments can benefit from offering an online course booking capability from a website (even if it's internal). In our previous blog post we talked about how offering online course registration is the best way to increase student attendance. In this post, we provide a checklist of items you'll need to consider.
Categorise Your Courses
Visitors need to be able to quickly find your courses without scrolling through large lists. Make sure your courses are logically grouped into categories and subcategories (as appropriate) that will make sense to your visitors. Many training providers will offer different certifications within a broader theme - you might want to think about making these themes your categories.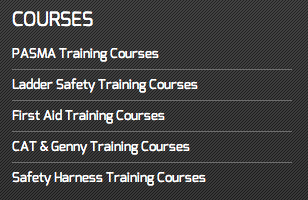 Don't go overboard though! It's best to not have a category unless you have at least two courses that will live inside it, otherwise you'll make things more confusing to your visitors.
Make Sure Course Listings are Current
Once you have your courses categorised into easy to read (but not excessive) categories, make sure visitors can within a click or two at most see your upcoming courses. It's absolutely critical to keep this list up-to-date! Nothing drives visitors away faster than an out of date course list with dates and times that happened last week.
Don't Forget This Critical Course Information!
Your visitors won't be spending lots of time on your site. One research group estimates that most visitors will leave in under 20 seconds! However, compelling information can keep visitors interested and engaged for quite a bit longer. Our goal should be to leave as little doubt in the mind of your visitor as possible when looking at your course offerings.
Make sure you don't forget:
Course Overview - general and background information on the course.
Course Summary - key facts about the course including how long it will take, any certifications that will be awarded, delivery method, and typical class size.
Topics Covered - a more detailed breakdown of the topics and sessions covered in the course, which supports the Course Overview.
Why You're Different - Visitors are often shopping several training providers at once (they probably have multiple websites open at the same time for comparison). It's critical to differentiate yourself in respect to the competition.
List of Upcoming Courses - this list should be easy to sort, include location information, dates, times, prices, and the option to book on right then and there. If you have limited places available, a great tip is to show how many places are left, thus creating a sense of urgency if there's just a couple places left!
Course Pages Must be SEO Friendly
Search Engine Optimisation (SEO) is an important component for any website. Websites that rank in the top ten results massively outperform lower ranking websites. You'll want to make sure that your course titles are presented to search engines in a "human readable" format which will help you rank better for web searches.
For example, all other things being equal, a course page with the URL (link) of http://www.yourcompany.com/IFRS-Training-Fundamentals will perform better than http://www.yourcompany.com/course.html?id=132.

Even more important - the URL you use to take bookings needs to be the same URL as your main website. For example, if your main website is "yourcompany.com" don't list your courses or registration forms at "somebookingtool.com"! Google and other search engines will assume that these pages are part of "somebookingtool.com" and won't give you any credit when calculating rankings. This is even true if your company name is used as a subdomain such as "yourcompany.somebookingtool.com".
Many course booking tools and programs will ignore the above and impact your rankings. Don't sacrifice this important business advantage!
Accept Online Payments
If you can't accept online payments from prospective students or clients you are at a serious disadvantage. People don't have the time to call (or worse, fax) in payment, and the best time to collect money is at the point of sale. Even if you're using a booking form on your website, you'll still need to accept payment as a second step which is time consuming for you and your client. Our experience with hundreds of training providers shows without a doubt that those who accept online course payments outperform those which don't every time!
Can You Do All the Above With No Additional Effort or Time?
If the answer is no, it's time to consider training administration software that is built to help you manage your course, and get them online without additional work.
For example, Administrate's WordPress plugin takes seconds to install, some simple configuration, and provides all of the above features for you so that you don't have to spend any additional time or effort managing your website's course listings!
When you add a course, it will appear on your website. When you receive a booking, the delegate information will appear within Administrate, complete with payment already processed and the invoice already sent!
Confused? More Information Available Here!
These online booking options seamlessly handle all of the items above, and are constantly being improved and updated to incorporate new features. Take the hassle out of running your website, and instead focus on delivering your training!