Here at Administrate, we love our customers! And if we're being honest, it's always nice to hear that they love us back.
We have hundreds of customers, from all over the world, and covering a breadth of different industries, so we know our customers all use our Training Management System a little bit differently, depending on their needs. We asked two of our customers what their favourites parts of Administrate were, and why they like them so much.
eLearning For You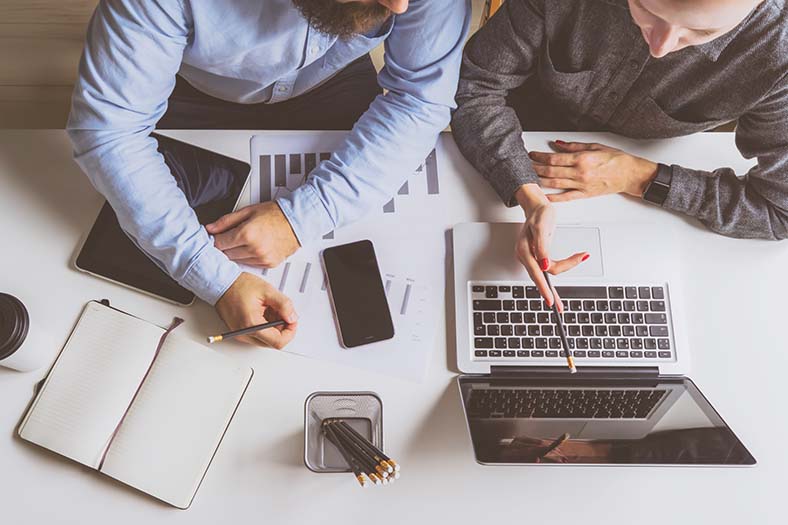 First up, we spoke to Thalia Galloway, eLearning Development Lead at eLearning For You. eLearning For You is a national training company based in the UK, who offer a wide range of training courses in care and health & safety.
Event Workflows
Event Workflows are designed to let you pre-configure Tasks that are carried out repeatedly for each Event you schedule. For example, if you always confirm details with the venue a week before an Event, or if you always confirm payment for an Event has been received 7 days after it has finished, you can use Event Workflows to ensure these Tasks are mapped against all the relevant Events. This prevents duplicate data entry, and wasting loads of time entering the same tasks for every Event you have scheduled. It also means you won't forget to do any of those repeating tasks ever again.
eLearning For You love Event Workflows because:
"We can easily add into an event all the jobs that need done, offset against the event times, and then assign it to the appropriate staff member to follow up. It's plugging the gaps, and it's automating plugging the gaps."
Reporting Engine and Custom Fields
We're pretty proud of our Reporting Engine! Using Administrate, you can build reports using exactly the data you want to see, and then delve into that data as deeply as you need to using filters. You can also layout the data in exactly the way you want, and then save the report, allowing you to send it to other people, export it to Excel or CSV, or even set it up so the report gets emailed to the relevant people at a specific time.
The Administrate Reporting Engine means eLearning For You can:
"Report on basically anything in the system and send out the reports automatically at a time when the staff actually need the reports. For example, our RM managers need to prepare data for their managers on Monday, they receive an automated email on Friday morning giving them all the data they need to prepare for their Monday meeting."
Using our Custom Fields feature also gives eLearning For You the ability to store the specific data that they need, not just what a set of pre-set fields assume they need to record. This means they can:
"Store anything on the Accounts screen using Custom Fields and then run Reports on the data."
The use of Custom Fields means you'll never have to leave important data out of Administrate just because there isn't a space for it. You can set up exactly the Custom Fields you need to make sure everything is covered and you can produce Reports that contain all the details you need.
Account & Contact History
Administrate is designed to help you keep track of everything, and this covers things that happen offline as well as online! Viewing the Timeline section of any Opportunity within Administrate means you can see a record of things like when a Contact has been emailed, any updates associated with it, any Tasks associated with it, as well as when they have been contacted, how they were contacted, and by who. This can be extremely important for tracking things like mail or phone calls, which may not usually be tracked anywhere online. It means it's really easy for any member of your team to have a complete overview of any time a particular Contact has been contacted, so three separate people in your team don't end up all phoning the same person in the one day!
This is how eLearning For You use our Timeline section to keep track of all their interactions with their customers:
"Seeing all the history under an Account or Contact is very useful. We record all our calls onto the system so we can report how frequently they are being contacted. If a client is reporting issues then our team can see where problems have been. It gives us an audit trail to easily diagnose any problems."
University of York
We also spoke to Rachel Cullivan, CPD Project Manager at University of York about their favourite Administrate features and how they use Administrate to make their lives easier. University of York opened in 1963 with just 230 students, and has since become one of the world's leading universities. It is located in the beautiful and historic English city of York.
Events System
Our Event's System is central to your Administrate operations, as it allows you to set up Events, book and register Students onto these Events and invoice those Students to ensure you receive payment. Once you've set up the relevant data for your business, our Events System makes running your Events extremely easy and helps you stay organised!
The University of York use our Events System to run their catalogue of short courses, CPD training, and executive education:
"Here at the University of York the Events System works perfectly for us. From the auto-generation of certificates, the ad hoc email icon which provides handy audit trail, to the ease of automatic Course listings which means an Event can be scheduled and will then populate to our website in seconds."
Even More Reporting!
It's not just us that can't stop talking about our Reporting Engine – our customers love it as well. The ability to record exactly the data you need, from all over a large institution like University of York is incredibility important. Our Reporting Engine makes sure that all the data they need is in one place, and can be pulled into any report they need to create in seconds. This saves University of York a lot of time because they don't have to go hunting and contacting different people to try and find all the correct information before they can produce a report – it's all right at their fingertips in Administrate!
"The reporting engine is also a firm favourite of ours. Data across the whole system can be quickly pulled together into a report, which is then easy to export."
Like What You See?
If you're interested in seeing which parts of Administrate could work for you and joining all our current happy customers, why not book a free personalised demo with one of our team? We can talk you through any questions you may have and let you see how Administrate can make your life easier!