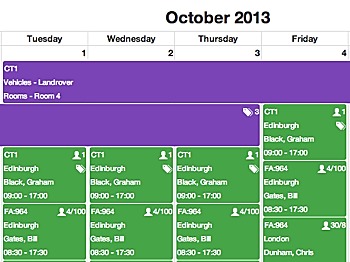 Today we're happy to release some major speed improvements to our calendar. Since launching our new calendar earlier this year, we've been making small tweaks here and there in response to customer feedback, and we've been really happy with the rave reviews that have been coming in about the new calendar.
Still, we're always looking to improve, and we've been unhappy with the speed of the calendar for some users. Many of our smaller training companies got on just fine, but larger companies or departments running hundreds of events could experience a slowdown when trying to get a full picture of their scheduled courses, resources, instructors, marketing campaigns, holidays, and appointments.
Our engineers have worked their magic and now you'll find that the calendar loads up to 100x faster in some instances! Even those users who weren't experiencing poor speeds previously should see an uptick in performance. Enjoy!