Here in Beirut, we're proud of our Phoenician ancestry. For example, the first alphabet ever was created right here in Lebanon!
We're proud of inventing the alphabet, we're proud of our highly rated schools and education system, and of course our food and culture. But one thing we often fail to brag about is the presence of highly skilled individuals in the region, especially in the digital/technology sector.
There is a recipe for success that foreign companies have been cooking for many years: a focus on more training for their workforce which leads to better skilled individuals. Ultimately, this translates into happier, more knowledgeable employees, more productivity, and more profit.
Markets in the Middle East and North Africa (MENA) region are expanding and companies have started shifting to digital technology, leaning more and more on the technical skills of their employees. The need to quickly develop new skills for employees and fresh college graduates has become crucial.
We're watching this transition very closely here at Administrate. We have many customers here in the region and we're excited that our training management software can help training companies and training departments organise and scale their operations while helping their MENA workforce reach their full potential.
There are two main factors driving the growing need for training in the Middle East:
1. A Growing Need for Skilled Individuals
Growing up in Beirut and pursuing a formal education is not unlike anywhere else – this system produces predictable results when you take eager students, top-notch schools, great educators, and highly trusted academia, and blend them together.
This process produces educated, well-informed individuals with good habits ready for work, but not prepared for a dynamic career. What they lack are the job specific skills.
Think of corporate training and training companies as the spice we'd add to our meal. They bring out all the interesting flavours and make our meal ten times more delicious; much like the effect of the skills we acquire from taking extra courses or certifications on our work. Our economy relies on the participation of its people. Individuals who learn new skills not only help their own careers prosper, but increase profit margins by achieving company goals in a faster, smarter and more cost efficient way.
2. Brain Gain / Brain Drain / Brain Retain
Brain Gain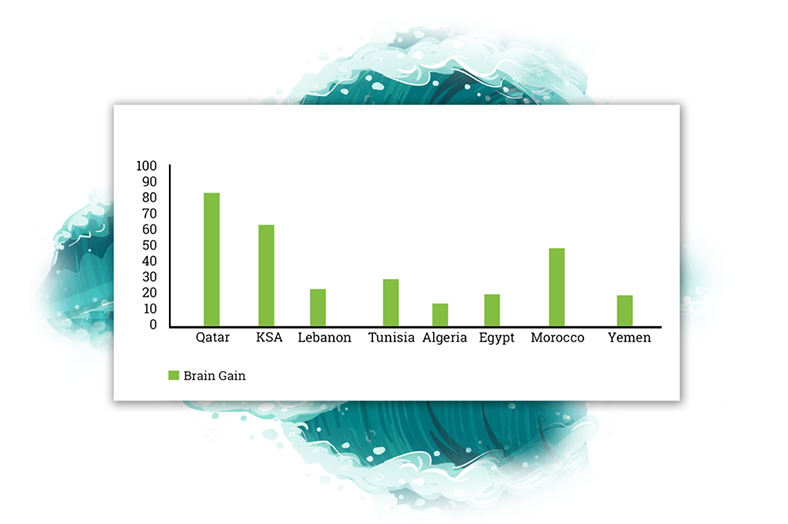 Maybe it's you, maybe it's a friend or a colleague, but you've likely known someone leaving their life behind and moving to Dubai, Riyadh, Beirut or other MENA cities to work for a highly paid job.
Why? Because the region lacks skilled individuals in certain markets, so they must heavily import talent. This not only squeezes locals out of jobs by expatriates, but also contributes to an increase in unemployment rates. It also burdens companies with the higher cost of foreign talent. Corporate training programs and training companies can help quickly develop local talent and enhance their chance of landing jobs that are today normally filled by foreigners.
Brain Drain
The MENA region has witnessed a lot of its labor force travel abroad to countries that better meet their career development needs. Not having a training institution offering courses that satisfy their aspirations has forced them to leave and acquire, then apply, newly learned skills on foreign ground.
Countries are at risk of developing a "downward spiral" as well when local skills training isn't available. When a market lacks certain training programs, this causes an absence of skilled individuals in certain fields, which then causes these fields to themselves to become obsolete within that market. When this happens, locals have no choice but to choose a foreign destination for their employment!
Brain Retain
Building an environment that motivates people who want to work and develop their skills is a must. This is why MENA countries have started to take action. Training organisations are being encouraged and some countries provide funding to institutions that train and certify students who will then become employees in their home countries. This then creates an "upward spiral" where locals can stay and contribute to the local economy.
Coming Soon!
Over the next few weeks we'll be exploring these broad themes in detail. Subscribe to our mailing list to make sure you don't miss out on this series!
Can't wait? Want to talk to a company that knows training and employee development inside and out? Schedule a free demo with the Administrate MENA team.