Welcome to Administrate TV. My name is Richard Cassidy and I'm going to talk through how to set up a sales process that works for you. The reason I'm doing this video is because I speak to a lot of people and they tell me that they don't have a sales process in place – either because they don't think they need one or because they don't quite know where to start to build one so they shirk away from it. I'm going to dispel both of those myths and show you how easy it is to get one that works for you and your business.
The starting point here is your ingredients. There are 3 key ingredients in order to set up a sales process that works for you:
Enquiry capture

It needs to be configurable

You need to make sure that you have data coming out at the other end.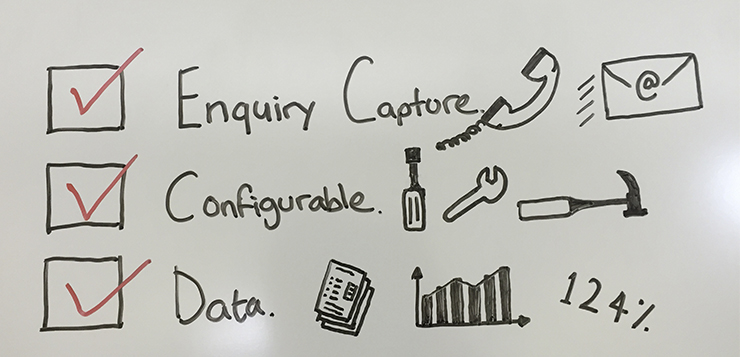 We'll talk through all 3 pieces, but we'll start with Enquiry Capture.
Enquiry Capture
First of all – make it easy for people to enquire. That means either letting them call in by telephone, let them enquire via your website or email address – they can email you or maybe fill out a form that gets sent to you. If you're going to go with a telephone, make sure you have someone available to answer at the other end. If a line gets busy and people end up leaving voicemails and you don't get back to them, that's a pretty bad experience and you're not going to get repeat business that way. Do make sure with all of these options you can use that you respond quickly and that you have people on-hand who can capture the enquiries and deal with them as they come through.
Secondly, make it easy to manage these enquiries. By that, the most obvious thing to do is to have some software in place that lets you manage, track and process your sale from enquiry right through to close. In order to do that, what I would suggest is that you have your enquiry come through and start at the appropriate stage, so if you've configured a pipeline then you're going to have your enquiry come through to the 'enquiry' or 'trial sign-up' or whichever stage that is appropriate, then your sales force is going to process that through.
Thirdly, capture only the essential data. Now, capturing only the essential data means it will make it easy for your prospect to enquire online if that's how you're capturing the enquiry first time round. Nobody wants to fill out 20 or 30 fields of data before they actually make an enquiry. They want to give you the essential information, hear back from you and then engage. Also, you want to make sure you don't miss out on the essential information too – If you need their website, ask for their website. If you need their email address to get back to them, get an email address. Telephone number, name – same rules apply. So, make it easy for you to manage enquiries and make it easy for the enquirer to make the enquiry in the first place. That covers enquiry capture.
Make Sure it's Configurable!
The next ingredient is to make sure it's configurable. So let's look at the configurable options we've got available to us. So first of all, 'Start Here' – that's a blank sheet of paper if it wasn't obvious – start with a blank sheet of paper and think about what you need, think about what works for your business because that's what's going to matter. List every step of your sales cycle – think about when you receive an enquiry and work it through to a close, what is it you cover off every step of the way? Do you qualify? Do you then have a meeting? Do you have a follow-up meeting? What happens next, do you negotiate contracts or do you have click-through agreements? Work out how that goes and list every step of your sales cycle. Remember, this is part of the brainstorming phase for you to build the sales process that works for you. Then you can decide what you want to uncover, so thinking about the steps decide what information you want to obtain from the prospect during that sales process.
Thirdly, identify your lost reasons. Believe it or not, you're not going to win every deal and if you can accept that you're going to lose some then that's better to work off from the outset. Think about why you might lose a deal because you want to track that information – I'll talk about that a bit more later when we get to the data section. But you will lose some, so just think about the reasons why you've lost or why you may lose and start to track that because at the end of the day, that's what is going to help you improve and win more deals in the future and boost your conversion rates.
The fourth point there is to allow for no response and not ready to buy, because you're not going to lose every deal BUT you're not going to close every deal. There are some times when your prospect isn't going to get back to you or they're going to say "I'm not quite ready, give me a few months" or they're just not going to respond. You don't want to lose sight of that, so have a stage that lets your archive opportunities so you can at least come back to them later on.
Secondly, you need to create your stages. You're going to have different stages in your sales process and that's effectively going to create your funnel for you and what I've put on the board here is to have 'enquiry', 'qualification', 'engaged', 'proposed' and 'verbal commit' – they are good guidelines to work with but if you want to have more than that, you can. I would encourage you to put groups of steps within those stages, but I'll talk about that next as well.
When you're linking your steps and stages together, you have your funnel here and you've got your different steps there, which could be 'meeting follow-up' etc. Link them together – you can have multiple steps that belong to each stage in the funnel but just make sure you can track it all. Make sure that you're mapping the way through the sales process, how it works for you and how it needs to be done. Also, give yourself some 'out' paths as well so if you need to go to 'lost' or if you need to go to 'archived' you can do that from the appropriate stages.
Make sure it's self-managing as well. Your pipeline should be self-managing, and by that I mean you shouldn't have to watch over everybody as they're working through it. Make it easy for people, your sales force specifically here, make it easy for them to work through the sales process. The key things to remember here are: have some required fields, you may have certain fields that have to be filled in in order to complete the sales process, there may be some that are irrelevant so hide the irrelevant ones until the appropriate stage. For example, if I receive an enquiry I might want the prospects company name, the prospect name, their email address and maybe some basic details about their requirement. When I get to my qualification and actual sales meeting stage, then I want to start gathering more information about, in our case at Administrate, what software they use and what their problems are with that software. For a training company or a training department it could be that you need to know what they've been trained on or what's missing within the business that they'd like to improve, areas that they need to work on. Or maybe within a training department if you're thinking about what needs staff have in the early days and so on and so forth. So just think about there what you need to capture as you go through that sales process. Uniformity as well, if everybody is working through the same process then there's going to be uniformity around the data that's been captured and everyone is going to be working and singing off the same hymn sheet.
Review and update – make sure that you do review and update the sales process. You don't have to do it all the time, but do it at regular intervals and update the items you've agreed you're going to work on and update at intervals that you've agreed on, maybe after 6 months or so if you're at the early stages of getting set up. So, make sure it's configurable, make sure it works exactly as you want it to work and that gives us a check in the configurable box.
Data is Important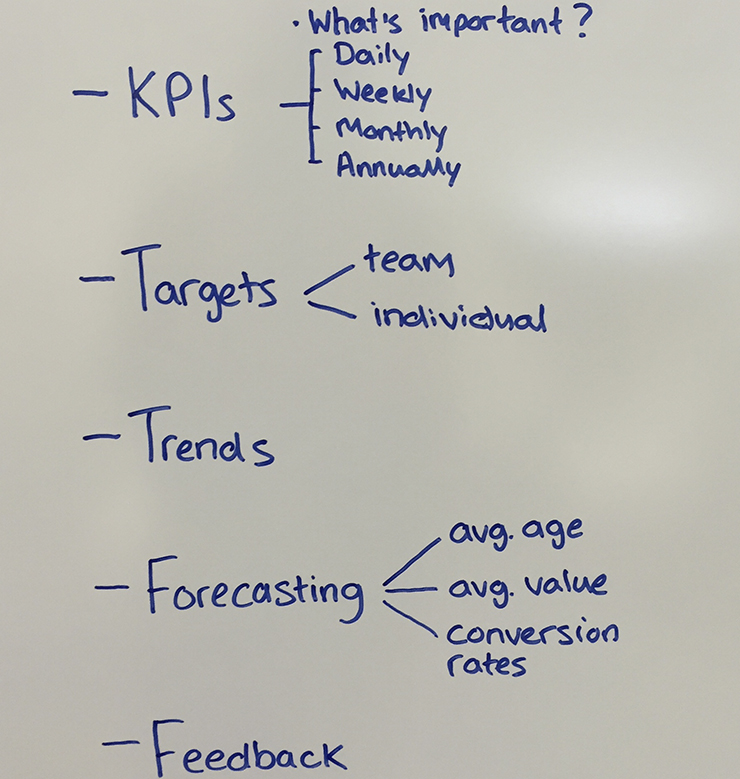 The final piece is data. Data is incredibly important but the right data is what's more important than anything else. Think about what you want to get out of your sales process management and your reports at the end of the day. KPIs/ Key Performance Indicators – these are crucial. Thinking about your KPIs, what is important and is it important that you get that information daily, weekly, monthly or annually? It could be a blend or a mix of all those things but think about what you want to get from your sales process, when, and how frequent. Targets as well – make sure you can track team targets and individual targets. It's important for business performance but it's also really important for managing individual people in your sales team.
Trends – you're going to look at data because you want to analyse trends. Is there seasonality in your line of business? Is it quiet in the summer and really busy at the end of the year? Is there something else that goes on regarding trends about certain types of training topics? Is there a certain time of year where certain training is more important than other times of training? Just look at the trends in your own data and look at all the information you have and just start mining through it – it's quite good fun!
Forecasting – average age of opportunities, average value of opportunities, and also conversion rates. I mentioned conversion rates earlier on – you'll only really be able to track and improve those conversion rates if you are tracking your opportunities through your configured sales process so do make sure you're keeping a close eye on those. You can always help them go up or at least identify what needs to be done for them to go up.
Finally, feedback. Feedback is one of the most important parts of this data process because you've got to feed back to your marketing department, you've got to feed back to your product department. Marketing, because they're the ones who are going to feed through the leads that start in your funnel for you to work though, so make sure that marketing knows what works and what doesn't. Also, thinking about product, if it's a product you actually have or if it's a service that you offer you need to make sure that the people who build or create that product or service know what is working and what isn't working. What are the lost reasons? You're tracking all of those, you can always expand on that list if more come up. Also, what are the market demands? Your product team is going to rely on you pretty heavily to get the right things built in order for you to go out and win as many opportunities as you can.
I hope that's been helpful. That's how you set up a sales process that works for you. If you have any questions get in touch with us, otherwise, thanks for taking the time to watch!