Teaching students to set goals for themselves is not a skill that is typically taught in most educational situations, yet it is a valuable life long discipline. Most managers will agree that in order to be successful one must begin with the end in mind. Both students and employees can therefore benefit from learning how to set goals. The old adage of "if you fail to plan, you plan to fail!" rings true, and we recommend making sure anyone taking a course have a goal or desired outcome that they can work towards accomplishing.
Set SMART Goals
A helpful guide to setting goals is found within the acronym SMART. Teach your students to use these guidelines when developing goals. SMART goals are Specific, Measurable, Attainable, Relevant, and Time-Bound.
Specific
Goals need to be well defined and easy to understand. General goals are not helpful and can cause confusion or create a lack of motivation. Another person should be able to read a goal and know exactly what will be accomplished. Specific goals will usually answer the five "W" questions (Who, What, When, Where, and Why).
Example: I want to get in shape, so I will run a marathon with Bob, in Boston, on July 21st.
This example answers our five "W" questions and can be understand by anyone. It's also key to understand that getting in shape is a goal. In the event that this specific goal isn't met, you can still meet the "getting in shape" part by running a different marathon, or by switching to a different sport in the case of injury or some other factor.
Measurable
Clear goals should have ways to track progress, both for motivation and for accountability. Your students should be able to periodically check in with themselves or others and see how they are doing in meeting their goal. Good measurable goals often answer questions such as:
How Much?
How Many?
How will I know when it's accomplished?
Any other quantifiable factor is fine for measurement.
Example: I will follow Hal Higdon's marathon training schedule each week, and look to finish the marathon in under 4:30.
This provides us two areas for measurement - our weekly training plan, where we can see if we're following the training regimen, and an outcome that will be measured as well. This is often an area where people fail when goal setting in that they put "getting in shape" as their specific goal, but they don't actually have any way of measuring their relative fitness, for example.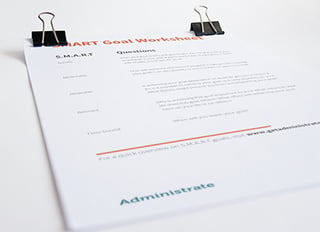 Attainable
It is important to choose goals that are realistic. Setting goals that are not achievable will only cause frustration and failure, undermining any future attempts.
Example: I am physically able to run and have the time in my schedule to train appropriately.
Lack of measurement can also lead to failure to attain the goal as you don't have any way of measuring your progress. Demoralisation can occur and even if you remain motivated, you miss the value of being able to create a positive feedback loop by looking over your measurements and seeing yourself move closer to attaining your goal.
Relevant
Encourage students or employees to choose goals that are important to them and relevant to their work or interests. This will encourage success more so than if they work at something that they are not passionate about. In a work or education setting, goals can often require teamwork and support from a variety of different people - making sure that each person involved feels that the goal is relevant to them is important for achieving success.
Here are some questions you should make sure are contemplated:
Does this seem worthwhile or valuable?
Is this the appropriate time?
Does this complement our other efforts or respond to our other needs?
Are you the right person or is your team the right team?
Is this applicable in the current socio- economic- or technical environment?
Example: Training for a marathon mirrors my lifestyle choice of being healthy and active, and is something I have always wanted to do.
Time-Bound
Similar to being measurable, every goal needs a time frame. This helps you stay focused and committed. Long range or complicated goals should have interim deadlines in order to keep things on track and objectively evaluate your progress.
Example: I will run the marathon this year.
Note we've already added specificity to which marathon we're targeting above, but it's worthwhile framing the goal a bit in case we change which marathon we're targeting (the specifics) in light of still achieving our overall goal.
Download this FREE SMART Worksheet!
It is important to develop goals with your employees and students. You as teacher or manager will have a unique perspective and can guide or shape their choices. Not only will your involvement keep things on track, it will also communicate to your students that you are invested in their education or work. Here's a printable worksheet for developing SMART goals that you can use!