In our first post on 'Supercharging Course Sales' we tackled how to plan and create winning content, as well as covering some basic on-page SEO techniques.
Strong content, optimised well... Fantastic! Now what? Well, we could wait patiently for Google to start ranking our new content, watching the clock while potential customers start searching for the key terms relating to our training courses. We might even get a few more course bookings this quarter, brilliant!
But who wants a few more when you could have a LOT more?
In this post we'll discuss how PPC (Pay-Per-Click) advertising and retargeting can help get the message out to the masses and why tracking is essential in understanding how your advertising is performing.
PPC (Pay-Per-Click) Advertising
One of the main benefits of digital marketing over more traditional, offline, marketing is the low entry costs. This is especially true for PPC (Pay-Per-Click) advertising campaigns where, unsurprisingly, you only pay when a prospect clicks on your advert. This can also be referred to as CPC (Cost-Per-Click). You might also encounter a CPM (Cost-Per-Thousand-Impressions) cost model whereby you're charged a fee for an advert to be shown to one thousand people, but with no guarantees that they'll actually click on your advert.
Enough acronyms! Given the option, is Cost-Per-Click or Cost-Per-Thousand-Impressions best?
CPM for awareness - If you want to drive awareness of your training, for example you're launching a new course and want to spread the word to a mass audience, then a CPM approach might be wise. Your advert will reach a lot of eyes and should seed awareness of your training for when people are ready to buy in the future. However, it might not get clicked and you could reach the end of your marketing budget without generating any visits to your website.
CPC for conversions - If you're more focused on driving new business and need to show a return on your advertising spend, then a CPC model might be preferred. You'll only pay for actively engaged prospects, those who click on your advert and visit your website. This should, in theory, increase the chance of generating those all important conversions into course bookings.
Next stop, choose your platforms. These are many and varied, so in the interest of brevity we'll focus on one popular example in this post - Google Adwords. One cautionary point, mistakes can be expensive so if you're completely new to online advertising then it's probably best to seek support from a local agency or digital marketing consultant to get things moving.
Google Adwords
Chances are you'll have noticed the adverts at the top of Google searches - these are all operated on a CPC basis, you bid on keywords within Adwords (alongside other advertisers) to appear higher up the paid results and, hopefully, attract the clicks from competitive terms. It works a little like eBay in that the more bidders there are, the more you'll pay for each click. Other factors affect CPC too, like Quality Score (Google's algorithm of how relevant your advert is to the keyword you're bidding on). The general rule here - match up relevant landing pages of your website with the keywords you're bidding on and Google should take a shine to your advert, award you a better Quality Score resulting in a lower CPC. Nice!
The ability to target the keywords people are searching for means you're actively prospecting those who are in-market for your training product, e.g. hit those searching for 'leadership courses London'. Of course, if you've a little more budget to play with, or want to experiment with some more solutions-based advertising, then why not target keywords like, for example, "how to get a management job in London" or "management job opportunities in London" to sell your leadership training.
So what does the Adwords search landscape look like? By way of an example, when searching for 'leadership courses London' we see the following paid adverts at the top of the page. A quick search using a tool called Google Adwords Keyword Planner (note, you need to have an Adwords account to view) suggests that a competitive bid, per click, for this term would be around the £7 mark.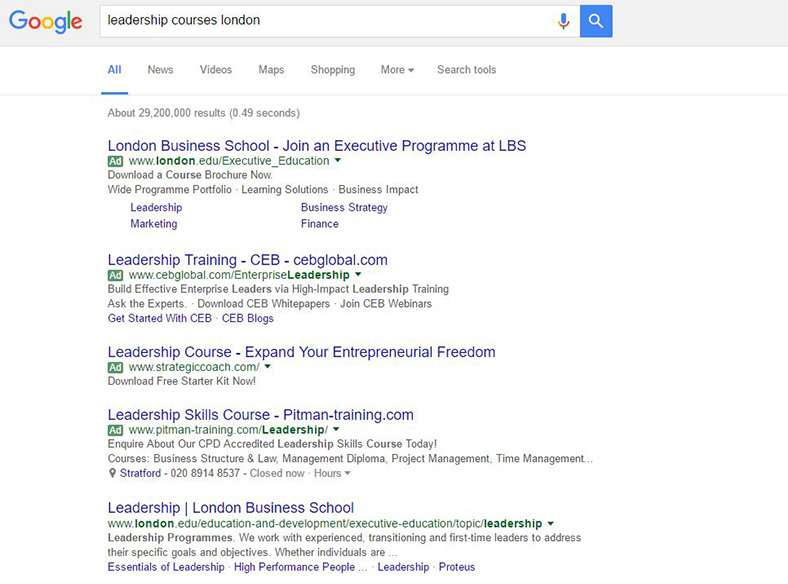 Now, £7 a click might seem a little on the high side but it's a popular term with nearly 1,000+ monthly searches. Assuming you convert one out of ten visitors to your site, you're looking at a CPA (Cost-Per-Acquisition) of £70 per student. This is where you can get a little creative and target more niche keywords that still show similar search intent (i.e. people still looking for leadership courses in London) but with lower search volumes and lower competition - meaning a lower CPC. How about 'business leadership courses london' - searched around 200 times per month, but with an estimated CPC of just £4. Suddenly you've nearly doubled your advertising reach, yet remained focused on converting the right kind of traffic.
As mentioned, it's wise to start off with a managed campaign through an agency. If you work with Google directly, they'll most likely encourage you to spend, spend, spend... whereas a reputable digital agency should help focus your marketing efforts and refine your campaigns regularly. Get started by using Google's Partner Search tool to find a Google accredited agency near you.
Top Tip! Don't just think of PPC as the text ads you see above search results. GDN (Google's Display Network) allows you to place banner adverts on websites that are signed up to sell advertising through the network - usually at a vastly reduced price than if you were to approach the advertiser directly. Why? Advertisers try to sell their ad space direct to customers. If they can't sell direct, they'll sell their remnant inventory to advertising networks, like GDN, at a reduced cost. Even when marked-up this offers a great opportunity to advertise on high traffic, very relevant, websites at a fraction of the normal cost. In our example above, a provider of leadership training in London might look to advertise on The London Evening Standard's and Telegraph websites, within their respective business sections, to hit a very relevant audience who may well be in market for developing their leadership skills. This can be on a CPC basis, so if nobody clicks on your banners - free publicity! Use Google's Display Planner tool (note, you need to have an Adwords account to view) to determine strong advertising placement opportunities.
Another Top Tip! (We're spoiling you!) Consider trialling Bing Ads too! While Google continues to dominate search, and should probably command the majority of your online advertising budget, Bing comes bundled with Windows 10 PC's so is seeing an increased market share of over 21% of search traffic - especially in US markets.

Image source - LeetWeb
Remarketing / Retargeting
We all know what it's like - in a moment of inspiration you search for ways to better your skills, enthusiastically read about an amazing training course that is bound to get you that next big promotion, then remember that payday is still two weeks away, closing the browser with an audible 'harumph'.
Essentially, remarketing allows us to follow (nicely) those who forget to make their training purchase on the first visit to your website, with text or banner adverts encouraging them to return to your site and complete their purchase. It's a common 'shopping cart abandonment' tactic used in most ecommerce websites - try adding something to your basket on Amazon, then open up Facebook ten minutes later. Bingo, the same product is being promoted to you in a Facebook advert. They've been watching you.
A popular network is, yes you guessed it, the Google Display Network. Now that you've spent £10/$10 on Google Adwords and captured the interest of someone searching for a training course that you can provide, Google kindly offers you the opportunity to spend a little more money to serve them further adverts to 'close the loop' and nudge them into purchasing. However, it's a very important loop to close - these are warm prospects who have actively shown an interest in your training and with a little encouragement, could well tip over into booking quite easily.
It's also worth noting that most networks will allow you to 'frequency cap' the amount of times that a remarketing advert is shown to someone - helpful if you're concerned about what is, admittedly, a 'Big Brother' style tactic. A common number for frequency capping is three to five times - if they've not returned to your site and purchased your training after seeing your advert five times then it's probably safe to throw that fish back in the pond.
Top Tip! Many of the larger display networks have high minimum monthly costs that can be a barrier to testing out remarketing as a channel. Google Display Network allows you to test the waters with a much smaller outlay, giving you the opportunity to prove the concept before scaling it with larger, more advanced, networks as your training sales grow.
Tracking
Course sales are increasing and you want to invest more budget into more advertising. But with whom? What's offering the best ROAS (Return-on-Ad-Spend)?
Transparency. We love it at Administrate, it's even one of our core values. It's also partly why online advertising spend continues to grow and grow, up 16.4% in 2015. Circumnavigating the many challenges of measuring offline marketing activity, digital marketing offers a high level of performance transparency meaning you can invest your marketing budgets into the channels that show the best returns.
One of the most common methods of tracking performance is using Google Analytics. It's free and can be added to your site within a few clicks, simply visit https://www.google.co.uk/analytics/ and sign up with your Google Account. Don't have a Google Account? No problem. You can create one here, or associate your existing email address with a Google Account. Funnily enough, Analytics integrates fantastically with Google Adwords too, so it's super-simple to see which of your PPC campaigns are performing best and increase your advertising spend accordingly.
Don't worry, although Google Analytics can be a little daunting at first, Google's support documentation is fantastic - you'll be burrowing deep into the data in no time. And be warned, even the most ardent digital detractors have been known to become data addicts once exposed to Google Analytics and the wealth of opportunities it unearths.
Of course, the reporting doesn't stop with Analytics. Administrate customers have access to our powerful, industry-leading, Reporting Engine that allows you to delve even deeper into the data.
Top Tip! If you plan to get super-geeky and add lots more tracking to your site, or customise Google Analytics to use things like Event Tracking etc. then you might be better off using Google Tag Manager to add Google Analytics to your site. Google Tag Manager is essentially a container that you place all your tracking inside - the main advantage being that you can add, remove and change what's in the container without ever having to speak to your web developers.
Pedal To The Floor...
The word is spreading and there's a buzz about your brand. Course sales are booming, the graphs are spiking higher than they ever have before, testimonials are starting to mount up - you're building up speed.
In our final post in our series on 'Supercharging your Course Sales' we'll address how social media and email marketing can help you pass the chequered flag, leaving your competitors far behind.
Looking to integrate online course bookings with your website? Administrate has you covered with our WordPress plugin, WebLink or API. Sign up for a free trial to get started.