Time for a recap! So far in our 'Supercharge Course Sales' series we've discussed visibility - how to create great content and optimise it well, promotion - through Pay-Per-Click advertising and retargeting and finally tracking - to ensure you have transparency on the performance of your website and online advertising.
In our final post introducing digital marketing, we look at what role paid social media advertising and email marketing can play within your overall marketing mix.
Social Media
In this post, we'll focus mainly on paid social activity, assuming that you've already setup profiles for Facebook, Twitter and LinkedIn. Of course there are many other social networks out there, but these three offer high potential reach (into the billions) alongside a low cost of entry (advertising campaigns can start from a few pounds/dollars).
Before we jump into the paid options, here's some very top level tips on how to build a strong social following:
When creating social content, it's important to consider why we're on social networks to start with. Often it's to discover what's happening within our social spheres or the wider world. Many hypothesise that it's primarily down to a FoMO (fear of missing out) - we want to know what's going on in the world and we don't like being cut out of the loop of our friends conversations.
It's also worth noting that social networks are increasingly accessed on smartphones, tablet devices, portable games consoles, smartwatches and more. When people are accessing social networks on the move their time to digest content is generally shorter, therefore brevity is important. Keep status updates short and snappy. Want to include video? Studies have shown that Facebook's auto-play feature (when videos automatically play within your feed) results in an optimal video length of 30-45 seconds (before users start to switch off).
The type of content that will work well for you will vary by industry and a one-size-fits-all approach isn't really viable. A general best practice is to adopt an 80/20 rule for social posting where 80% (or 4 out of 5) of your social posts should be conversational, without a marketing/sales message, adding value to those who take the time to read them. The other 20% (or 1 out of 5) can be marketing/sales related - the 'would you like to buy my training course?' or 'we have a great offer on this course at the moment' posts.
Finally, don't ignore your customers. If they take the time to post or comment on your Facebook or LinkedIn pages, @mention you on Twitter etc. then respond promptly if it's appropriate. According to research from Twitter themselves, 77% of Twitter users feel more positive about a brand when their tweet has been replied to.
Facebook
Facebook's numbers speak for themselves:
What about paid advertising on Facebook? The options here are extensive. Want to get people to like your Facebook page? There's an ad for that. Want to encourage people to click through to your website? Guess what? Want to encourage people to download your App? Aha, that too. Claim offers, watch videos, respond to events, drive local awareness, generate leads... Facebook has created a fantastic advertising platform and has extensive demographic targeting to match. The best place to get started with it all is right here.
But it's all so overwhelming! Give it a few days and you'll be boosting posts and creating adverts left, right and centre. To help you get started and fuel the ideas machine within your training organisation, here's a few examples of campaigns you can create right out of the box (including estimated audience sizes, for reference):
Target everyone aged 18 - 65+ within a 40km radius of London, who have job titles of 'Assistant Manager' to promote your 'leadership' or 'management' training courses in London (a potential reach of 19,000 people).
Upload a 'custom audience' - a list of email addresses for previous customers. Target them with an advert encouraging them to like your page and grow your social following. As former customers, already familiar with your brand, you should get a strong response rate. Consequently, they will see your future social updates meaning the potential for sharing your posts within their own social spheres and perhaps even repeat business.
Target everyone aged 18 - 25 within 25km of New York City who have just changed their employment status (and are therefore likely in a 'new job') to offer soft skill training like 'communication skills' and 'team-working skills'. Help those with less industry experience adapt to their new surroundings! (a potential reach of 18,000 people).
As you can imagine, with so many targeting options based around education, financial situation, life events, relationship status, work status and more, the list of potential advertising campaigns is near endless. However, Facebook requires a very low minimum daily advertising spend (in the UK it's just £5 per day) so you can invest a little to learn a lot.
Top Tip! If you're completely new to Facebook, they've created a helpful 'getting started' guide to help you, well, get started. Once you've set up your business page you'll need to cover the basics like adding your company logo and cover photo. Here's a useful sizing guide to help with this and remember you can use free online tools like Picmonkey to resize images if you don't have access to software like Adobe's Photoshop.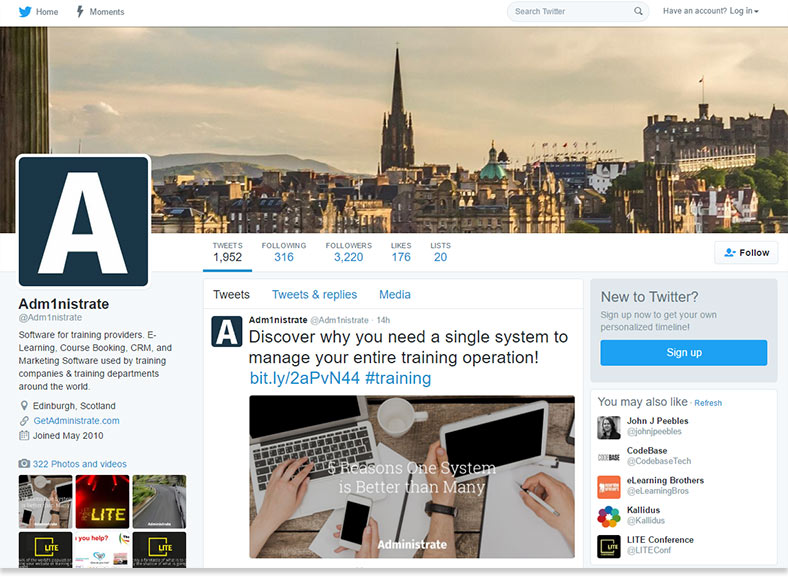 Twitter
Twitter, like Facebook, has some impressive numbers behind it:
The advertising model behind Twitter isn't quite as developed as Facebook, having only really started in 2010. However, it's evolution has been rapid and the network now offers a number of advertising options to increase site visits/conversions/sales, build your Twitter following, promote your tweets and account, increase retweets, likes and @mentions and promote mobile apps. You can read more about all of these on Twitter's website here.
Again, to help you get started, here's a few examples of campaigns you could create:
Target everyone in Scotland who's past tweets have contained the words 'finance distance learning' to promote your finance training courses, delivered by eLearning. A generic example, but you get the idea. If you want to narrow the geographical targeting further, no problem! Geo targeting is super-granular within Twitter, you can even target by postcode/zip code!
Target those in the London area who are sending tweets about the popular TV show, The Apprentice, while the show is live on the air (so it's very much front-of-mind) to offer management/leadership training courses in London. Perhaps an aspirational message would work well here - 'Be the next Alan Sugar!'.
Target those in the Atlanta area who are sending tweets about Microsoft's Ignite event to promote relevant IT or Microsoft training courses. Note, Twitter's event-based targeting options are generally limited to larger events, but you can of course target anyone who's using an event's hashtag, for example #LITE2016!
Like Facebook, the demographic targeting options available through Twitter advertising have near infinite combinations!
LinkedIn
In June 2016, technology behemoth Microsoft announced it was acquiring LinkedIn for $26.2 billion in cash - a signal, if it were needed, of the perceived value of the business and employment-oriented social network. Having grown rapidly from launch in 2003, it now boasts a worldwide membership of 450 million in over 200 countries and territories. Particularly of interest to training companies, should be the fact that one of LinkedIn's fastest-growing demographics is students and recent college graduates, with 40 million now having profiles. This is perhaps unsurprising given the rise of 'Digital Natives', or the millennial generation.
A natural habitat for training companies to advertise their services, LinkedIn is centred around professional development. Like Twitter, the advertising options are a little more limited, but there's still a range of opportunities to reach a very valid audience.
Within their self-servicing advertising platform you have the option of sponsoring one of your LinkedIn status updates so that it will appear within your target audience's home feed or running a Text Ad which will display within the right column of LinkedIn. You can find out more about both here.
So how might you use these services? Here's a couple of ideas to get you started:
Sponsor a recent LinkedIn post detailing what former students of your London-based ACCA accountancy training have achieved as a result of passing your course (with their permission), targeted to those within the London area with a 'job function' of 'accounting' and 'years of experience' of '1-2'.
Create a Text Ad that targets members of specific LinkedIn groups. For example, target those who are a member of the 'Financial Control' group (currently over 120 thousand members) to showcase your eLearning ACCA accountancy training courses to a potentially very relevant audience.
Top Tip! You can create up to 100 advert variations when adding a Text Ad in LinkedIn. Try creating a few similar ones with slightly different calls-to-action to test which resonates best with your target audience.
Other Social Networks
While it may depend on the industry you work within, you should certainly give consideration to paid advertising options with other social networks such as Instagram, Snapchat, Vine, Pinterest and Google+, to name but a few. Also, depending on what international markets you operate in, there may also be localised social networks to consider too. For example, are you looking to do business in China? Facebook access is restricted, so you'll need to look at networks like Qzone instead. Russian market on your radar? Take a look at VK (formerly known as VKontakte), the most visited website in Russia.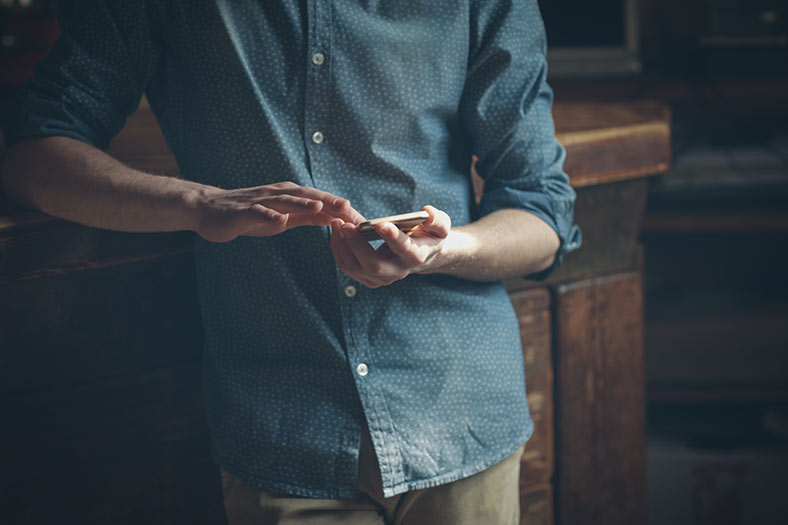 Email Marketing
Email marketing is experiencing a massive resurgence after many years of social media being well and truly in the spotlight. Why? The introduction of smartphones and tablets resulted in instant access to your emails on the move. Open rates skyrocketed and suddenly email was in every marketer's good graces again. In fact, Hubspot reports that nearly 81% of users surveyed read emails on their mobile devices.
Administrate customers can benefit from an integration with popular email marketing platform, MailChimp. MailChimp is used to send over 95 million emails each and every day! It's simple to keep track of Bounces (those emails that don't reach the intended recipient's inbox), Open Rates (the number of people who receive your email and, yep, you guessed it, open it) and Click Through Rate (CTR - the number of people who open and then click on a link within your email campaign) alongside lots of other important metrics. You can easily export contacts from Administrate to MailChimp and when you setup a marketing campaign within Administrate, we'll automatically pull your email stats so that you have all your data in one place.
Want to get the most out of your email marketing? Here's a few pointers:
The time and day you send your email campaign matters - surprisingly 6am has the highest CTR of any hour according to Hubspot, with Saturday showing the highest potential CTR at over 9%! Test the waters and track results.
Consider the wording of your subject lines - remember that your email will be competing against many others, so use enticing copy to avoid deletion. CTR is known to be higher if you include the recipient's company name in the subject line, so it's worth trying to incorporate this if feasible. Many email marketing providers, including MailChimp, will allow you to split test multiple subject lines - a very worthwhile exercise to evaluate what messaging attracts higher Open Rates for your database.
According to studies, calls to action of 'Click Here' attract the highest percentage of clicks over 'Go' or 'Submit'. Calls to action should be painfully obvious in emails, make it clear what you want the reader to do!
Get smart with segmentation too - perhaps some of your training is for annual accreditation that is always going to need renewed. Create a segment of those who took your course this year and schedule a reminder email for them to repeat the training next year. Perhaps your training can work well as part of a series, e.g. those who have completed the 'Microsoft Excel for Beginners' class are likely candidates for the 'Advanced' option. Again, create segments of those who may well be likely to book further courses!
Finally, it may seem an obvious point, but it's worth ensuring you have an option to 'sign up to your email newsletters' in a prominent place on your website, ideally within the header or footer of your website so that it appears on every page of your site.
Top Tip! Wondering what a good Open Rate is for your sector? The guys at Smart Insights have all the numbers you need to benchmark your performance.
The Chequered Flag is Waving...
You're on the home straight now. Having ticked all the 'digital boxes', you should be revved up and ready to go!
But remember, slow and steady wins the race. The beauty of most digital marketing activity is that you can test the waters with small budgets before ramping up your marketing spend. Make full use of reporting and adopt a test-and-learn strategy whereby you're always gathering data on what does and doesn't work for you.
Looking to integrate online course bookings with your website? Administrate has you covered with our WordPress plugin, WebLink or API. Sign up for a free trial to get started.