Show of hands, how many of you have candid, honest, reviews of your training courses featured on your website? Nope, not the cherry-picked customer testimonials with glorious quotes about how your training forever changed the life of Mr Smith from London. We're talking genuine, gritty, honest, not-always-positive reviews that add an extra layer of transparency to your brand.
Try to put yourself in the shoes of your customers and envisage their buying process. When choosing a training course, what will make them select yours over the many other similar courses available? Beyond the usual criteria of price, location, instructor, accreditation et al, what will they ultimately care about? It's perhaps obvious, but they'll want to know, 'are these trainers actually any good?', 'sure their website says they're amazing, but can I really believe them?' When it comes to choosing a training course provider, reviews can be an excellent differentiator.
As Chris Wigglesworth, founder of Administrate partner, Coursecheck, notes:
"These days, a brand is determined far more by the way that you're seen to interact with your customers. The reality is that people care less about what you say about yourself; and more about what other people say about you."
Beyond transparency, why else should you include reviews on your website?
Reviews Increase Conversion
By including reviews on your website you can potentially drive incremental sales of your training courses. Don't believe me? The research is pretty conclusive - 61% of customers read online reviews before making a purchase and 63% of customers are more likely to make a purchase from a site that has user reviews. Consumer review platform, Reevoo, even conducted a study that suggested the potential sales uplift from including reviews can be as much as 18%.
They're the New Word-Of-Mouth for Digital Natives
According to research from BrightLocal, 92% of consumers read online reviews in 2015. That figure is even higher amongst what could be considered a more 'digitally native' audience, those aged 18-34, where a staggering 97% read online reviews.
Further research suggests that 88% of consumers trust online reviews as much as personal recommendations, such is their impact on purchasing behaviour. Online reviews are rapidly becoming the 'new' word-of-mouth when it comes to business referral.
And it's not just confined to review sites. Research shows that social media is being increasingly used to review products and services too, especially amongst younger consumers. Indeed, 87% of those aged 18-34 have already reviewed a local business on Facebook, Twitter or Google+.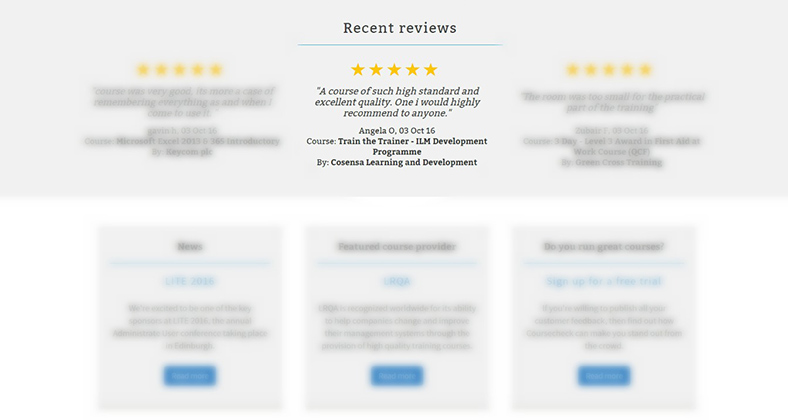 Reviews Help SEO
Digital natives know that the answer to their question 'is this training company any good?' is just a quick Google search away. In fact, it's very likely that their decision process for most things in life involves a Google search!
We covered the basics of on-page SEO (Search Engine Optimisation) in our first post on using digital marketing to supercharge your course sales, but how can the inclusion of online reviews further improve your search engine performance?
Regularly Updated Content
Reviews offer an opportunity to have regularly updated, relevant and valuable content on your website, something that search engines are known to favour.
Ranking for Brand + Review Terms
It's very likely that if you offer training courses, then someone will search for 'Your Brand + Reviews'. By incorporating reviews into your training website, either with their own dedicated page or alongside other content, you can help ensure you rank well for those searches. It could also help push any less favourable legacy content further down the search results.
Encourage Click Through
You may have noticed star ratings along with the Page Title and Meta Descriptions within search engine results pages. You can add these to your own search results by using services like Coursecheck, or by getting a little technical and adding schema markup to your website. The latter might require some support from your web developer, but it's not a major change and you can find out more about getting started here.
With those stars, comes an increased CTR (Click Through Rate) on search results. Research from Distilled has shown that including rich snippets (which incorporates star ratings) within search results can boost CTR by as much as 10-20%.
Because Nobody's Perfect.
Finally, a study by Reevoo found that 68% of consumers trust reviews more when they see both good and bad scores, while 30% suspect that a company has employed censorship or fake reviews when they don't see anything negative at all.
Don't be afraid of neutral or negative reviews, we all have our 'off days'. Savvy customers will understand that there are always going to be exceptional occasions when you can't deliver an A+ service. By illustrating how you responded in those situations, customers could even have a better perception of you than if the problem had never occurred in the first place.
As our LITE 2016 keynote speaker, Graeme Obree, taught us recently - we should always deal with discontentment. By ignoring customer feedback and staying within our comfort zones, we may well be missing an opportunity to continually improve.
Sign up for a free trial of Administrate to help reduce your admin, allowing you to focus on what you do best - delivering exceptional training! Then sit back and watch the good reviews flood in!
Download our Best of the Blog 2016: Training Providers eBook
Did you know this blog post appears in our Best of the Blog 2016: Training Providers eBook? Download it for free now to read lots of our favourite posts from 2016!