As the training industry evolves to meet the needs of modern learning, it's never been more important for training companies to have a system in place that is flexible, and accommodates change. Companies which use a system with no flexibility, or without a clear defined structure, often find themselves in a world of inefficiency. However, where we find the most pain is when companies have multiple solutions in place with no common ground.

The Perfect Storm
Here's a situation we've seen more than once:
Finance use Xero
Sales use Salesforce
Marketing use MailChimp
Instructors use SurveyMonkey
Everyone uses Excel
There's nothing wrong with different departments using different tools to get the job done. The trouble is, without a central integration point, things soon turn into chaos. Here's how things fall apart, brick by brick:
Sales close a deal in Salesforce.
The details get sent to Finance for invoicing.
The information gets passed to the co-ordinators to start planning the courses, or send welcome emails - usually via a shared spreadsheet, or Google Sheet.
The instructors get told where the event is, and when to be there.
Finance don't get paid in time, so the class is cancelled. They notify the co-ordinators.
Sales assume the deal is closed and move on - losing revenue.
Co-ordinators have to scramble to let everyone know - increasing time costs.
Marketing fire up MailChimp to send a cancellation email, but it's too late - meaning students miss their class, and marketing have been distracted from generating business.
Instructors turn up to an empty room, and it's too late to reschedule their day - resulting in even more wastage, and lower morale.
That might seem like a worst case scenario, but it's one we hear stories of every day. And it doesn't have to happen in that order for things to go wrong. There are few industries that have as many moving parts to manage, and if one plate stops spinning, it's all too easy for training to halt.
Enter Integration
An integrated platform that is both accessed and used by on a regular basis by multiple teams resolves these potential issues and dangers instantly, and makes training management as straightforward as possible. A flexible training management system like Administrate allows for leading popular solutions to be plugged in, and synchronise automatically with other departments and tools. Whether it's getting that Salesforce invoice into Xero, or a survey from SurveyMonkey into a MailChimp marketing email, Administrate makes collaboration between teams easier and more efficient. And even better, it removes the needs for cluttered and disorganised spreadsheets.
The Benefits of Integration
Integration is the answer to removing human error, improving efficiency, and cutting costs. We recently teamed up with our partners over at CloudShare for a webinar showing the benefits of integrating your LMS with Virtual Training Labs. Check it out below, and see how your operation could benefit!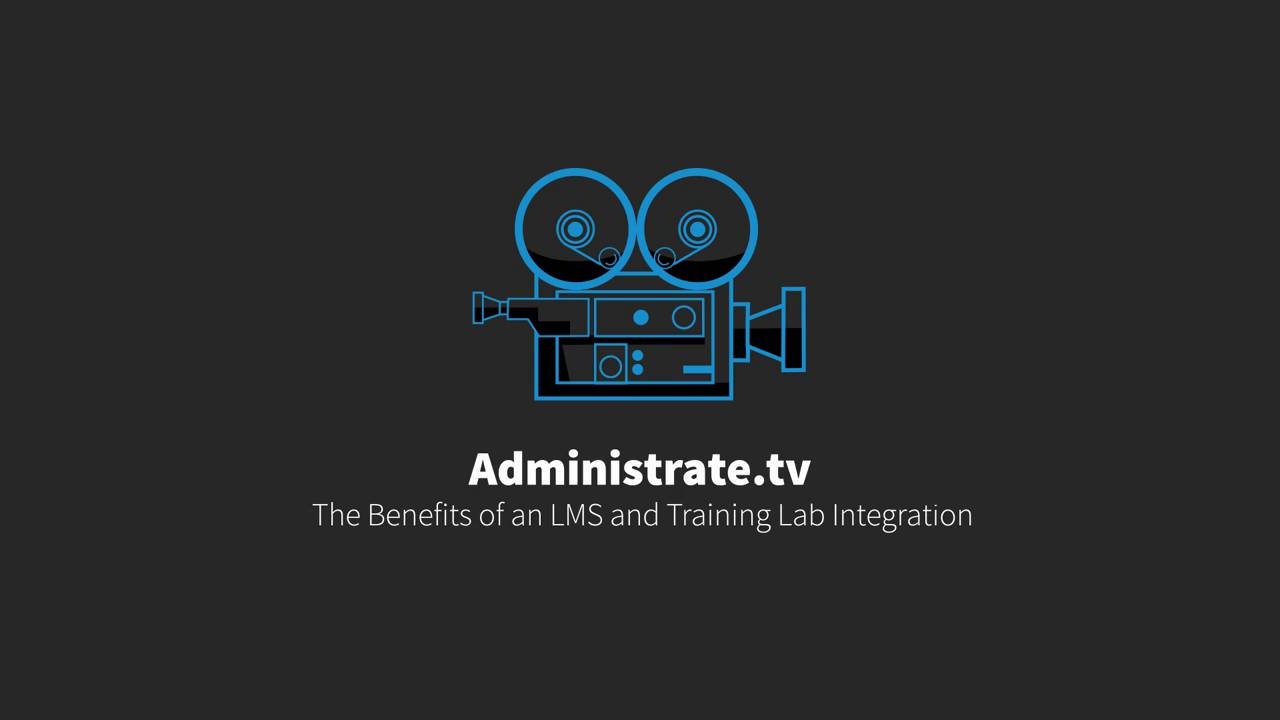 Enter your details to view this video.
What Can I Integrate with Administrate?
The possibilities for integration are near endless, and with our dedicated professional services team, we can help get your system running exactly how you want! Discover more by clicking here. See just a few of the possibilities available today below!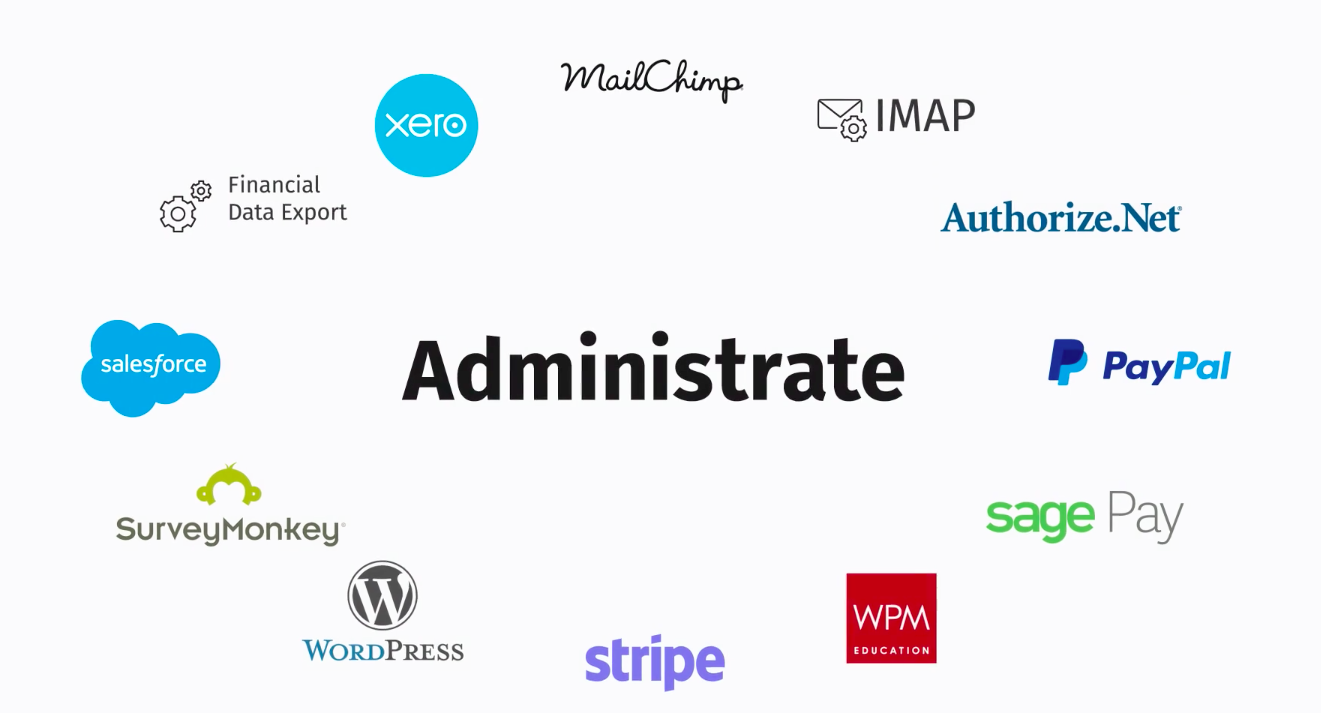 Still not enough? Our powerful API enables developers to build websites, workflows or applications that interface, integrate, and interact with Administrate. Find out more by clicking here, and stay tuned for some exciting updates to our API offering soon...
Getting Started
Ready to get started with integrating your systems? Great! We've prepared some short guides introducing two of our most popular integrations, Xero and SurveyMonkey, and how to set them up within Administrate. We've more videos on the way, so if there's something you're particularly keen to see, let us know by emailing info@getadministrate.com! Our Senior Product Manager, Heather Bayfield, explains it all below:
Xero
Enter your details
to view this video.
SurveyMonkey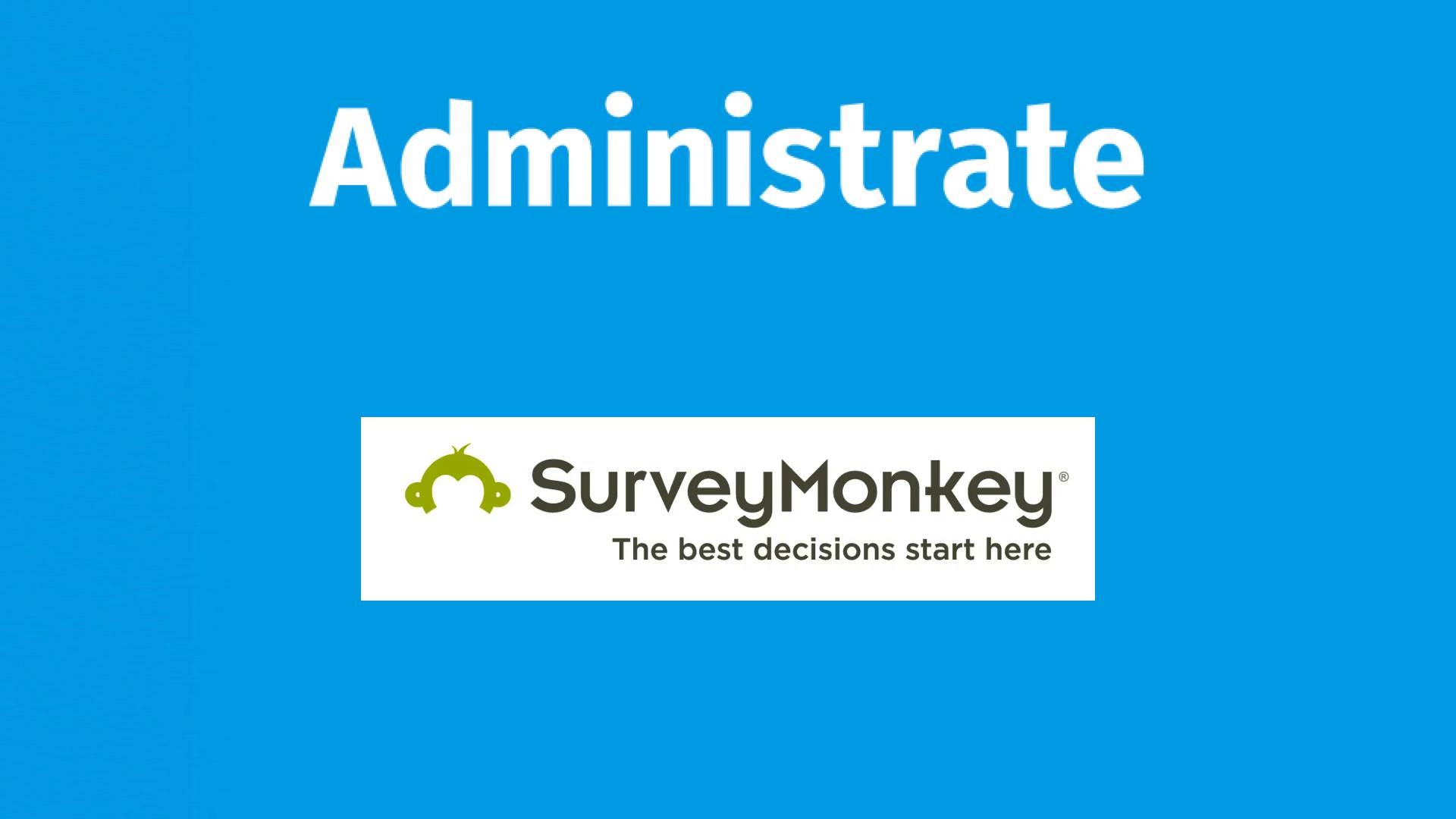 Enter your details
to view this video.
Integrating Your Teams
Integration shouldn't stop with having systems that talk to each other. With a platform like Administrate acting as the underpinning foundation, your team can now start to integrate and share responsibilities. Marketing can benefit from talking with sales and course management teams, as it gives greater insight into their potential prospects. Course management teams can benefit from talking with instructors, to identify common issues or develop better practices. By fostering a spirit of collaboration, you create a more bonded and effective workforce.
Free Download
Ready to make some efficiency savings, and integrate your systems into a central point for training? Fill out the form below, and download our efficiency guide!
Or, click here book a session with one of our consultants here for a training health check!