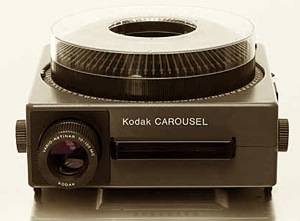 Previously, we talked about some presentation tips for making your courses more enjoyable, more memorable, and more useful to students. Now it's time to dive into the actual mechanics of designing great slides that will make your presentation pop. Here are some tools that we find extremely valuable when designing presentations, no matter who the audience is.
Make Sure Your Presentation Material Works
The first step is to ensure you've got high quality content that engages your audience. Read about how to do this in our previous blog post. No amount of visual massaging or clever design can salvage a bad presentation. Don't skimp on this step.
Design Your Presentation Slides to Complement Your Talk
Slides should complement your talk, not the other way around. Keep your slides simple and design them to reinforce the major point you're making. Don't list all of your points and then read them one by one for your audience - this encourages "zoning out" as the audience will read ahead of you, get bored waiting for you to catch up, and ultimately stop listening. Instead, design your slides so they communicate a few words or part of a thought that requires your audience to listen to what you're saying.
Use a Professionally Designed Colour Palette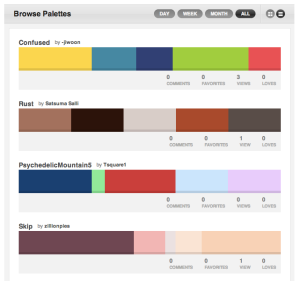 Colour may be more important than you realise, and is a great way to make your presentation stand out and give it a professional edge. We recommend using a high contrast, bright palette to make your slides stand out and easier to read from the back of the room. Here are two great tools that will help you find a colour palette that will make your slides pop:
ColourLovers.com - quickly search and find palettes, and sort by popularity or create your own.
Adobe Kuler - although this site requires flash, it's a great resource if you're not finding something you like and includes a creation tool and the ability to search, share, and rate palettes made by others.
Spend Some Time Choosing a Font
The right typeface can really set your slides apart by influencing the visual feel of your presentation in a subtle, yet noticeable way. Don't choose a font that is instantly recognisable by your audience! This doesn't have to be a laborious process, simply head over to DaFont.com which has a great selection of free fonts that are organised by theme.

Supersize Your Text
For presentations to groups, larger text is always better. When in doubt, go bigger. Remove words if you have to, or use more slides. We recommend a minimum of 50pt text for presentations, and often go much larger (90+ point or even over 200 point when we can). The above example is using a combination of 250 point text and 80 point text. This accomplishes two things:
It ensures your audience can see everything on every slide.
It constrains our available space, forcing our slides to complement our talk (see above) which keeps our audience more engaged.
A more engaged audience that can see everything you're presenting is a major win-win!
Quickly Find Great Images for your Presentation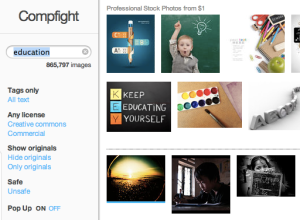 Great visuals can really enhance a presentation, but it's often hard to find high quality, relevant, royalty free images to incorporate into your talk. We recommend giving CompFight.com a try as it makes it easy to quickly search and filter image results by license. They even have a Wordpress plugin that you can add to make finding and incorporating images even easier for those who use the Wordpress platform to manage their website.
Easily Incorporate Online Video
Never add a video to your presentation that will require internet access to play! This is a cringeworthy mistake we see all too often. There's not much worse than seeing an audience and presenter suffer through poor quality, jerky video due to a venue's poor or unpredictable internet connection. If you need to add a video from Youtube or Vimeo, use KeepVid to download it for you (remember to respect content creator's rights and copyright restrictions).

Get Inspired with Great Presentation Examples
It's always helpful to see examples of fantastic presentations that incorporate the above principles. Note & Point is a gallery of excellent presentations that will inspire you to raise the bar on your own content!
This Will Take Some Time
Just like great authors, great presenters don't always follow every rule every time, and it's OK to break a few here and there. The key is to be mindful of these guidelines from an overall perspective, and spend time on your presentation. Nothing replaces the effort required to turn a good presentation into a great presentation, so make sure you set aside adequate time for preparation.
Interested in More Blog Posts Like This?
Download our free eBook 'How to Deliver Better Training 2013' to read this blog post and more!