Many times when we describe our software as "for training providers" the first response we get is, "Oh, so you're a Learning Management System?"
We're much more than an LMS.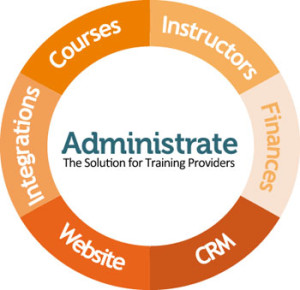 In fact, Administrate is designed to complement an LMS, not replace it.
Administrate is built for training providers (e.g. someone managing the delivery of training within a large corporation or commercial training business) to help them manage courses, reporting, staffing and resourcing. An LMS is built for students to help them learn. Administrate works with an LMS to provide a complete platform on which you can run your operation and help your students learn.
How Administrate is Different from a Traditional LMS
Here are some areas that Administrate is designed for which a traditional LMS won't always cover:
Flexible, Powerful, Reporting - building complex reports to show you key performance indictors (KPIs) is often not supported by an LMS, or the information you really want (costs, marketing source, etc.) may not be available.
Detailed Financials - order processing, invoicing, debt tracking, payment processing, and course profitability analysis are all part of how Administrate helps you manage your books. Often internal training departments find this information valuable for internal costing and reporting.
Offline (Classroom) Courses, Blended Learning - A Learning Management System won't be of much help for those trainers offering offline courses, or courses that require specific instructors or resources to be available.
Multiple Learning Management Systems - Do you have more than one system in place? A legacy system and latest LMS? Administrate will keep your business or department running well even if your learning and students are spread across multiple systems.
Marketing and Course Booking - Administrate helps you market your courses with landing forms, mailing lists, and statistics that show you where your efforts are making an impact. This isn't just limited to commercial training either - internal training departments can use these tools on their intranet to gauge employee interest.
Sales and Opportunity Management - Easily see your sales opportunities and manage them through a configurable pipeline and sales workflow.
Course Workflows - make sure necessary steps are taken prior to a student attending a course. This is especially helpful if the course has several important prerequisites.
Much, Much, More! - an online document management system, team collaboration features, a full CRM system, flexible permissions, support for partners and multiple companies, all built just for training providers!
A Comprehensive Package for Training Providers
Bringing all of this together into one online software system is quite simply what we do here at Administrate. Our goal is to provide you with the tools you need to deliver quality training to your students that encompasses the "back office" operations, your online course booking needs, and your eLearning and LMS needs!
Administrate - back office management and administration tools for training providers.
Website Integrations - link your existing website with Administrate to take online course bookings and enquiries.
Administrate LMS - a cloud based, modern, affordable, SCORM compliant Learning Management System.