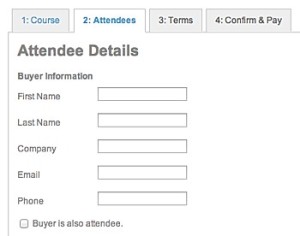 Accepting online course bookings is something every training provider should consider, and most should implement. Our experience shows that the organisations that take course registrations financially online outperform those that don't. Unfortunately, many training providers don't have an online order processing capability. Fortunately, Administrate has three great options that can get you up and running in no time!
How Does it Work?
Each of these options follows the same basic premise - the goal is to present your active course offerings, via your website and allow students to book onto those offerings via the web.
Here's how to Take an Online Course Booking:
When you schedule courses, they appear on your website.
Students can choose which course they'd like to attend and create a booking online.
Payment can be collected online if desired.
Bookings arrive within Administrate and are turned into invoices.
If you integrate with one of our supported payment providers, you can even get paid online!
Can I Display Detailed Course Information from Administrate on My Website?
You've already spent the time creating your courses within Administrate and this information is available to be integrated with your website. Information like Course Name, Course Category, etc. can be displayed, and if you're running any of these courses, the dates and times will be available to view.

What About Managing Inbound Questions or Enquiries?
It's easy to hook your website into Administrate's Message Centre, where you can action inbound emails, form submissions, or other communications.
Choose Your Level of Technical Involvement
Lets face it, many of us aren't technical, or don't have time to be! Our three different options are designed to meet you on your terms. Each has different pros and cons, but we've tried to present an option for every website configuration and every technical level.
Beginner (Not a Techie) - you're not a techie, but you might update your website from time to time.
Intermediate (Some Technical Knowledge) - you might know a bit of HTML, don't really program, but you do manage your WordPress site, and can install plugins or add/remove/edit pages.
Programmer - you're a professional programmer and have been using APIs and programming complex websites for years.
Detailed Comparison of Administrate's Online Course Booking Options
Web Link
WordPress Plugin
REST API
Features
Course Listing
YES
YES
YES
Course Enquiries
YES
YES
YES
Course Booking
YES
YES
YES
Payment Processing*
YES
YES
YES
Other Features
NO
NO
YES
Customisable
Some
Some
Lots
Requirements
Compatible With
Any Website
WordPress Websites
Any Website
Expertise Level
Intermediate
Beginner
Programmer
Typical Implementation Time
Hours(s)
Minutes
Day(s)
Visit out integrations page for more information!
* Supported payment providers: Paypal and Sage Pay. REST API supports integration with payment provider of your choice.
Questions? Confused? Need More Information?
Make sure you get in touch with us! We know that sometimes the range of options can be intimidating, but we'll discuss your requirements and make sure you're on the path to accepting online course bookings in no time!