We're heading to Washington DC to exhibit at ASTD 2014, and if you're in the area, we'd love it if you stopped by our booth!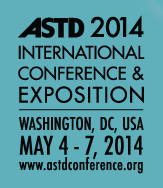 When: May 4-7, 2014
Where: Washington DC (Walter E. Washington Convention Center)
Booth: #1245
Interested in breaking free from the confines of the traditional Learning Management System? At ASTD International you'll be able to see a live demo of the entire Administrate platform, a true training management system, which includes:
CORE – our training management system designed to handle all your admin tasks and save you tons of time. Our customers use our core system to run their entire business or internal training department.
LMS – our highly ranked, mobile friendly and SCORM compliant eLearning system.
Website Integration – turn any website into a course booking machine. Accept payments, make your website SEO friendly, and automatically update your course listings!
The ASTD International Conference & Exposition brings the training and development industry to life, and attracts learning and education professionals from around the globe every year. With more than 300 exhibitors and hundreds of speakers, workshops, and info sessions, ASTD attracts more than 9,000 attendees each year.
Enter to Win a Bottle of Whisky!
Visit our booth and ask us how you can get a chance to win a bottle of whisky, hand selected by us, made in Scotland! We hope to see you there!