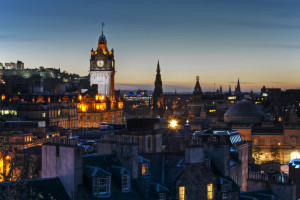 Last year we saw Administrate's client base of training providers and training departments triple in size. To start off the New Year, we moved our headquarters from Glasgow to Edinburgh, the capital city of Scotland. Sometimes referred to as the "Athens of the North" because of its world renowned festivals and incredible New Year's celebrations, the city is located on Scotland's East Coast and is home to approximately 500,000 residents.
Why the move? We were fortunate enough to secure a spot within the brand new Edinburgh TechCube, a recently renovated technology startup hub located within Old Town on the edge of The Meadows and the University of Edinburgh. We're sharing a building with dozens of other technology companies, startups, and techies so we feel quite at home.
Edinburgh Startups from Edinburgh Film Company on Vimeo.
We have breathtaking views of Arthur's Seat, the Pentlands, The Meadows, and the incredible architecture that has won Edinburgh the well deserved honour of having its entire city centre designated as a UNESCO World Heritage site. More importantly, we have plenty of room to grow our staff and operations as we set our sights on new goals for 2013. If you're in the area, please don't hesitate to pay us a visit and ask for the grand tour!
Please note our new address:
Administrate
TechCube
1 Summerhall
Edinburgh, EH9 1PL