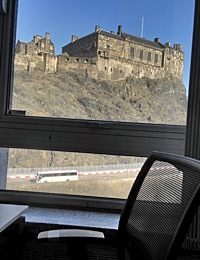 Just over a year ago, we were delighted to announce that we'd relocated from our Glasgow headquarters on Ingram Street to the brand new Edinburgh TechCube. The last year has seen us grow quite a bit and as we grew other companies within the building were expanding as well. In just a year, we needed more space, and so did the the TechCube! It was very welcome news to hear that the management team had secured over ten times the space in a new location even more centrally located.
TechCube Rebranded as CodeBase
The Edinburgh TechCube has rebranded itself as
Edinburgh's CodeBase
to reflect it's broader focus on software, community, and education, and the new building is just a short distance from our original location on the edge of the Edinburgh Meadows. Now we can boast magnificent views of the castle, a better office plan and suite configuration, and we have plenty of space continue growing. We're also really excited have a few of Edinburgh's best software companies as some of our new neighbours!

Come Visit Us!
Stop in to see us if you're in the area - the team running CodeBase has done a fantastic job managing the difficulties inherent in moving over 30 tech startups in just a couple of weeks, and we're delighted to be a part of the growing software startup community within Scotland.
Please Note Our New Address:
Administrate
Codebase
Argyle House
3 Lady Lawson Street
Edinburgh EH3 9DR